Not only for fairies: Andy Warhol's books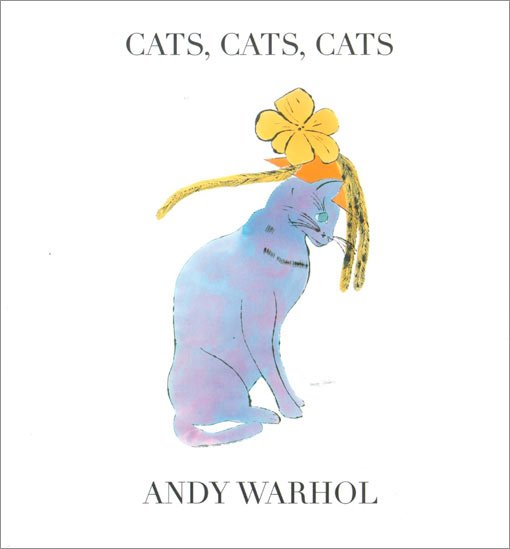 Cats, Cats, Cats with illustrations and text by Andy Warhol
Andy Warhol loved making books. He made drawings for dozens of commercially published books, from his award-winning cover for William Plomer's 1955 book of poetry Borderline ballads, to cookbooks.
But he also made artist's books, lovingly, by hand, often with the help of friends. These he self-published in small, unnumbered editions: eight books between 1953 and 1960, plus drawings for at least 13 more that were only ever printed posthumously.
To the young Warhol, these projects meant an opportunity to address directly his passions, his sexual identity and his friends at a time when he was otherwise occupied with commercial assignments.
Collaboration may be a buzzword today, but as usual, Warhol was ahead of his time. He drew on his entire social circle in the process of making his books. Sometimes they were subject – for his Feet Book and Cock Book, Warhol asked people he met at parties if he could draw their body parts. At other times, they contributed directly to the making process. As his friend Ted Carey recalled (in Patrick S Smith's Warhol: conversations about the artist, 1988):
After Andy did a book, he would usually have little evening parties, where he would invite about half a dozen people… and everybody would be given a color. Somebody would put down the pink, and the next person would put down the yellow. Or he would do some all by himself. But very often, he would have parties and have friends help to color.
It's no wonder he sought help: the books took time. When Warhol made Wild Raspberries – a parodic cookbook that mocked two popular cultural phenomena: the fashionable French cookbook and the hyper-serious Ingmar Bergman film Wild strawberries – it proved so labour-intensive that Warhol and his friends only managed to finish 30.
For all that, Warhol made books to give away, and not just to friends; they were – as was common at the time amongst illustrators – designed for self-promotion. A number of art directors and their prospective clients fondly recalled Warhol regularly giving them beautiful books and drawings, and that, unlike the offerings of many others in the business, his felt more like gifts than marketing.
Warhol delighted in the simple books that can be seen in the Gallery's exhibition Adman: Warhol before pop, such as In the Bottom of My Garden (1958) – referred to as A Book for Fairies among Warhol's queer intimates – A Gold Book (1957) and his unfinished Horoscopes for the Cocktail Hour (c1961).
Several of these echoed the style of children's books, yet often contained within them wittily coded references to gay love. This included one of his first, also in the exhibition, A is an Alphabet (c1953), and another, 25 Cats Name Sam and One Blue Pussy (1954), the first by Warhol to be properly bound and the first to include his mother Julia Warhola's handwriting.
Warhol illustrated actual, mainstream, books for children too – six stories between 1957 and 1960 for the popular Best in Children's Books series published by Nelson Doubleday.
Some of Warhol's drawing collections have been reproduced today as books, many on subjects that recurred throughout his practice: shoes, hats, flowers, stars… there are even Warhol colouring books. They are a powerful reminder of the artist's pre-pop days, when a young Warhol made books for pleasure as well as self-promotion, books that helped him make his name as one of the most talented illustrators of his day.
Browse Warhol books in the Gallery Shop
Previous post: Operation Art in its 19th year at the Art Gallery of New South Wales
Next post: Mother and son

April 20 2017, 10am
by Jackie Dunn
Writer and exhibition researcher