Vale Sydney Ball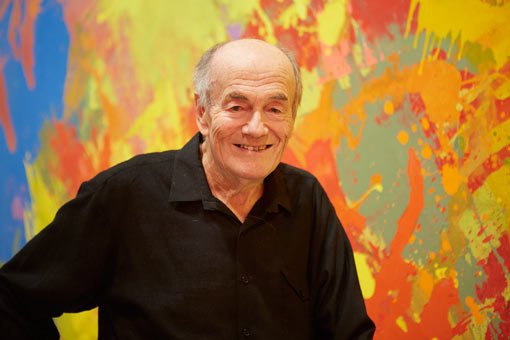 Sydney Ball in 2014 in front of Great falls 1975-76
Sydney Ball – Australian painter, draughtsman, sculptor and printmaker – has died at the age of 83.
Ball was a pioneer of post-painterly abstraction in Australia. This term, first coined by American critic Clement Greenberg, describes a generation of painters who reacted to mid-century abstract expressionism through hard-edge works, or using washes or poured areas of saturated, intense colour.
Born in Adelaide in 1933, Ball worked as an architectural draughtsman before taking up art studies in the late 1950s. His early lessons and influences in Adelaide were challenged when he moved to New York in 1963 and encountered the work of the abstract expressionists. He enrolled in painting classes with Theodore Stamos at the Art Students League and held his first solo painting exhibition in the city.
By the time he returned to Australia in 1966, Ball was a confirmed acolyte of hard-edge abstraction and colour painting. He pursued these twin passions through successive series – including modular canvasses and 'Stain' and 'Spatter' paintings – over a long career, developing a characteristically distinctive response to questions of colour and form through an ambitious and innovative practice.
In 1965, Ball exhibited his paintings at the Museum of Modern Art and Design in Melbourne, where he was immediately recognised for his facility with colour. He went on to exhibit his work in a number of high-profile Australian and American exhibitions, including the landmark exhibition The field at the National Gallery of Victoria in 1968, before returning to the United States for two years, in 1969. There he met Clement Greenberg, and through him artists such as Kenneth Noland, and travelled the east coast with Australians Elwyn Lynn and Patrick McCaughey, familiarising himself with the work of other abstractionists including Helen Frankenthaler, Barnett Newman and Mark Rothko. This period was to prove a lasting influence on his work.
In the 1970s Ball's work continued to gain in profile and praise. He held exhibitions of new series, including the 'Stain' paintings in which the canvas was washed and stained with successive layers of colour. He was included in the inaugural Biennale of Sydney in 1973 and the international touring exhibition and ABC television documentary Ten Australians in 1975 and had his first survey exhibition, at Newcastle Region Art Gallery, the same year. He started to teach in the 1970s, continuing into the 1990s in Australia and Asia.
There has been renewed interest and critical attention in Syd Ball's art in the last two decades as part of a resurgent interest in colour abstraction in Australia. Ball continued to innovate, with series based on architecture and new modular forms exhibited in the years before his 80th birthday – including works such as Infinex lumina #4 2010 in the Art Gallery of NSW collection. Recent and historical works were included in institutional exhibitions around the country and his paintings, drawings and prints have been collected by all the major public collections in Australia, including the University of South Australia, which received the Sydney Ball Gift of over 30 works from the artist in 2013.
The Art Gallery of NSW has 33 Sydney Ball works in our collection, including one of the climactic paintings in his 'Stain' series, Great falls 1975-76. A small selection of his works on paper will be placed on display this week.
Previous post: Meet the admen
Next post: Who's that artist in the window?

March 07 2017, 1pm
by Anne Ryan
Curator, Australian prints, drawings and watercolours