Vale Robert Herbert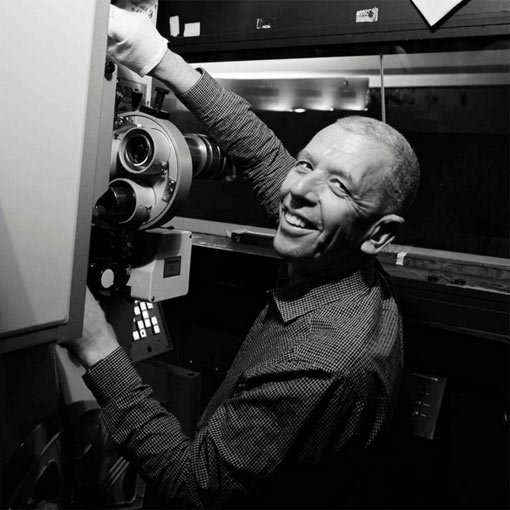 Image: Robert Herbert
On 28 June 2017 the Gallery's longstanding and much-loved curator of film, Robert Herbert, passed away. Robert was a polymath craftsman: a popular DJ, ikebana master and horologist. In this post, we reflect on the huge contribution Robert's film program made to the Gallery and the arts generally in Sydney.
A last bastion of Sydney screen culture; a boldly curated cinémathèque; a free film school in the classics; a truly public institution in its own right. The Gallery's film program is many things to many people. Without Robert Herbert, there simply could not have been a film program at all. Robert did it all single-handedly: he was at once curator, manager and projectionist. When Robert began working at the Gallery in the late 1990s, the film offerings were limited to the occasional educational art documentary. As a filmmaker himself, Robert was committed to championing cinema as an art form. In late 1999, he staged an inaugural film study day. This program gradually swelled into year-round festival of cinema.
For 18 years, Robert offered his encyclopaedic knowledge of cinema's histories to Sydney audiences for free, three times a week, like clockwork. Responding – often in wildly inventive ways – to the Gallery's major exhibitions, Robert's curation ran the gamut from canonical classics and landmark documentaries to experimental films and rarely seen prints sourced with persistence from archives across the globe. While meticulous in his standards of projection and devoted to ensuring films were shown in the format intended by their creators, Robert's curation was never dull or dour. The program, like the man himself, had vivacious wit and a lightness of touch: Mickey Mouse shorts met modernist masterpieces from Iran, Japan and Russia.
Countless film trunks travelled from the National Film and Sound Archive in Canberra to Sydney each week, where they were trolleyed to the projectionist's booth, each reel carefully tended to, tested and threaded, ready for the show. If film as an art form mattered to Robert, it also mattered to him as a unique collective experience: a magic show in the dark. His devotion to screening celluloid in a digital age was not borne of nostalgia but of a deep desire to offer the best possible cinematic encounters to successive generations of Sydneysiders. The city, and Australian film itself, are much diminished without Robert Herbert in his Domain.
The Gallery is committed to preserving and building upon Robert's enormous legacy.
Previous post: Webber work reveals its secrets
Next post: From inside the asylum

July 07 2017, 4pm
by Ruby Arrowsmith-Todd
Curator, film