Vale Peter Weiss AO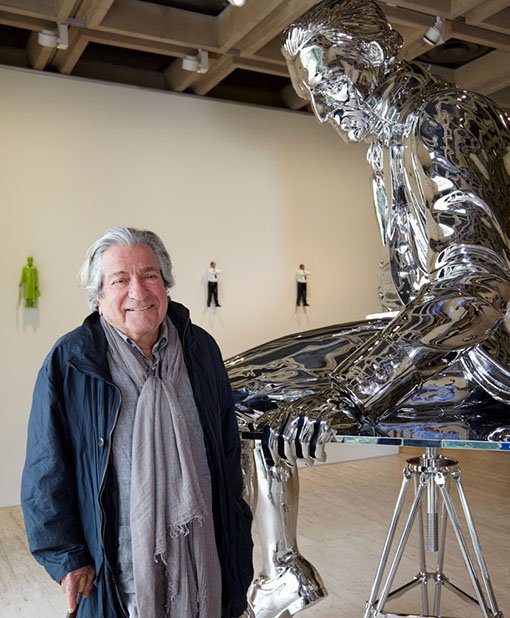 Peter Weiss with Michael Parekowhai's The English Channel 2015 © Michael Parekowhai
The Art Gallery of New South Wales has paid tribute to one of its longest-standing patrons, Peter Weiss AO (1935-2020), who has died in Sydney.
The renowned businessman and arts philanthropist was among the first supporters of the Gallery's Foundation and was appointed a Life Governor of the Gallery in 2009 in recognition of his generosity.
President of the Board of Trustees David Gonski said, 'Peter has been an inspiration to us all. He has quietly and extremely generously assisted many arts organisations, including the AGNSW, over many, many years. His giving has always been thoughtful and targeted to have maximum benefit. He made a significant contribution to the wellbeing of the arts in Australia and he will not be forgotten.'
Director Michael Brand said, 'We are deeply saddened by Peter's passing, and on behalf of the Gallery, I extend my sincere condolences to his wife Doris Weiss and their family and friends.
'Peter was one of Australia's great art philanthropists and a champion for music as well as the visual arts. His vision will continue to inspire and delight generations to come and the Gallery is very grateful for his remarkable support,' Brand said.
Mr Weiss was instrumental in the acquisition of several significant works for the State art collection. In 2016 he funded the purchase of contemporary Māori artist Michael Parekōwhai's monumental sculpture of Captain Cook, The English Channel 2015, which has become a collection highlight. The gift 'gives me great joy,' he said when it was announced by the Gallery.
As a major donor, Mr Weiss supported the purchase of other major collection works including John Brack's The breakfast table 1958; Cy Twombly's Three studies from the Temeraire 1998-99; and, together with his wife Doris, Russell Drysdale's landmark work (Group of Aboriginal people) 1953. His legacy will also live on in the Gallery's expansion, the Sydney Modern Project. Mr Weiss' generous gift will fund a major artwork.
Mr Weiss' distinguished services to the arts, in particular orchestral music, were recognised in 2013 with an Order of Australia.
The Art Gallery of NSW and the Australian Chamber Orchestra remember and pay tribute to Peter Weiss (1935-2020) with a special performance.
Previous post: A date with art
Next post: We have survived

June 08 2020, 12pm
by Art Gallery of NSW blog