Vale Pam Hallandal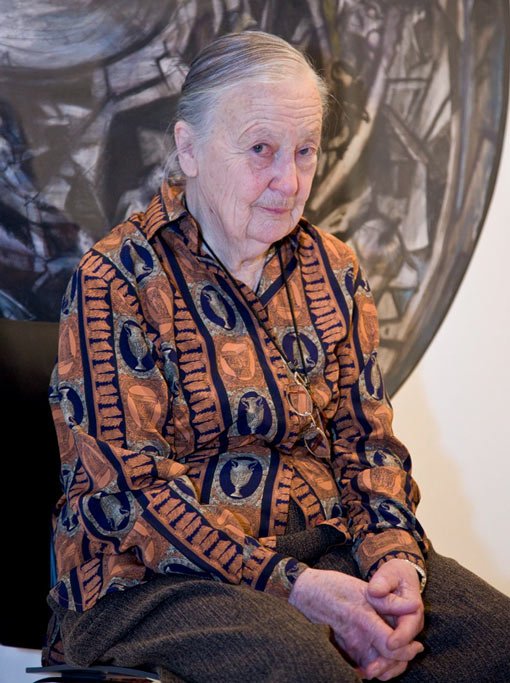 Pam Hallandal in 2009 with her Dobell Prize winning work Tsunami 2007-09
Australian sculptor, printmaker and draughtswoman Pam Hallandal has died, at the age of 89.
Hallandal was born in Melbourne in 1929 and was encouraged to study art by her father, an architect and amateur painter. When she enrolled at RMIT in the sculpture department after leaving school in 1946, she was discouraged from continuing due to her small physique and slight limp, the result of childhood polio. These physical challenges were countered by her quiet but fierce resolve, and she enrolled instead in the ceramics department, graduating in 1950. She went on to make sculpture anyway, exerting the uncompromising determination she was to exhibit throughout a life rich in artistic achievement.
Between 1956 and 1958 Hallandal travelled through Europe visiting museums and undertook postgraduate studies in sculpture at the Central School of Art, London. Upon her return to Melbourne in 1958 she embarked on a long career as a teacher, first at the Prahran Senior Technical College, in ceramics and drawing, and later just drawing, reflecting her own practice which focused almost exclusively on drawing from 1970. She retired from teaching in 1994, proving an inspiring teacher and mentor to a generation of Melbourne artists, including Allan Mitelman, Jim Paterson, John Scurry and others.
Hallandal was small in stature and diffident in nature, but her physical presence belied an oeuvre of great psychological insight and power. She produced work in a career spanning almost 70 years, from her first exhibition – the Victorian Sculpture Society's annual exhibition of 1949 – to a comprehensive retrospective – Watching – at the Art Gallery of Ballarat in 2016. Like many female artists of her generation – and one who focused on the less 'privileged' disciplines of drawing, printmaking and sculpture – she had a lower public profile than many of her contemporaries, but among those in whose orbit she moved, her work was highly regarded.
Hallandal's great subject was the human condition, with the human figure as a vehicle for imaginative, and empathetic, experience. Her subjects extended from those closest to her, to her fellow citizens of Melbourne in the streets, casino or supermarket, to those in the wider world as seen on the television news caught up in disasters, such as the 2004 Indian Ocean tsunami and the 2011 Christchurch earthquake. She also captured simple subjects – objects or encounters observed in everyday life such as a motorbike owned by a noisy hoon neighbour, the little dog who paced her house as quietly as she, lamb chops in a roasting pan, or kids playing in a schoolyard.
At the Art Gallery of NSW, Hallandal's drawings were included, along with Jan Senbergs and Kevin Connor, in the 1997 exhibition Expressive figuration, and she was twice awarded the Gallery's Dobell Prize for Drawing, in 1996 and again in 2009. There are 22 works by her in the collection.
Hallandal died in Melbourne on 25 September 2018 after a short illness.
Previous post: Stockings and spice
Next post: These women are fearless

September 27 2018, 11am
by Anne Ryan
Curator, Australian prints, drawings and watercolours