Vale John Schaeffer AO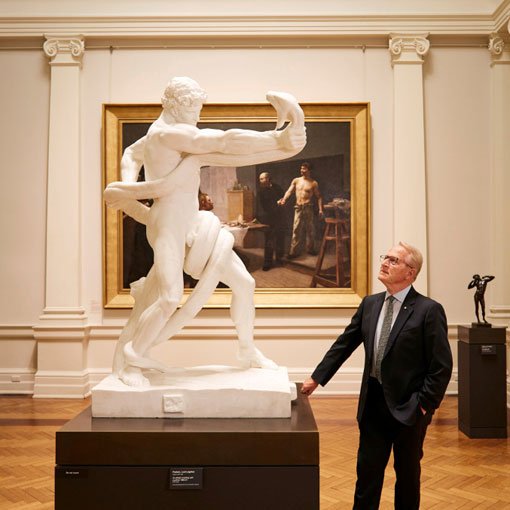 John Schaeffer AO in 2017 with Lord Frederic Leighton's An athlete wrestling with a python 1888-91, which he gifted to the Art Gallery of New South Wales that year
It is with deep regret that the Art Gallery of New South Wales notes the death of John Schaeffer AO (1941–2020), benefactor and former trustee of the Gallery, who passed away on 14 July 2020.
A deeply knowledgeable and unerringly passionate collector of 19th-century European art, John was a galvanising force in the appreciation of Victorian-era paintings and sculptures, especially in Sydney where his spectacular support of the Gallery enriched our collections with major masterpieces of painting and sculpture, as well as drawings, prints and archives.
Said Art Gallery of NSW director Michael Brand: 'Mr Schaeffer's support over 20 years came from a deep love and knowledge of our historical collections. A former trustee and Art Gallery of New South Wales Foundation trustee, his many major gifts of art to the Gallery were all made with the intelligent eye of a great collector.'
John was driven by his personal love and fascination for Pre-Raphaelite, Victorian Olympian and 19th-century European paintings. It didn't bother him in the least that his preferences were often so different to those of other collectors, and he was indifferent to fashions. Initially, he collected Australian paintings but was converted after visiting the ground-breaking Pre-Raphaelite exhibition at London's Tate gallery in 1984.
John's pursuit of the beautiful, the romantic and the poetic in art resulted in the donation to the Gallery in 1999 of Lawrence Alma-Tadema's dazzling A juggler (1870), which has become one of the best loved works in the collection, taking its place naturally next to Edward Poynter's grandiose The visit of the Queen of Sheba to King Solomon (1890).
John continued to take a philanthropic interest in the Gallery, and soon made plans to provide a fund to acquire 19th-century European works. In 2000, to honour this donation, the room containing our major 19th-century pictures was named as the John Schaeffer Gallery. At the time, John admitted that he had always loved spending long periods in this room and that it was his favourite place in Sydney after his own bedroom! The John Schaeffer Gallery houses one of the finest ensembles of Victorian paintings outside Britain, a collection whose range and quality is enhanced by the grandeur of its historic architectural setting.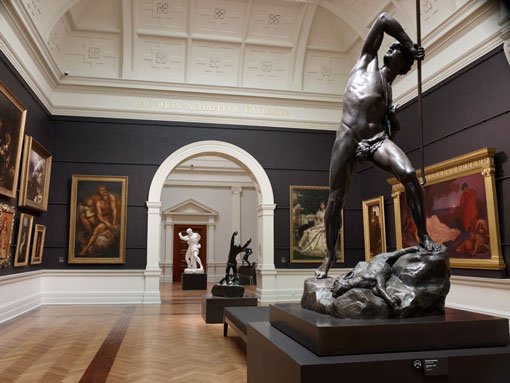 Through the years John provided funds for numerous important acquisitions by leading figures of the Pre-Raphaelite movement who hitherto had not been represented in our collection, such as William Holman Hunt and Dante Gabriel Rossetti. His support also extended to sketches and studies for Lord Leighton's iconic oil painting Cymon and Iphigenia, as well as prints and archives. John's most recent gift – Leighton's large white marble An athlete wrestling with a python (1888-91) in 2017 – is an outstandingly important contribution to the collection, and a key piece in the history of art, marking a watershed in British sculpture.
And of course, John was incredibly generous in lending works to the Gallery for exhibitions and displays. In 2000–01 over 30 major Victorian paintings were displayed alongside works from the Gallery's own collection to celebrate the inauguration of the John Schaeffer Gallery. Then in 2010, Victorian Visions: Victorian Art from the John Schaeffer Collection presented an impressive selection of 45 paintings, watercolours, drawings and sculptures by Rossetti, Holman Hunt, Burne-Jones, Leighton, Poynter, Watts and Waterhouse, among others.
John Schaeffer's legacy to the Art Gallery of New South Wales as a former trustee (2001-09) and Foundation trustee (2010-19), as a substantial benefactor and as a true connoisseur has been and continues to be immense.
'John was an enormous contributor to the Gallery not just as a generous benefactor but as a result of his wise advice as a trustee and as a very well informed and loved member of the Gallery's supporters. We shall miss his friendship and wisdom and send all good wishes to his family,' said David Gonski, current president of the board of trustees. 'He shall be remembered at the Gallery for years to come.'
Previous post: Looking at music and listening to art

July 15 2020, 5pm
by Art Gallery of NSW blog