Vale Frank Watters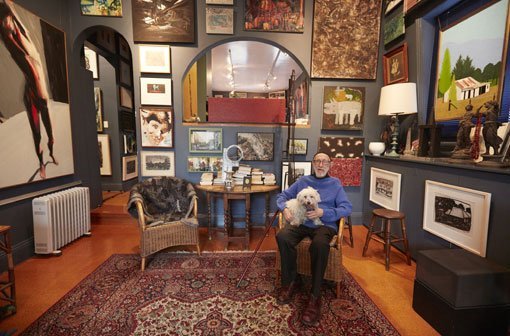 Frank Watters at his Darlinghurst home in 2018 with his dog Teddy
It is with sadness that we learned of the news of the death of our friend Frank Watters AOM, one of Australia's longest-serving and most influential gallerists.
Watters was co-founder of the eponymous Watters Gallery. Established in 1964 with co-directors Geoffrey and Alexandra Legge, Watters Gallery emerged as a unique and much-loved Sydney institution.
Frank Watters was born in 1934 in Muswellbrook in the upper Hunter region of NSW. He left school at 15 to work in the local coal mine. During this time, he established an appetite for art. He experimented with his own painting, creating moving works that told of dark experiences of growing up in a mining town.
Moving to Sydney, Frank eventually landed an apprenticeship with Barry Stern, then director of one of Sydney's most significant private galleries. It was at Barry Stern Gallery that Frank first met Geoffrey and Alexandra Legge, who lived next door. They banded together to establish their own gallery, which first opened in Liverpool Street, Darlinghurst, before moving to nearby Riley Street in 1969. By the time Watters Gallery finally closed its doors in late 2018, it had left an indelible mark on the city's cultural and artistic life.
Watters Gallery was governed by the shared sensibility of its directors, whose passion for art transcended concerns of market fashion and saleability. Early on, Watters Gallery became renowned as a hub for experimental art practice and for its commitment to presenting works of formal innovation. For more than half a century Watters Gallery nurtured the careers of an impressive and diverse rollcall of artists, including Robert Klippel, James Gleeson, Tony Tuckson, Vicki Varvaressos, Ken Whisson, Richard Larter, Pat Larter, Chris O'Doherty (aka Reg Mombasa) and Jumaadi.
Frank lived for many years in an apartment above the Riley Street gallery. Visiting his flat was always a wild experience. His home was packed full of art, hung floor to ceiling with works mainly drawn from the Watters Gallery stable of artists. This personal, abundant collection grew from Frank's rapport with, and admiration for, the artists his gallery exhibited and supported. As such, his collection was one of the most distinctive group of works amassed by an individual in Australia, reflecting a sense of the strength, humour and humanity as well as the anarchic flair of the art that shaped the history of Watters Gallery itself.
In 2017, Frank made an exceptionally generous gift to the Art Gallery of NSW when he offered over 30 artworks from his personal collection. Amongst the outstanding works in the gift is Richard Larter's Five in a row show 1969. Larter's work was purpose-made to cover the entire wall of Frank's lounge room. 'Build yourself a 20-foot-long straight wall,' Larter said to Watters, 'and I'll do you a painting'. The result was this riotous pop art centrepiece, which hung in Watters' apartment from 1969 to 2018 and could not fail to be noted by those who visited. In the last few years Five in a row show has been a new collection highlight in the 20th and 21st century Australian galleries at the Art Gallery of NSW.
When Watters Gallery closed in 2018, Frank moved permanently to his beloved and isolated property at Cassilis in central west NSW. It was here that he passed away on 21 May 2020, with his long-time collaborators Geoffrey and Alexandra Legge by his side. Frank's generosity, dry wit and openness to the creativity of others will be greatly missed by those who knew him, and by the many who benefitted from his advocacy and support.
Previous post: Art is my oxygen
Next post: Through young eyes

May 27 2020, 1pm
by Denise Mimmocchi
Senior curator, Australian art