Vale Edmund Capon AM OBE
March 18 2019, 8am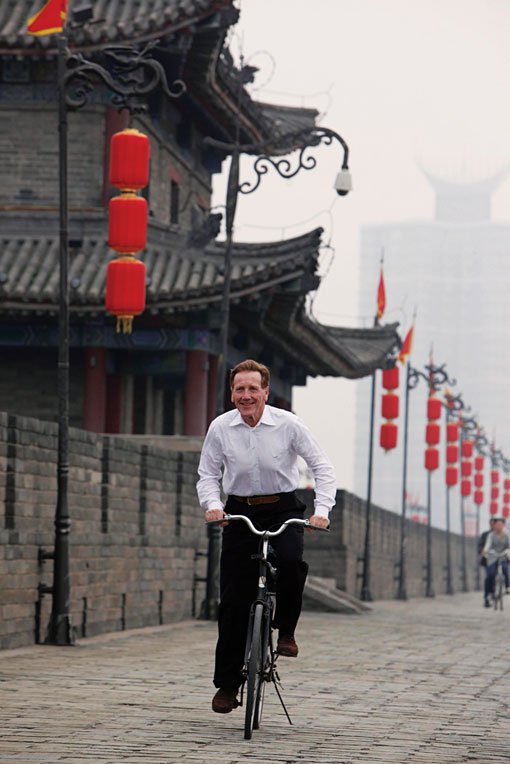 Edmund Capon rides a bicycle on the wall of the ancient city of Xi'an on 23 October 2010. Photo by Kevin Lee/Getty Images for Good Weekend
It is with immense sadness that we note the death of Edmund Capon AM OBE, director of the Art Gallery of New South Wales for 33 years from 1978 to 2011.
Edmund's dedicated service to the Gallery, which he transformed into one of the most-loved cultural institutions in Australia, was extraordinary. We extend our heartfelt condolences to Edmund's family and close friends, in particular his wife Joanna and his children. Edmund will be deeply missed by current and former members of Gallery staff as well as by volunteers and Art Gallery Society members.
– Michael Brand, director, Art Gallery of New South Wales
---
A celebration of life will be held on 11 June 2019
More about the event
Watch video
Support the Edmund Capon Fellowship
In lieu of flowers, Joanna Capon has requested donations be directed to the
Edmund Capon Fellowship
---
The trouble with this job is that you can't do it half-cocked. It's either 100 per cent or no per cent – Edmund Capon, May 2010.
Edmund Capon was a 100 per center who transformed the Art Gallery of New South Wales and who brought everyone he encountered along on this thrilling adventure with him. First visiting Sydney from London in 1977 to promote a book and exhibition on Chinese art, he responded to the city's beauty and vibrancy and clearly made an impression while here. This mutual regard meant he embraced the 'very eccentric and most interesting' invitation to apply for the position of director at the Gallery the following year. Edmund left England and his employment at the Victoria and Albert Museum as an assistant keeper in the Far Eastern department, migrating to Australia with his wife Joanna in 1978. An incredibly engaging duo, they added immediate glamour, intelligence and energy to Sydney's cultural and social life.
On that first visit in 1977 Edmund had sensed the potential of the Gallery to become one of Australia's leading art museums with a global reputation for scholarship, exciting exhibitions and innovative programs. He brought immense focus, knowledge, tenacity and charm to his new role, which required agility on all fronts to lead this transformation. Edmund's flair with media and his entrepreneurial skills were apparent from his first press conferences where he announced the then novel idea that he would raise money from 'the big end of town' to purchase art: 'we are hoping for some millions.' With typical whimsy, in another interview he declared his additional interests to be 'opera, giraffes and trees, especially eucalypts. And I am interested in current affairs, and of course, all aspects of China.'
Edmund's achievements over his 33-year tenure are readily quantified and even he would admit occasionally that statistics can be useful. They include lifting Gallery admissions from 329,000 in 1978 to more than 1.3 million in 2010, an increase which came from his commitment to making great art available to all. This led to a vigorous resistance to government pressure to reintroduce admission charges in 1991: 'I have proved 199 times that we make more money by letting people in free and charging them to get out – by always having paying shows, two restaurants and a book shop.' He always felt that visiting the Gallery should be pleasurable: 'I'd hate people to think that they came here and had to learn something. I'd much rather they came here and had to enjoy themselves.' Pleasure was not an end in itself; he also felt 'Once you've got some kind of instinctive reaction of your own, then you can start to learn.'
Focusing on the collection as the core of the Gallery, Edmund led its growth from 10,500 artworks in 1978 to more than 29,000 by 2011. He was so proud of his first major acquisition – a Tang dynasty ceramic horse and rider purchased with funds from the Gallery's members organisation, the Art Gallery Society of New South Wales – that he carried it around under his arm, enthusing staff. The purchase of the major Picasso painting Nude in a rocking chair in 1981 depleted the Gallery's meagre acquisition funds, leading to the establishment of the Art Gallery of New South Wales Foundation in 1983, with Edmund stating: 'never have I trod the carpet to corporate donors to such good effect'. Subsequent major purchases transformed the collection including Ernst Ludwig Kirchner's Three bathers, Grace Cossington Smith's The curve of the bridge, David Hockney's A closer winter tunnel, February-March, Cy Twombly's Three studies from the Temeraire, Rusty Peter's Waterbrain, Sidney Nolan's First-class marksman and John Olsen's Five bells.
Securing Paul Cézanne's painting Banks of the Marne in 2008 remains the Gallery's largest fundraising campaign for an acquisition to date. As Edmund said: '… having spent the day with the painting in Zurich I was sure that this could be the Cézanne to fulfil our aspirations and expectations … The picture seems more than happily at home on our walls, and has not only brought a new and inspirational dimension and quality to the collections and displays, but … has created great interest among our visitors.'
The temporary exhibition program was endlessly engaging for Edmund and, utilising his scholarship and negotiation skills, he initiated many of the Gallery's most loved and admired exhibitions in recent decades. These include the remarkable coup of the first exhibition of the terracotta warriors outside of China in 1983, a success he reprised for The First Emperor: China's entombed warriors in 2010. Other exhibitions included Gold of the pharaohs; Michelangelo to Matisse: drawing the figure; Jeffrey Smart; Papunya Tula: genesis and genius; Caravaggio and his world: darkness and light; Pissarro: the first Impressionist; Bill Henson; Giacometti: sculptures, prints and drawings from the Maeght Foundation and The arts of Islam: treasures from the Nasser D Khalili collection. And in a fitting symmetry given his major Picasso purchase for the collection in 1981, Edmund's last major exhibition for the Gallery was the blockbuster Picasso: masterpieces from the Musée National Picasso, Paris in 2011.
Edmund's respect for scholarship and specialisation meant he grew the Gallery's curatorial staff, appointing curators of photography and Asian art as well as the first curator of contemporary art in Australia in 1979 and the first curator of Aboriginal art in 1983. His three curatorial departments reflected his own passions: Australian, international and Asian art. No one could accuse Edmund of being a systems person and he was equally averse to policy and bureaucracy, both endearing him to his staff and trustees and at times infuriating them. His mercurial nature meant it could be hard to keep pace with decision making, which was as likely to take place in the corridor or stairwell as in a minuted meeting, which also meant that nothing ever stood still or atrophied. He had an extraordinary ability to know when and where something was going on in the Gallery, even if staff were trying to keep it from him. Edmund is also fondly remembered by staff for knowing and greeting everyone by name, his mismatched socks, his daily Magnum ice creams, his cigars and his declaration that the non-smoking zone ended outside his office.
Not content with exhibitions, collections and staff recruitment, Edmund also led the significant expansion of the Gallery in stages over his tenure. Edmund's transformations included the 1988 Bicentennial wing which doubled the size of the Gallery and increased the display space for contemporary art. In 1990, he opened a new Asian gallery which he then doubled in 2003 with the new "upper" Asian gallery. In 1994 he launched Yiribana, then the largest single space devoted to the permanent exhibition of Australian Aboriginal and Torres Strait Islander art and culture in the world. In 2007-11 he secured the gift of $4 million from the Belgiorno-Nettis family to convert existing storage space into a contemporary gallery space, a grant from the NSW government to build a new state-of-the-art off-site storage facility, and the gift of John Kaldor's art collection, then valued at $35 million, which led to the opening of the John Kaldor Family Gallery in 2011.
Edmund could be as passionate in his dislikes as he was in what he admired, though – ever sensing where the next challenge lay – he was admirably capable of changing his mind as his thinking evolved, or sometimes just for the sake of tipping everything upside down to see what the opposite would be like. From initially being unresponsive to much contemporary art beyond painting, in later years he embraced and promoted contemporary art as the key to our cultural future. Towards the end of his tenure, Edmund, along with deputy director Anne Flanagan and the Gallery Trustees, initiated what has become the Sydney Modern Project. Ten years ago, Edmund said in an interview: 'Art is becoming more a temporary than a permanent experience. When I think about the future, maybe I see the next extension of the Art Gallery of New South Wales being a place of activity where art happens, but is not stored'. This ethos continues to contribute to the evolving vision of Sydney Modern.
Edmund's legacy is an enduring one, transforming a solid institution into a great and much-loved art museum. He made our audiences feel at home in what became his home, welcoming all to engage with art and enjoy the experience as transformative in their lives. He brought 'the top end of town' together with artists and anyone who stepped through the Gallery's front door to create our uniquely diverse audiences. Those of us who had the pleasure of a closer connection with him will remember he empowered us to think through art but always to have immense fun while doing so.
Written by Wayne Tunnicliffe, head curator of Australian art, on behalf of the Art Gallery of New South Wales. Wayne worked at the Gallery with Edmund from the 1990s.
Previous post: Whiteley, in a nutshell
Next post: A most delectable treasure