Vale Charles Blackman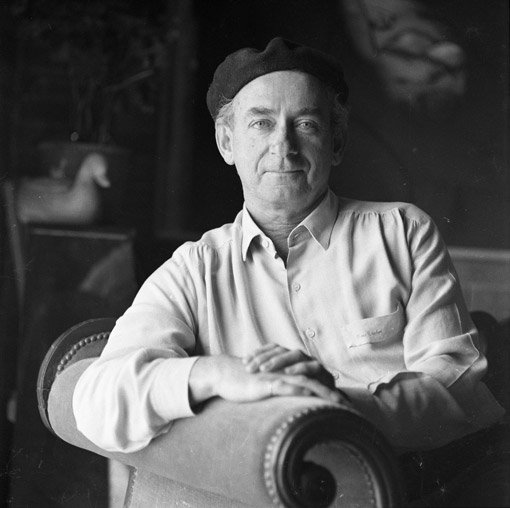 Photo of Charles Blackman by Robert Walker, 1980, from the Art Gallery of NSW archive © Estate of Robert Walker. Licensed by Copyright Agency, Sydney
Vale Charles Blackman who died peacefully early today in Sydney, surrounded by immediate members of his family, aged 90.
Blackman was one of the most celebrated Australian figurative artists of the 20th century. Best remembered for his famous series 'Schoolgirls' and 'Alice in Wonderland', his imagery was based on personal, literary and musical themes.
Largely self-taught, Blackman left school at the age of 13 and attended night classes at East Sydney Technical College (now the National Art School) from 1943 to 1946. He first came to prominence after moving to Melbourne in 1951, becoming part of the 'Heide circle' of artist associated with art patrons John and Sunday Reed. It was about this time that his first major series, 'Schoolgirls', was produced, consisting of more the 40 paintings and numerous drawings on the theme of schoolgirls, depicted with an air of menace and mystery in abandoned streetscapes.
Blackman's commitment to figurative painting and drawing led to his membership of the 'Antipodeans' group (established in 1959 with Arthur Boyd, John Brack and Robert Dickerson, among others), in antithesis to abstract trends that were then materialising in Australian art.
Blackman gained international recognition in the early 1960s when he moved to London on the Helena Rubinstein Scholarship, with exhibitions at the Whitechapel and Tate Galleries, and exhibited prolifically throughout his life, including a major retrospective exhibition, Schoolgirls and angels, in 1993 at the NGV which toured to the Art Gallery of NSW and nationally. In celebration of its 50th anniversary, the complete 'Alice in Wonderland' series was shown at the NGV Ian Potter Centre in 2006.
In 1977 Blackman was awarded an Order of the British Empire for services to art and his work is in all the major Australian public collections and regional galleries, and private collections in Australia and overseas. The Art Gallery of NSW first purchased a painting by Blackman in 1958 – Angry young girl 1958 – which is currently on display in the 20th-century Australian galleries. The Gallery's collection of Blackman works includes 53 paintings, drawings and prints. Blackman remained engaged with figurative art throughout his long career, and today his work is studied by students and collected widely by art lovers.
Charles Blackman is survived by his six children.
Previous post: Making a Tudor frame
Next post: That was then, this is now

August 20 2018, 1pm
by Anne Ryan
Curator, Australian prints, drawings and watercolours