Is this the ultimate selfie?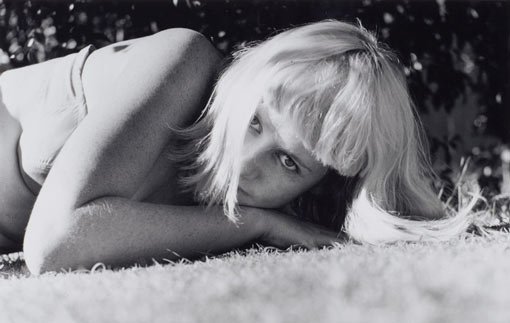 One of 47 photographs in Sue Ford's work Self-portrait with camera (1960-2006) 2008
The 47 photographs in Sue Ford's Self-portrait with camera (1960-2006) 2008 predate smartphones and selfie-sticks but are still a strong contender for the title of 'ultimate selfie'.
The Melbourne-born artist made an significant contribution to Australian photography, producing an extraordinary body of work over several decades, before her death in 2009. The suite of 47 photographs documenting her life and friends graces an entire wall of The photograph and Australia at the Art Gallery of NSW.
This remarkable work has been added to the Gallery's collection through the generosity of our Photography Collection Benefactors (PCB). It was acquired following a visit by the benefactors to Melbourne last year as one of the activities we organise for PCB members. The trip involved a mix of curator-led visits to major galleries and a behind-the-scenes look at some of that city's most thrilling private collections.
Photography is a medium where it is still possible to build an internationally significant collection, as major works by international and Australian artists are available and can be secured at prices that remain within reach.
The Gallery's first photography acquisitions were made in 1975 with a gift from the Cazneaux family of 90 Harold Cazneaux photographs. Since then the collection has expanded to more than 5000 photographs, of which 80 per cent are Australian, and we owe a special thanks to our benefactors.
Find out more about joining the Photography Collection Benefactors and how you can grow your interest in photography and help us grow the collection.
Previous post: Colour by numbers
Next post: Saving a Streeton

May 12 2015, 9am
by Jane Wynter
Head of philanthropy