Just the two of us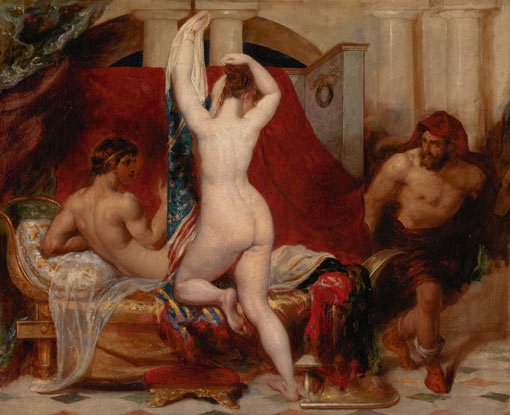 William Etty Candaules, King of Lydia, shews his wife by stealth to Gyges, one of his ministers, as she goes to bed 1830. Tate: Presented by Robert Vernon 1847. Image © Tate London, 2016
The lovers Paola and Francesca, stars of the Auguste Rodin's The kiss, may be the celebrity couple in Nude: art from the Tate collection, but there are a number of other couples in the exhibition – both fictional and real – I'd like to introduce you to.
Let's start with the extravagantly titled Candaules, King of Lydia, shews his wife by stealth to Gyges, one of his ministers, as she goes to bed – another tale of a marriage ending in murder. William Etty shows the king arranging for his right-hand man to spy on his beautiful wife Nyssia as she undresses. In the myth, Nyssia finds out and offers Gyges a choice: kill her husband or be killed by her. Not only did Gyges choose life, he went on to marry Nyssia and form quite the charming couple.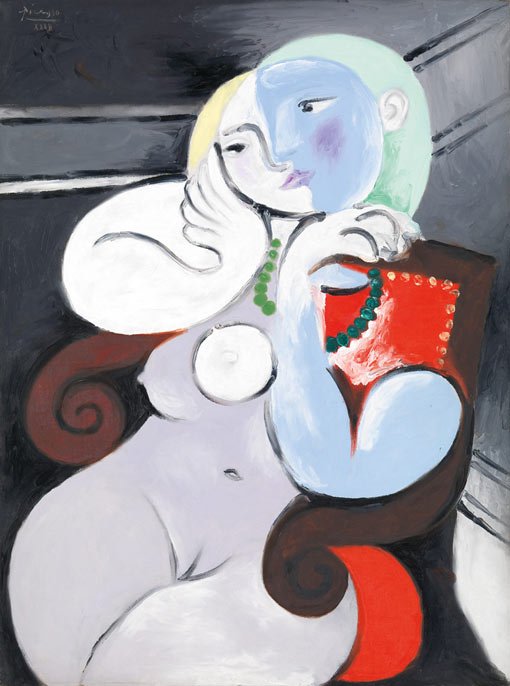 Then there's the artist Frederic, Lord Leighton and his leading lady. Leighton had scoured the country for his ideal beauty, finally finding it in the lovely Dorothy Dene – then called Ada Pullan and just 19 (to his 50). Their relationship was said to be the basis for George Bernard Shaw's play Pygmalion, Dene even having changed her name at Leighton's direction. They may have been long-term lovers or he may have been gay and she just his muse, who knows, but he left her a fortune on his death in 1896, six years after she starred in his The bath of Psyche.
For Nude in a red armchair, Pablo Picasso painted one of his many mistresses, Marie-Thérèse Walter (they met when she was 17, he 45 – there's a pattern forming here). He painted her many times in their decade together; here he really nailed what it's like to be a couple, creating a 'double' face of him kissing her on the lips.
Pierre Bonnard's Nude in the bath also shows us both halves of a couple: we see Bonnard's model Marthe de Méligny and the artist himself in his dressing gown, almost cropped out at the left. After decades together, they finally married in 1925, the year this work was painted. Bonnard painted Marthe hundreds of times – often in the bath (either she had tuberculosis and baths eased her breathing, or she bathed neurotically) and with a sensuality that seems to spring from their domestic intimacy.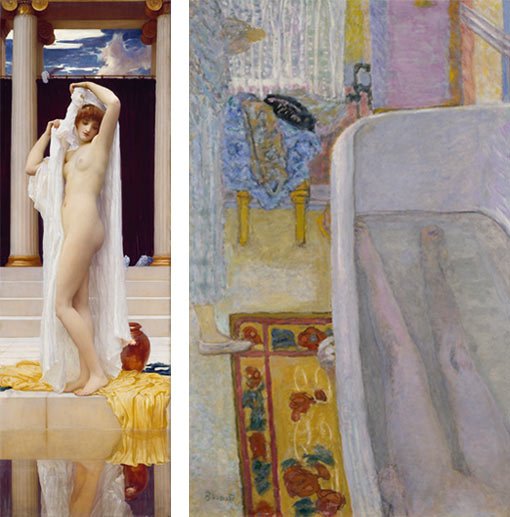 In 1937, the year he painted Double nude portrait: the artist and his second wife, Stanley Spencer divorced his wife Hilda and within days married the object of his obsessive affection Patricia Preece. For all that mad rush, their relationship was never consummated. There's a lump of cold, uncooked meat in Double nude portrait, which stands as the very symbol of their unconsummated desire. That Preece already had a lifelong partner, Dorothy Hepworth, really should have given the game away. (Due to copyright restrictions, we can't reproduce this work, which Spencer himself dubbed the 'Leg of mutton nude', so you'll have to come and see it in person.)
There's more suffering – and, as we know, relationships don't come without it – in Francis Bacon's triptych of his long-time lover George Dyer. Bacon painted Dyer, the handsome drunken reprobate, over and over, before finding him dead in a Paris hotel room in 1971. Haunted by Dyer's death, Bacon painted three posthumous triptychs of his lover; this the last melancholic and magnificent one.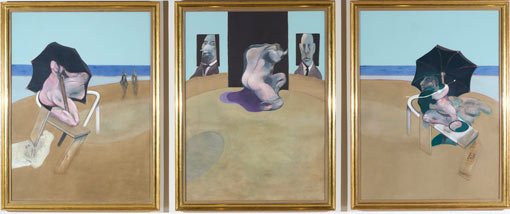 And the last couple you should meet is the first couple: Adam and Eve. William Strang's The temptation depicts a relationship headed for ruin in a strangely cool and detached style – but with a barely contained eroticism hinted at through inward-leaning figures, intimate gestures, velvety big cat and a suggestive snake.
If that's not enough lovin' for you, come along on Thursday 5 January and join in The School of Life's Naked ideas discussion on love. Bring a friend.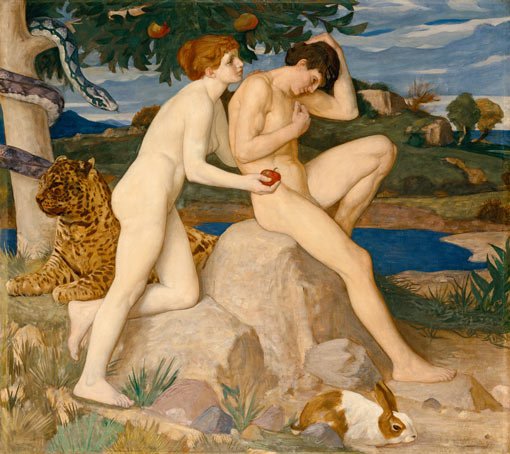 Previous post: Dr Ever-Hard's dirty little book
Next post: If you leave me, can I come too?

December 22 2016, 4pm
by Jackie Dunn
Writer and exhibition researcher