True flavour, not true facts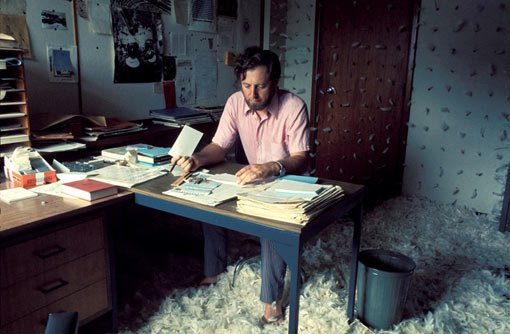 Photograph of Donald Brook in Feathered office by Herbert Flugelman, March 1971, Herbert Flugelman archive, Art Gallery of New South Wales archive © Herbert Flugelman. Licensed by Copyright Agency
Some historians are dismissive of recorded interviews. Oral histories, they believe, are not true histories. They are too subjective, uncritical, even circumscribed by the mechanics of the interviewing process.
Daniel Thomas, the first curator of Australian art at the Art Gallery of NSW, takes a very different view. 'I don't think it matters that there are silences and lies. A life is too complex to sub-edit and annotate to the full,' he wrote in 1993 about Hazel de Berg's recordings with almost 1300 prominent Australians, now in the National Library of Australia. 'We want true flavour, not true facts. The lies are as enlightening as the truths.'
Deborah Edwards also values oral histories. As senior curator of Australian art at the Art Gallery of NSW, she initiated a project in 2010 to interview key figures in Australian sculpture, starting with an older cohort.
Whereas Hazel de Berg's interviews were wide-ranging and often frustratingly brief, those by Edwards and her colleagues are focused and in-depth. Edited transcripts of 18 interviews are now available online; many are over 20,000 words in length. There is plenty of flavour here, though some of the facts are debatable.
A focus is the turbulent years of the 1960s and 1970s, when traditional formal notions of sculpture were breaking down and three-dimensional practice was opening out to include installations, environmental art and what Donald Brook – one of the most eloquent of the interviewees – dubbed 'post-object art'. Only one of the sculptors interviewed, Ron Robertson-Swann, seems invested in keeping the debates of these years alive. For the others, there is the sense that with the passing of time they no longer feel the need to fight those wars. But this does not translate into an agreed reading of history on the part of those interviewed. One of the great values of the interviews is the multi-faceted perspectives they provide on the same events and the same people. At least a more nuanced understanding of the period emerges because of this.
I was involved in editing the transcripts and initially thought that the task of reading them all together might be a little dry. I was wrong. I wasn't expecting the humour. There are wonderful observations like that of Asher Bilu on migrating from Israel: 'I thought I was going to come to Drysdale's country but I came to Footscray instead'. Or Mike Kitching on using machinery for fabrication: 'People used to say to me, "Oh, you don't make your own work?" and I used to say, "No, I don't, but then Shakespeare didn't make his own paper, he just put the words on it".'
Peter Taylor questioned about his winning sculpture for Hobart's Centenary Prize confides: 'The dog ate it! We had an Old English Sheepdog. The wax was nice for her to chew. That was the end of that, but I got the 50 pounds.'
Tony Coleing tells the hilarious story of representing Australia at the Venice Biennale with Mike Parr and Kevin Mortensen in 1980. He had his outdoor kiosks selling token but politically-charged Vegemite sandwiches and cakes closed down because a neighbouring cafe resented the competition. 'Kevin had his own problems too,' Coleing recalls, 'because he was naked doing one piece. He was often in a trance when doing his performance, and a photographer came up and said, "Can I take your photo?", and Kevin just whacked him. They tried to close him down too. So the Australian Pavilion wasn't travelling so well at that time.'
These interviews are funny, informative and sometimes very moving, often all at the same time. Donald Brook's feud with the father of Australian art history, Bernard Smith (whom he dismissed as a 'list-maker'), is well known. What is not known is that Smith invited Brook to give the second Power lecture in 1969, a riposte to Clement Greenberg's inaugural lecture the previous year, as an act of kindness. A great tragedy had befallen Brook and his wife Phyllis at this time, when their five-year-old son was abducted and brutally murdered. 'I think that Bernard did one very nice, one rare thing that can be attributed to him,' Brook tells Edwards, 'a very generous thing. We'd lost our child at that time. We had a child who was murdered in 1968 … Bernard asked me to do the next Power lecture and I think it may have been because he thought it would give me something to really concentrate on and think about and some purpose in life … I don't know this. He never said this or explained himself and nobody has ever explained why I was asked to do it.'
Brook is one of three interviewees who have since died, underscoring the great value of collecting this material. The project was funded by a grant from the Balnaves Foundation, which also supported the collecting of physical archives including artists' scrapbooks, diaries and photograph albums for the Gallery's National Art Archive. Neil Balnaves, who established the foundation in 2006, is known for supporting the often-overlooked field of Australian sculpture. Exhibitions at the Art Gallery of New South Wales such as Adventures with form in space (2006) and surveys of sculptors Robert Owen (2004), Wolfgang Laib (2005) and Bertram Mackennal (2007) would not have occurred without his backing.
Now, with the Balnaves Foundation Australian Sculpture Archive Project, there is a rich resource available to researchers and others interested in Australian art and stories, with more interviews to be added, including from a selection of younger artists.
Previous post: Vale Rosemary Madigan
Next post: My big break

March 04 2019, 9am
by Steven Miller
Head of the Edmund and Joanna Capon Research Library and Archive