Preserving the posters of Toulouse-Lautrec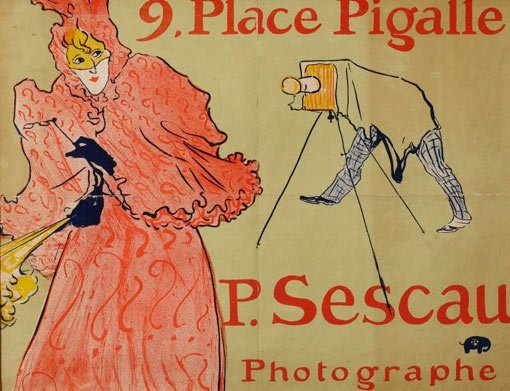 Henri de Toulouse-Lautrec The photographer Sescau 1894, lithograph mounted on canvas, Art Gallery of NSW collection
Conservators have the ability to reduce the signs of aging – even when an object is over 100 years old.
The Art Gallery of NSW has several posters by the leading post-Impressionist artist Henri de Toulouse-Lautrec. Created between 1893 and 1896, the posters have been in our collection since 1945 and required intensive work to stabilise them and make them suitable for display – first in our members lounge at the Gallery then on loan to the National Gallery of Australia for their Toulouse-Lautrec exhibition.
As is almost always the case with works of art, the conservation process involved in-depth research of the posters, particularly into how they were made.
Toulouse-Lautrec was one of the pioneers of the modern poster. Using the relatively new process of colour lithography, he showed the artistic potential of the medium, helping to elevate poster-making to a fine art.
From its invention in 1798, lithography enabled prints to be produced relatively quickly and easily, which made it highly suitable for commercial posters. The great attraction for artists, however, was that it offered the same freedom as drawing and the capacity to achieve rich tonal effects, varied colours and nuanced textures.
Lithography (meaning 'stone drawing') makes use of the fact that oil and water repel each other. Using a hard flat surface (originally a finely grained slab of limestone), the image is drawn with an oil-based material, such as a lithographic crayon or a liquid 'tusche' applied with a pen or brush, which is then chemically 'fixed'. The stone surface is then washed with water, which is repelled by the greasy marks that make up the image and settles only in the untouched areas. An oil-based ink is then rolled over the stone, adhering only to the image, while the ink is repelled by the blank wet areas. Finally, the paper is laid on the surface and both paper and surface are run through a scraper press, which transfers the ink onto the paper.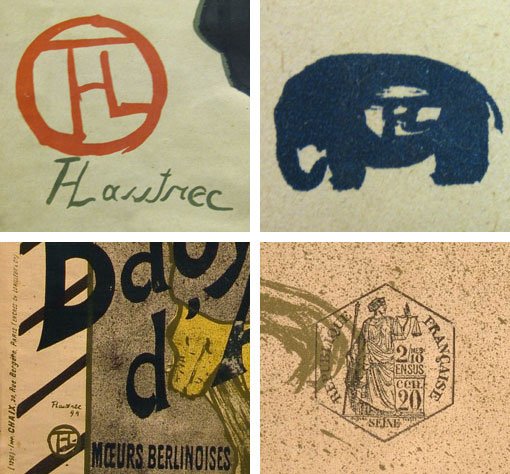 In 1890s Paris, up to 2000 prints may have been made of a poster for commercial use. Most of these were plastered onto walls and therefore didn't survive, but Toulouse-Lautrec's vibrant, innovative posters were so desirable, collectors often took them down as fast as they went up.
Although colour lithography could accommodate dozens of colours in one print, Toulouse-Lautrec generally chose only four or five for his posters, as he preferred to create his effects using subtle modulations and juxtapositions. Some of the colours he used most often included curry yellow, olive brown and vermillion, which he obtained from the ink manufacturing firm of Charles Lorrilleux. One of his preferred ways to apply the ink was a technique called 'crachis' ('spit' in French). This involved either shaking a brush over a sieve or running a knife along the edge of a brush to create a sprinkled/airbrushed effect.
Most of Toulouse-Lautrec's posters incorporate one of his identifying marks, including his famous chop mark (which present his initials 'HTL' in a Japanese style) and his monogram presented within a little elephant (the origins of which have been traced back to a wooden elephant in the garden of the Moulin Rouge).
There are other marks to be found on some of the posters, including those of the printing firms Toulouse-Lautrec used (such as Chaix, Verneau, and Ancourt) and tax stamps (which were required on advertising posters to be hung outdoors). All these marks help us piece together the posters' past and provenance.
This slideshow tells just a few of the stories unearthed during this project and gives an insight into some of the range of treatments carried out over 26 days on six posters, with the support of funds from the Friends of Conservation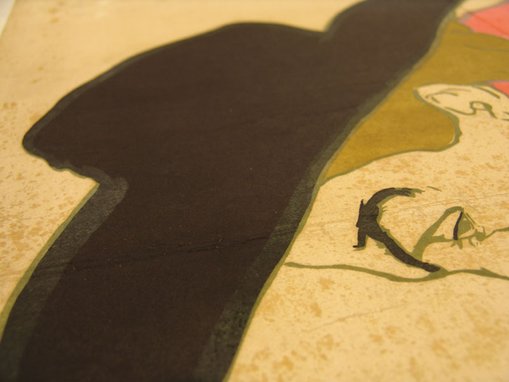 1/19
Before treatment
Because they weren't produced to last, posters were usually printed on cheap paper with a high wood-pulp content. Such paper discolours over time on exposure to light – a process known as photo-oxidation. The brown stains on this poster – known as foxing – are generally the result of fungal growth or the oxidation of metal-based impurities in the paper, triggered by high levels of humidity.
2/19
Before treatment
Some of the works were torn, and paper and ink had been lost from parts of the surface, particularly along the fold lines.
3/19
Washing
After surface cleaning and extensive solubility testing, each poster was washed in a pH-neutral cold water bath to remove soluble discolouration and soften the adhesive attaching the poster to the linen backing.
4/19
Removing the backing
While damp, the old linen backing – often mouldy and stained – was removed gently and slowly to ensure no areas of the poster were disturbed. The linen has been kept for future reference.
5/19
Inscription revealed
Removing the linen sometimes revealed more surprises. This particular poster had a graphite inscription with the title of the work, Babylone D'Allemagne.
6/19
Previous repairs revealed
Removing the linen also detached some previous repairs: in this case, tape along with a small part of the poster it had been securing in place, which was reattached later.
7/19
Removing old repairs
Other tape repairs were removed with a scalpel or a spatula. Here, this revealed previous retouchings, which can be seen as blue staining on the back of the work.
8/19
Repairing
Strips of Japanese kozo paper, attached using Japanese wheat starch paste, were used to repair tears, pinholes and other areas of paper loss and to provide extra strength along the poster folds.
9/19
Relining with Chinese paper
To provide additional reinforcement and to simulate the linen lining, each poster was double-lined with two different types of paper, each with different properties. The first layer was Chinese Xuan paper, a strong, smooth paper with a high resistance to mould.
10/19
Relining with Japanese paper
The next layer was Japanese Kozo paper, an extremely strong, stable paper. As each lining was dropped onto the work, air bubbles were brushed out using a Japanese nadebake (smoothing) brush.
11/19
Preparing for tension drying
Due to the large size of the works, we decided to tension dry the posters on a karibari board. This method is traditionally used for Asian scrolls. Generally the Western approach has been to dry works flat under weights.
12/19
Tension drying
The posters were left to dry for at least seven days. During this time, they were sprayed with deionised water to avoid uneven drying due to the different drying rates of the inked and uninked areas.
13/19
Mounting and framing
Each poster was placed in an archival-quality window mount then put into a custom-made frame with acrylic glazing.
14/19
Henri de Toulouse-Lautrec The photographer Sescau 1894
The photographer Paul Sescau was one of Toulouse-Lautrec's drinking companions. He had a reputation as a lady's man who enticed women into his studio for photographic purposes and then seduced them. This poster was commissioned as a promotion by Sescau.
15/19
Henri de Toulouse-Lautrec La Chaîne Simpson 1896
Toulouse-Lautrec was commissioned by his friend Louis Bouglé (the French representative of the English cycle firm Simpsons) to produce a poster to advertise the company's new lever chain. While Bouglé rejected the poster's first version due to poor scaling and lack of excitement, this second version was more popular. It features French cyclist Constant Huret riding behind the Gladiator tandem pacer. In the background stand sports impresario Tristan Bernard and Bouglé representing his bicycle store LB Spoke (identified in the text).
16/19
Henri de Toulouse-Lautrec Aristide Bruant, at his cabaret 1893
Parisian singer and café owner Aristide Bruant was the embodiment of the Montmartre café-concert scene. A shameless self-promoter, he commissioned a number of posters from Toulouse-Lautrec to announce his performances and to establish his fame. This is the third of Toulouse-Lautrec's posters for Bruant. It has no text as it was probably intended for sale to a private collector through one of the artist's many poster dealers.
17/19
Henri de Toulouse-Lautrec Babylone d'Allemagne 1894
This poster was commissioned to promote Victor Joze's novel Babylone d'Allemagne. A satirical account of German corruption, debauchery and militarism, the book caused an international stir when the German ambassador in Paris strongly objected to its publication. Toulouse-Lautrec's caricature-like depiction of German militarism was very popular in France and increased the value of his works considerably.
18/19
Henri de Toulouse-Lautrec La Revue Blanche 1895
La Revue Blanche was an influential literary and artistic journal published in Paris by the Natanson brothers from 1891 to 1903, which attracted talented avant-garde writers and artists such as Tolstoy, Kipling, Wilde, Twain, Proust and Mallarmé. As one of its principal contributors, Toulouse-Lautrec was commissioned to design the promotional poster for the journal. He used Misia Natanson (wife of one of the proprietors) as his model for the ice-skating figure.
19/19
Henri de Toulouse-Lautrec Frontispiece for 'Elles' 1896
From his visits to the Rue des Moulins brothel, Toulouse-Lautrec built up a repertory of images which formed the inspiration for an album of 10 colour lithographs, Elles. This poster was not part of the original set but was intended as the promotional poster for the album.
Previous post: Tick, tick, tick... Bacon and time
Next post: Bacon and beer: Australians in London

December 20 2012, 11am
by Analiese Treacy
Paper conservator