They're an inspiration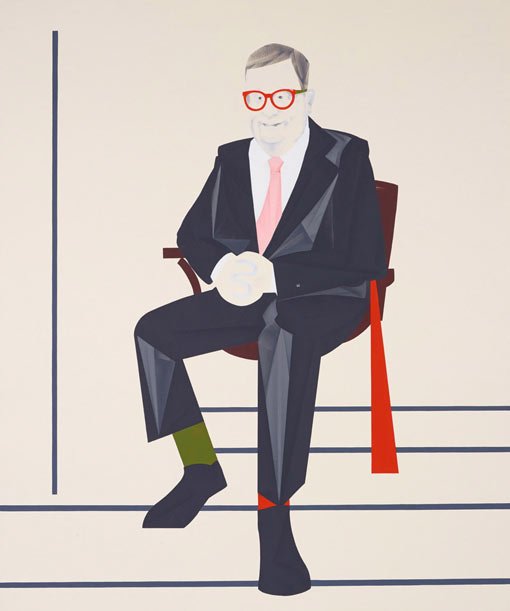 Mitch Cairns Reg Richardson AM, Archibald Prize 2014 finalist
This year's Archibald Prize includes portraits of three of the Gallery's major supporters: Reg Richardson AM, John Schaeffer AO and Penelope Seidler AM.
Art collector and businessman Reg Richardson is an active supporter of many organisations, including the National Art School. It was through his patronage of the NAS that he met artist Mitch Cairns, who has painted Reg's striking portrait. As Reg said, his family think it perfectly captures his air of constant activity.
Back in 1991 Reg joined the Art Gallery of NSW Foundation – the philanthropic organisation for the Gallery's major art patrons who support our acquisition funds. He was a Foundation Trustee for many years, fundraising with enthusiasm and charm.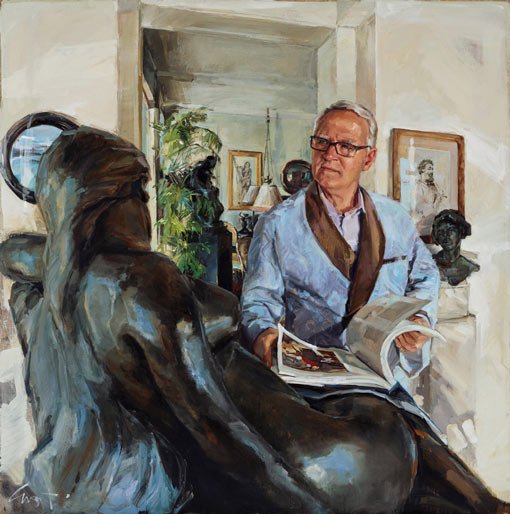 John Schaeffer, also a long-term and continuing patron, is the subject of Evert Ploeg's portrait. Looking distinguished but relaxed, John is painted in his home surrounded by his much-loved art. John has been a Gallery Trustee and is currently a Foundation Trustee. In 1999 he was awarded the Gallery's highest accolade, Life Governor of the Gallery, in recognition of his continuing support.
Like most Foundation members, John has been collecting art for many years. He is a dedicated specialist collector, having a particular passion for pre-Raphaelite art. Over the years, he has donated many works to local and international museums as well as actively supported many acquisitions for our gallery such as Cézanne's Banks of the Marne and more recently the Australian Masterpiece Fund purchase of John Brack's exceptional The breakfast table.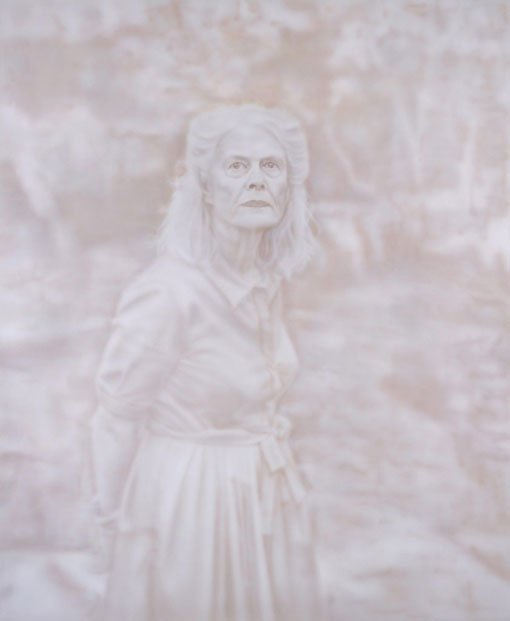 Architect and philanthropist Penelope Seidler – the subject of Fiona Lowry's winning portrait – was one of the very first members of the Foundation, joining in 1983, and has remained one of our greatest supporters ever since.
Always passionate about photography, Penelope recently donated a number of Max Dupain photographs to the Gallery, which are currently exhibited in Max Dupain: the Paris 'private' series and other pictures.
That connection to Dupain was brought to mind again when, at a recent breakfast for the Foundation's Contemporary Collection Benefactors, she said that when Fiona was painting her, she was standing in the same spot where Dupain photographed her in 1967, and she was thinking about that photo and the shoot with Dupain.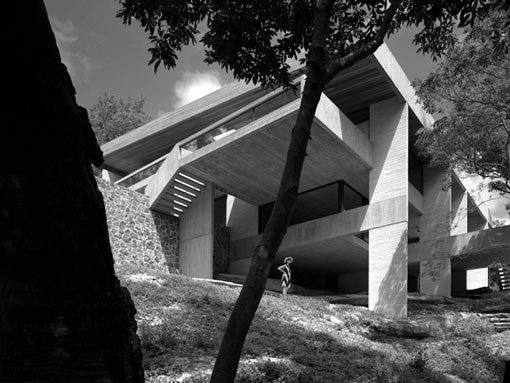 Three inspiring philanthropists, each one a vital and much appreciated supporter of the Gallery. If they've inspired you, find out more about supporting the Gallery.
Previous post: Everyone's a critic
Next post: In space, no one can hear you read

August 01 2014, 9am
by Jane Wynter
Head of philanthropy