The show goes on
Participants in the 2011 Goroka Show with their contemporary dance banners. Detail of photo by Natalie Wilson
For most city slickers the Sydney Royal Easter Show evokes memories of fairy floss, show bags, gut-churning thrill rides and empty wallets! Run by the Royal Agricultural Society of NSW since 1823, the show is organised to encourage the development of Australia's agricultural industry. Its history goes back to medieval England when 'fayres' were held for the trading and bartering of produce, and entertainment – in the form of dances and sideshows – was an important social release. By the time The Great Exhibition was held in London in 1851, the humble fair had become a celebration of culture and industry, revelling in modern industrial technology and colonial raw materials.
The British colony of Australia itself became a coloniser in the late 1800s and early 1900s, when the eastern section of the island of New Guinea fell under Australian administration. The mountainous interior of the island, however, was unknown to the outside world until 1930, when two Australian gold prospectors revealed vast populations living in the fertile highland valleys.
Within a few decades, the main township of Goroka was thriving and in 1956 the inaugural Eastern Highlands Agricultural Show – or Goroka Show – was held, with all the bells and whistles of a traditional English fair: wood-chopping contests, displays of produce and livestock, and the awarding of ribbons and trophies for arts and crafts produced by the largely Australian expatriate community. A bicycle race and archery contest was held for local highlander competitors.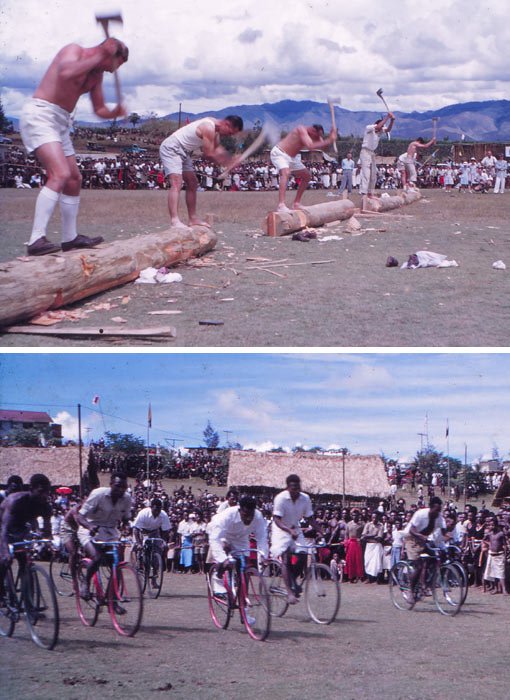 In 1957 the Goroka Show was transformed by the introduction of the 'tribal finery contest', in which cultural groups from across the highlands were invited to perform traditional songs and dances (known as singsings) wearing their finest bilas (body adornments). Some of this is captured in this extraordinary silent footage from the Penn Museum in the US – fast-forward through the first two minutes and the spectacle begins…
As the shows evolved, decorations became more spectacular and the number of highlanders taking part increased dramatically, many walking for days to participate. When the first Western Highlands District Agricultural Show – or Mount Hagen Show – was held in 1961, over 50,000 highlanders attended the event and thousands of dancers performed in the main arena, adorned in traditional decorations as well as wonderful modern creations.
It was at these magnificent cultural displays that Stanley Moriarty began to assemble his world-renowned collection of highlands art, some of which will feature in the Gallery's forthcoming exhibition Plumes and pearlshells: art of the New Guinea highlands.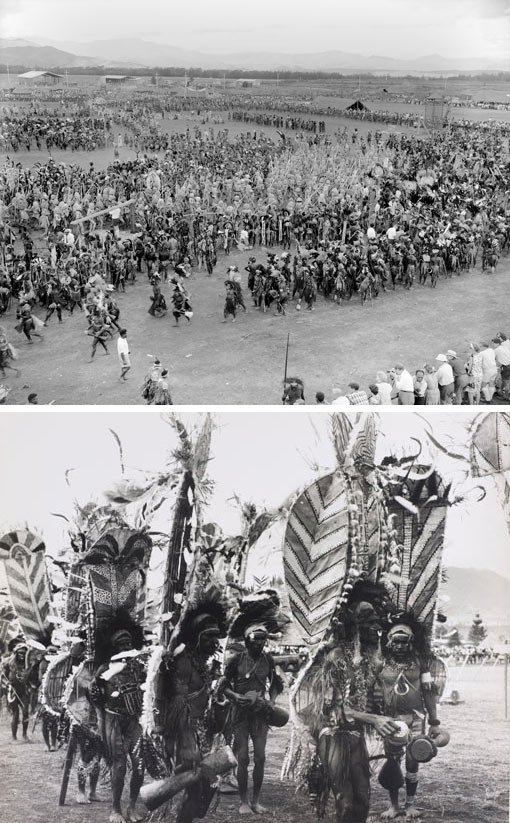 All the spectacle and thrill of the 1963 Mount Hagen Show will be seen in a film screening in the exhibition, giving visitors a sense of the sights and sounds which can still be experienced today when visiting Papua New Guinea's main tourist attractions: the Goroka and Mount Hagen shows.
Previous post: An art of gold
Next post: Not your average jewels

April 24 2014, 12pm
by Natalie Wilson
Curator