Stray inside the lines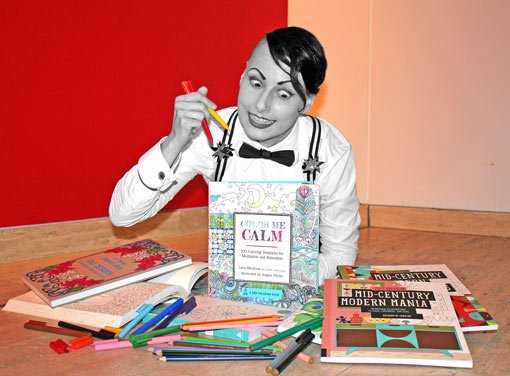 So apparently colouring books for adults are now totally a thing.
I'll admit their popularity has caught me off-guard. But then, my relationship with colouring books has always been a bit unbalanced.
When I was a very small person, I carefully followed my mother's patient instructions on how to colour-in. She explained to me how to fill up the blank space with neat, joined-up parallel texta lines that avoided any snarls of uneven colour or paper bleed-through. I nodded, watched her demonstration, and somehow interpreted all this to mean that everything should be coloured in with stripes. My hand-eye coordination was lacking, and I couldn't make my lines as neat as Mum's, but my determination to Do This Thing Properly meant that I filled colouring book after colouring book with wobbly tram tracks. Every My Little Pony was inadvertently a zebra. My Disney characters were all inmates of the same cheerful prison.
Mum realised after a while that this stripe-fixation was less a bold artistic statement by her child and more a fundamental error in comprehension, but by then the damage was done. This, to me, was the sole Correct Way to Colour-In. I moved from ABCs to OCD with only a brief pause to rearrange my textas in alphabetical order, and spent my primary school years contentedly creating books of tidy convicts.
When high school arrived, however, I wanted to be like all the other teenage dirtbags, and moved on to neatly graffitiing Alanis Morissette lyrics on my pencil case. Colouring books were, like, only for little kids.
How oddly liberating then, in 2015, to find that adults are reclaiming the joys of colouring-in, and a wave of colouring books for grown-ups were among the Gallery Shop's bestselling practical art titles last year. Some – like Color me calm and Coloring mandalas for meditation – are marketed specifically as 'art therapy': an opportunity to de-stress, achieving Zen-like calm while colouring intricate spirals and delicate mandalas. Others such as Color it chic contain creative prompts, with a page full of designs or pictures to colour, and the facing page left mostly blank for experimentation or continuing designs. Some have removable pages for framing, others feature line drawings of famous artworks – such as Art therapy stained glass – or interior design classics to reinterpret – a la Mid-century modern mania.
They all encourage adults to begin thinking of creativity as something you do, rather than something you get done. And whether you use them as a relaxation technique, enjoyable hobby, hand-eye coordination warm-up, or as a gateway drug to bigger art projects, it's a good bet that they'll recall vivid memories of how you used to approach colouring-in as a child.
I'm going to challenge myself to pick one and scribble wildly all over the borders of my self-control, but I'm not sure I can let go of the stripes just yet.
Let's start with spots.
Previous post: Vale Colin Lanceley
Next post: I'm not good at art but...

February 10 2015, 2pm
by Holly Bennett
Gallery Shop