Stories from the 60s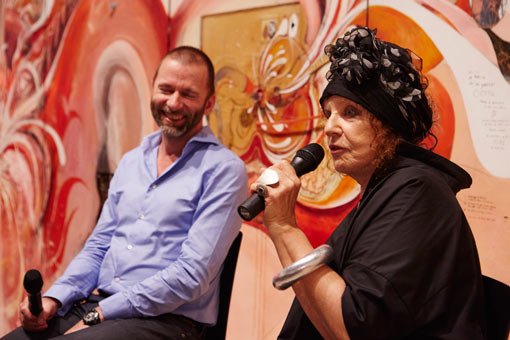 Pop to popism curator Wayne Tunnicliffe with Wendy Whiteley in front of Brett Whiteley's The American dream 1968-69, State Art Collection, Art Gallery of Western Australia, purchased 1978 © Art Gallery of Western Australia
If you can remember the 60s, you weren't there… or so the saying goes. Turns out many of the Australian artists in Pop to popism remember the age of pop surprisingly well.
In our series of Oz pop talks we've had a number of artists from the exhibition take us behind the scenes of Australian pop art. With stories ranging from late nights with Mick Jagger to how the works were made, these talks have transported us back to the 60s, giving us an eyewitness account of what it was like then in Australia and why the art looks the way it does.
With artists such as the Annandale Imitation Realists and Martin Sharp, Sydney is often considered the hotbed of pop art in Australia, so it was fascinating to hear Gareth Sansom's take on what was happening in Melbourne. He remembers, for example, being encouraged in art school to use the 'Antipodean palette' of beige and browns – from which he quickly broke away. Listening to him tell the story of meeting Francis Bacon in a London pub in the late 60s also revealed how much Bacon helped to shape the direction of Sansom's work.
Peter Kingston and Garry Shead, both Sydney artists who were part of the experimental pop scene of the 60s, had plenty to say about the period too. According to Shead, the idea at the time was to shock audiences, and shock they did. The images of bikini-clad women cut out from magazines that appear in Shead's 1968 work Bondi were enough to make the police drop by the exhibition to check for profanity. (This was around the same time artist Mike Brown was prosecuted for obscenity in his work, initially receiving three months hard labour before being reduced to a $20 fine on appeal.)
Some of Kingston's sculptures, on the other hand, are modelled on characters from a 1975 episode of TV's The Norman Gunston Show called 'The checkout chicks'. In Kingston's work of the same name, it's possible to make out the likenesses of actors Vivienne Garrett, Anne Lambert and Philippa Baker – and that likeness continues to be bang on some 40 years later, as we found out. To everyone's surprise, these very women – along with the writer of the episode, Bill Harding – made an appearance at Kingston's talk, with some revealing that it was the first time they'd seen themselves as Kingston's models.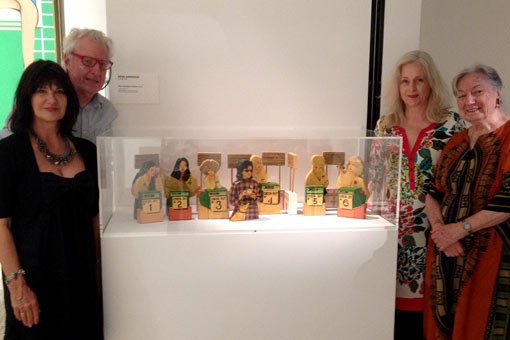 In the late 60s, Brett and Wendy Whiteley were living in New York in a loft at the Chelsea Hotel, which is where Brett created his monumental work The American dream (1968-69), on display in the exhibition. In her talk, Wendy describes the tumultuous and experimental period in which it was made. This work affected Brett more than any other, and Wendy recounted finding him lying on the floor in front of the painting, having fainted from the sheer enormity of what it meant to him. Brett was an active participant in the anti-Vietnam and civil rights protests, and The American dream was Brett 'trying to save America'.
In 1967, critics responded to Vivienne Binns' provocative exhibition at the Watters Gallery with such audacious statements as 'have a double brandy, grit your teeth and see it'. Indeed, it was a show that not only rocked the art world, it also shook the artist herself. In her talk, Binns describes how she was fully immersed in Sydney's experimental art scene and wanted to create a work about couples and love. These psychedelic images of male and female genitals, which first came to her in dreams, are the result of pushing her artistic limits. The impact was a staggering 20-year break from painting!
One of the most remarkable aspects of these discussions has been an insight into the artistic community and its sense of comradery. Binns spoke of her respect for and close friendship with Mike Brown. Shead and Kingston reminisced about their long-time friend Martin Sharp. And Wendy Whiteley described late-night New York conversations with Robert Rauschenberg, Janis Joplin and Arthur Miller. Oh, to have been a fly on the wall!
You can, however, listen to these stories online and perhaps join us at the Gallery for a different perspective in the Oz pop talks still to come.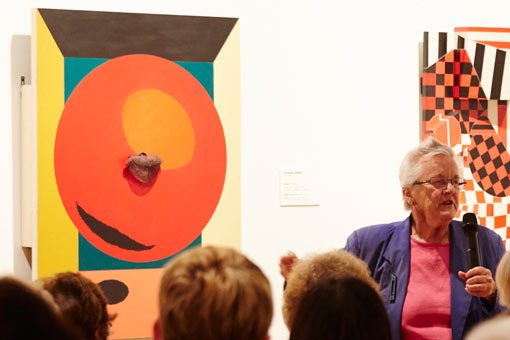 Previous post: Vinyl fantasy
Next post: Vale Colin Lanceley

January 23 2015, 2pm
by Alexandra Gregg
Coordinator, contemporary programs