Stop and take a closer look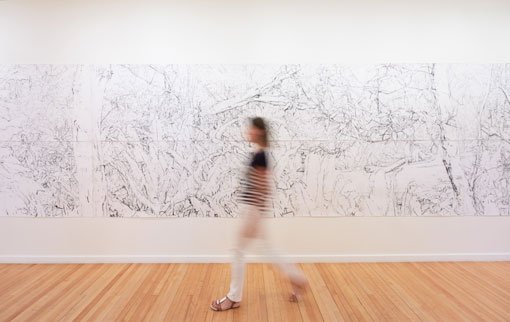 Mary Tonkin Between two logs, Kalorama 2013-14
Since February I've been an intern in the Australian Prints, Drawings and Watercolours Department at the Gallery, assisting with the Dobell Australian Drawing Biennial exhibition Drawing out.
In preparation for the show I've read about the artists (always important), researched their practice and had the opportunity to listen to recorded interviews between the exhibition's curator Anne Ryan and several of the artists. Even before I had laid eyes on many of the physical works, I had already built up an idea of how I felt about them based on what I'd read, what I'd heard and what I'd seen in reproductions.
My first opportunity to come face-to-face with one of the artworks arrived when I was asked to lend a pair of arms to Gallery photographer Felicity Jenkins, who was photographing Between two logs, Kalorama 2013-14, by Melbourne artist Mary Tonkin. The drawing consists of 26 large sheets of paper that, when lined up together, become the largest work in the exhibition.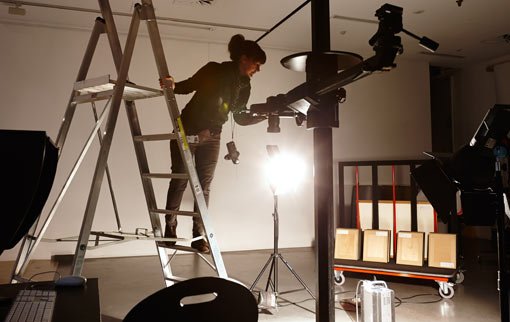 If you're curious to know what the Gallery's state-of-the-art photography studio looks like, picture James Bond – sharply kitted out in black and white and furnished with equipment that looks expensive and very techy. In comparison, I felt underdressed and also scared to touch anything.
As the photographer and I carefully lifted each sheet of paper from the holding trolley onto the photography bed (not the technical term), I was immediately struck by the gap between what I had expected to see and what I was looking at. Under the bright studio lights, Tonkin's drawings sprang to life, brimming with texture. The surface is a subtle feature that didn't translate in the reproduced images I had seen but, in person, the rigorous manner in which the paper had been agitated was, for me, a poignant characteristic of the work and one that was only perceivable up close.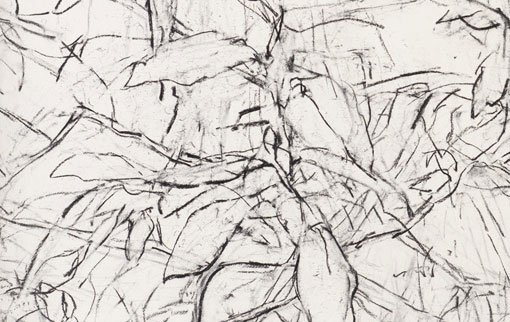 In that moment, my previous assumptions were shot. I think there's a saying about 'assuming'... In my defence, I'm going to (tenuously) liken this to the Mona Lisa. So familiar are we with this famous portrait that we run the risk of presuming we know Mona. Then, when you see her in person, small, behind thick glass and encircled with onlookers and (more recently) their smartphones, the experience may be unexpected, new even. It could be entirely overwhelming or a real let-down but it probably won't be what you anticipated.
So while I will continue to live a very online, staring-at-the-screen-till-my-eyes-go-blurry life, I am reminded that art objects made to be viewed in person really should be seen in the flesh to appreciate fully their intended power. They might just take your breath away.
Previous post: Art on the farm
Next post: Young Members: born with a bang!

December 01 2014, 11am
by Katie Furlonger
Curatorial intern (2014)