Souvenirest and dearest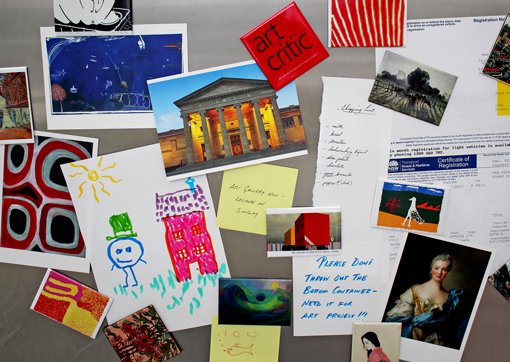 I have a lot of feelings about magnets. Let's get that out in the open first thing.
I'm not being ironic here. I believe souvenir items are a genuinely wonderful phenomenon, and magnets are their apex form.
People spend a lot of time choosing souvenirs. We idle in front of the postcard rack long past our parking meter expiration. Buses are missed; tour groups abandoned. Entire families weigh in on the perfect choice and often end up picking separately to reach satisfaction. The perusing of the souvenir shelves often reflects the amount of time spent in front of the artworks themselves, and for very good reason.
I often hear visitors talk about buying art souvenirs because they want to take a piece of a particular work home with them, and I think that's right in more ways than one. We don't only want a reproduction of the artwork because we like the look of it – we also want to recapture what it felt like to first see it. That moment of ourselves, standing in front of a piece of art, when the rest of the world fades into white space. We want to mark that occasion, the point when we felt something inside us change. We buy souvenirs because they say something about us, not just about the artwork, and so our souvenirs become the symbols that mark those shifts in who we are and why.*
As to why we buy souvenir magnets in particular, I've got a theory.
Souvenir magnets almost always go on the fridge, right? The one place we're all guaranteed to visit multiple times a day. The stuff we keep on the fridge, therefore, is all the important day-to-day stuff. Bills, shopping lists, love notes, reminder notices, calendars, the kids' latest artwork – all the significant items of the Now, arranged in the centre of our daily routine.
And what is it that we use to hold the Now in place?
Our souvenir magnets. Like memory anchors, these are our micro-monuments of the Then. On the fridge, all the essentials of our everyday are held up by the moments that we were transformed.
We keep our present tethered with our past, and if that's not a marvellous thing to be having feelings over I don't know what is.
Now if you'll excuse me, I think I'm late for the train.
Footnote: The sales of all souvenirs from the Gallery Shop directly contribute to the Gallery and its collection, which is also pretty magnificent.
Previous post: Contemporary printmaking from the Torres Strait Islands
Next post: Artist interview: Sara Hughes

November 15 2017, 9am
by Holly Bennett
Creative and content coordinator