Sounds of silence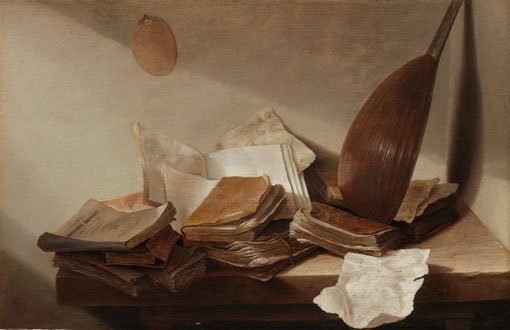 Jan Davidsz de Heem Still life with books c1628, Rijksmuseum, gift of the heirs of C Hoogendijk, The Hague
A painting – even when artists suggest motion – expresses a particular instant. Music, by contrast, is a moving form, prone to shifting mood within bars. Paintings need our patience, music asks that we travel with it, and keep up.
In the Dutch golden age, a great number of paintings included musical subjects. Twelve of the 35 paintings attributed to Johannes Vermeer, for instance, are studies of people playing instruments. There is some disjunct to these music-making figures caught in the stillness of a Vermeer canvas – that is part of the intrigue, the longing to not just see, but to hear.
'Music can provide a context that puts you in a different space in relation to the way that you look at art,' says Toby Chadd, a producer at ABC Classics, who has compiled a soundtrack to Rembrandt and the Dutch golden age: masterpieces from the Rijksmuseum. His selections can be heard on the exhibition's audio guide, or bought as a CD from the Gallery Shop.
Chadd, who has worked on several bestselling soundtracks for Gallery shows and collection areas, intends each song as a counterpoint to a room in the exhibition. For instance, while visitors look at pastoral landscape paintings, Jacob Van Eyck's recorder solos will play. Born blind, Van Eyck developed a remarkable ear – as well as composing music, he was an expert bell caster and tuner of the carillon. His music remains popular to this day.
But composers of the Dutch golden age, with the exception of Jan Pieterszoon Sweelinck, never rose to the heights of their contemporaries in painting, in most part because the kind of music they wrote was distinct from that of composers in wider Europe.
In the Netherlands of the 17th century, the Calvinist church all but banned music in religious services. With no royal court, great balls with full orchestras were also rare. But citizens could afford to collect instruments. They bought lutes, virginals, viols and harpsichords. Children, particularly girls, in wealthy families learned to dance, sing and play multiple instruments.
In the same way artists were painting pictures for people's houses; Dutch composers wrote distinctly bourgeois music that might be played in the home, in taverns or in danscamers (dance halls), music that has its own unique character.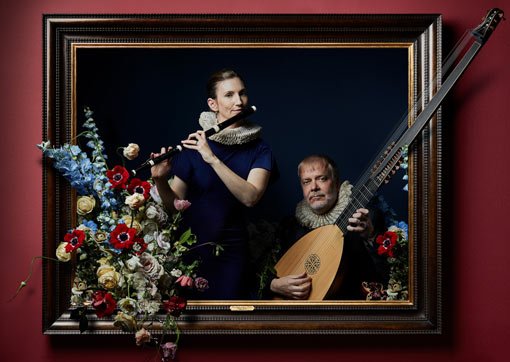 On evenings throughout January, the Australian Brandenburg Orchestra will be performing the music of these overlooked Dutch composers in the exhibition space. Some of the songs are so uncommon the musicians will be performing them for the first time. 'Most of the pieces, I've never played before in my life,' says Joanna Butler, who will play the harpsichord and the organ in the performances, and who did the preliminary musical research for the show.
Rembrandt live, which is directed by acclaimed actor John Bell with musical direction by Paul Dyer of the Brandenburg Orchestra, will also have a theatrical aspect with singers and dancers, and period costumes. The backdrop of paintings and etchings on loan from the Rijksmuseum give a glimpse back through time.
'We can never truly know what people heard,' Chadd points out, 'because the people who were listening were different, the people who were playing the music were different, the voices were different, there are so many things that affect our experience of listening to music.'
In vanitas still lifes, musical instruments symbolise earthly pleasures. We cannot know what people heard, but perhaps, through art, we can imagine how they felt, and what music meant to them.
A version of this article first appeared in Look – the Gallery's members magazine
Previous post: Vale Ray Hughes
Next post: Restoring a Streeton

December 21 2017, 11am
by Sarah Couper
Deputy editor, Look magazine (until August 2018)