Significant others: women in pop art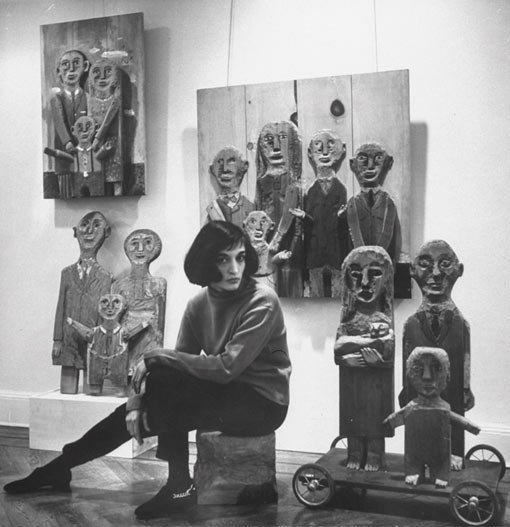 Artist Marisol Escobar with some of her sculptures. Photo by Walter Sanders/The LIFE Picture Collection/Getty Images
Aside from Pop to popism, the only other major survey of pop art to be staged in Australia is the touring exhibition Pop art 1955-70, organised by the International Council of the Museum of Modern Art in 1985. That show included the work of just one woman, Marisol (Maria Sol Escobar), a figurative sculptor based in New York. This fact – somewhat astonishing for the times – reflects Marisol's status in the American pop scene throughout the 1960s, when she achieved both critical acclaim and broad popularity.
Marisol's work returns to the Art Gallery of NSW in Pop to popism with her charismatic carved portrait of the actor John Wayne, commissioned for an issue of Life magazine in 1963.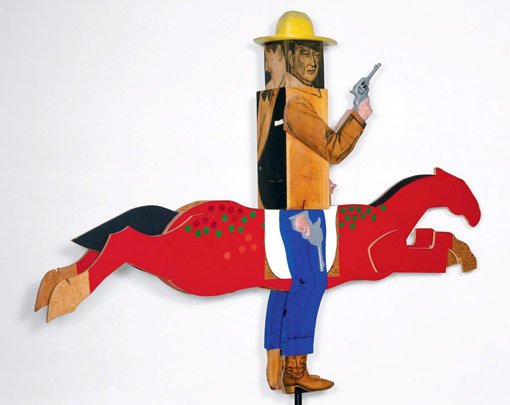 But in the intervening years, as one critic has frankly noted, Marisol's practice was more or less 'erased from the history of postwar art'. A number of recent exhibitions have aimed to recover her achievements and, more broadly, the contribution of women artists to the development of pop – key among them Seductive subversion: women pop artists, 1958–1968 at the Brooklyn Museum.
Pop to popism continues in this spirit, championing the work of women pop artists including Rosalyn Drexler, one of Marisol's contemporaries in America. As with John Wayne, Drexler's striking collage-painting Home movies 1963 alludes to the world of cinema and its different genres. Drexler skirts around the cult of celebrity, however, and has instead used imagery derived from gangster movies to convey a sinister subtext about power and violence in domestic life.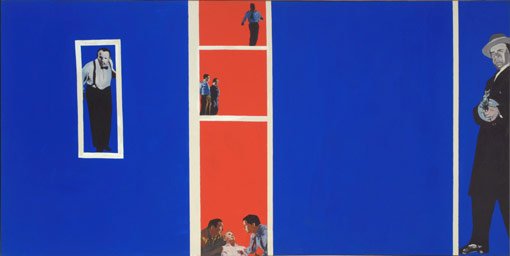 Later in the exhibition, Martha Rosler's photomontages House Beautiful: bringing the war home 1967 reference home life far more literally, using idealised domestic scenes cut from the pages of House Beautiful. Conceived as a form of protest against America's escalating military involvement in Vietnam, Rosler combined the stylised interiors with journalistic imagery of the war, hammering home the startling disparity between the two contexts, and the way conflict is filtered by the media.
Media imagery resurfaces in the 'popism' section of the show in a series of works by Australian artist Jenny Watson, which reproduce layouts from popular publications. A painted page: Twiggy by Richard Avedon 1979, for example, includes a gridded, greyscale image of the model Twiggy, copied from a print reproduction of a photograph originally taken by Avedon for US Vogue in 1967. Watson has framed this within a gestural abstract field of colour, emphasising the multiple layers of mediation at play, across visual mediums – and also across eras.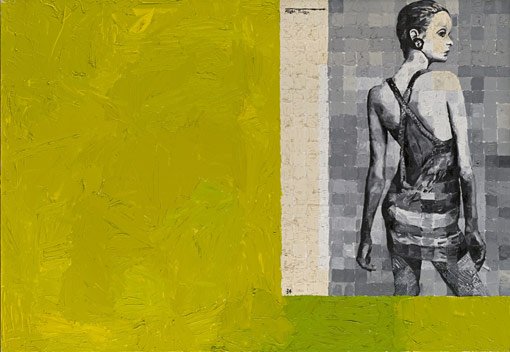 Other works by women artists in the exhibition bring a more explicitly feminist perspective to their subject matter, including a selection of Cindy Sherman's celebrated Untitled film stills 1977-80, in which the artist embodies a range of clichéd media stereotypes.
In the section on Australian pop art of the 1960s, Vivienne Binns' funky and exuberant paintings of genitalia are absolutely pivotal in this regard, having boldly asserted female sexuality at a time when it was taboo. These works caused a ruckus when they were first displayed in Binns' first solo exhibition at Sydney's Watters Gallery in 1967, which was subsequently lauded by the American art critic Lucy Lippard as 'way ahead of its time'.
Throughout Pop to popism there are other outstanding works that reveal the significant part women played in the movement. Seek them out and they will undoubtedly reward.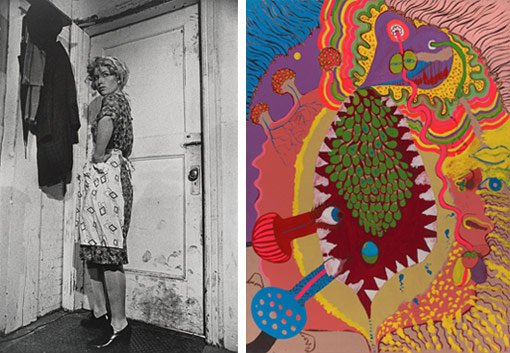 Previous post: Young Members: born with a bang!
Next post: A place for snackers, searchers and miners

December 12 2014, 4pm
by Anneke Jaspers
Curator, contemporary art