Sharing stories (and stickers)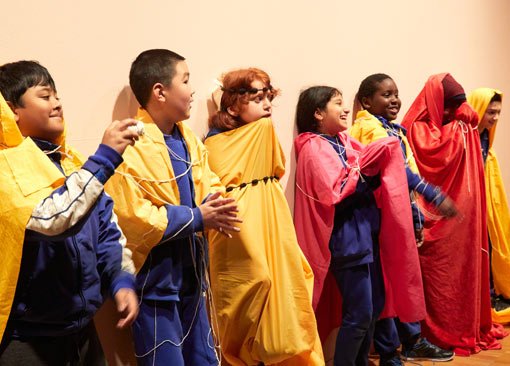 Images above and below: Fairfield Public School students take part in workshops as part of the Belonging project
Art doesn't appear this morning on the daily schedule of class 4T at Fairfield Public School. Listed instead on the purple front wall, beside the bee-themed class tasks, are literacy, writing, maths, scripture, geography and (hooray!) home time.
But an artist stands in the teacher's place, and the desks are piled high, not with maths sheets, but marker pens and pencils, stickers, scissors and scrap paper.
A Sulman Prize finalist in 2019 and 2018 and recipient of the 2017 NSW Visual Arts Emerging Fellowship, Claudia Nicholson urges the students, who are creating postcards, to add more colour and more detail. 'As you're working, have in mind a place where you belong – school, home, country, parents,' she tells them.
'Any text can relate to the idea of belonging. It doesn't have to be in English,' she reassures the class of nine- and ten-year-olds, almost half of whom have a refugee background and nearly all of whom have a language background other than English.
'Now, are you good at sharing?' she asks, gesturing at the highly sought-after stickers on each nest of tables. 'Yes!' 'Yes!' 'No!' comes the volley of responses from around the classroom.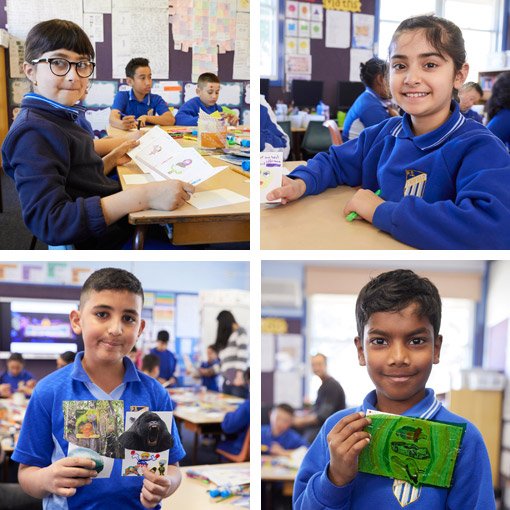 The Art Gallery of NSW's Belonging project connects community-engaged artists with children from Fairfield Public School and the Asylum Seekers Centre in Newtown, through a series of art workshops and Gallery visits.
Workshops such as this one give young people from migrant and refugee communities and asylum seekers an opportunity to 'create, shape and make new artworks exploring a sense of place, both new and imagined, in their own voice,' says the Gallery's education manager, Leeanne Carr.
Led by Nicholson, and assisted by fellow artists Marian Abboud, Tarik Ahlip and Kirra Weingarth, 72 kids in Year 4 and about 40 children and their parents from the Asylum Seekers Centre have taken part.
'This project is for them to feel that the Gallery is a place they can go with their family. That they belong in that space,' says refugee support leader and project partner Cindy Valdez-Adams, from the Department of Education. 'This is how they learn about Australia and the world. It's another layer for them learning about their new country, discovering themselves, and belonging. Every time we've taken a group of kids to the Gallery they say, "We can come here? It's free?" They're in awe.'
In the classroom, the stickers are quickly snapped up. The selection includes hearts, smiley faces, super heroes, robots and a beaver playing ice hockey. Postcards are soon addressed to BFFs, parents and classmates.
'They thrive under this learning,' Valdez-Adams says. 'Art is such an inclusive subject and a great way to learn English. Being able to describe and respond to how you're feeling through art gives them language.'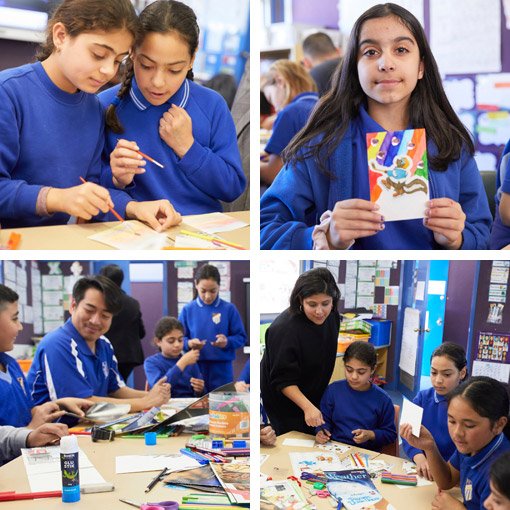 'That looks amazing,' Nicholson tells a child who's drawing dragon boat races on the Pearl River in Guangzhou, China, the location of a recent family holiday.
'Is that for your mum?' Marian Abboud asks another child who's busily decorating a card.
'Yes.'
'Then I would say, "'for my mum".'
Fairfield is home to roughly 3500 refugees and recently arrived migrants from diverse cultural backgrounds. It also has the largest Iraqi and Syrian population in the country.
Frank, who imagines a future in football, not art, is happily making a card to himself ahead of his 10th birthday. His family arrived from Iraq just three months ago. He has been enrolled at Fairfield for four weeks. Along with his birthday card, he has a side project that includes writing the names of all his new classmates in Arabic.
'There's something about art that connects you,' Valdez-Adams says. 'You lose yourself in the making. We're seeing that today. I always tell my colleagues, "What child doesn't like doing artwork?"'
A new work by Claudia Nicholson, informed by the workshops, will be on display at the Gallery from 10 December 2019, alongside Home: drawings by Syrian children as part of the Belonging exhibition.
And, in another element of the project, Fenella Kernebone chats with students from Fairfield Public School and Claudia Nicholson about their experiences of telling stories with art through the Gallery's Belonging project, on World Children's Day, 20 November, as part of Art After Hours.
A version of this article first appeared in Look – the Gallery's members magazine
Previous post: Nightmares and dayscreams
Next post: Sparks of joy, flashes of resentment

November 17 2019, 12pm
by John Saxby
Editor, Look magazine