Not the selfie as you know it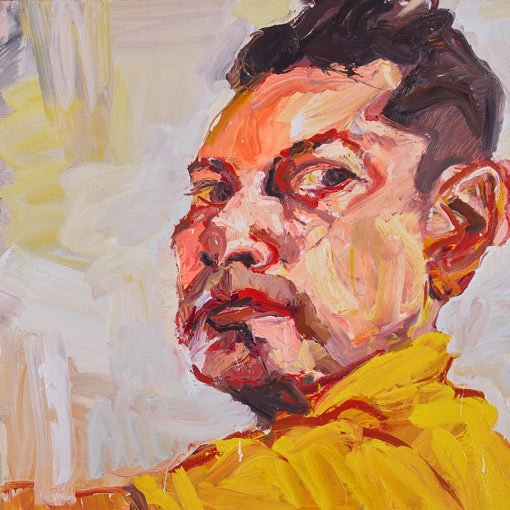 Robert Malherbe Self-portrait, Archibald Prize 2017 finalist
In establishing the prize that bears his name, JF Archibald may have stipulated that the portrait be 'preferentially of some man or woman distinguished in art, letters, science or politics', but it's obvious that this year's finalists prefer faces from the art world – even more so when it's their own.
Twenty of the faces this year belong to artists – including the winning portrait of Agatha Gothe-Snape by her partner Mitch Cairns – and 11 of those are self-portraits.
Painting yourself might seem an easy choice as it gets around the logistical challenges of arranging live sittings (another stipulation of the prize). But the artists themselves have revealed a range of other motivations for their choice.
Tony Albert has inserted himself into an assemblage of ashtrays from his collection of 'Aboriginalia' to personify what is often a generalised depiction of Aboriginal culture.
Tjungkara Ken draws attention to Indigenous identity in another way, by painting a self-portrait of her country. 'For Anangu, they are one and the same,' she says.
Tsering Hannaford is also making a point about representation. 'Throughout the history of art, the female form has been represented time and again by male artists as the object of the male gaze,' she writes. Her work is a demonstration of self-authorship.
David Griggs shares the view that 'painting one's self, the artist, gives power back to the artist, but he's also interested in exploring his own darkness, albeit with a sense of fun.
Hong-Kong born Kate Beynon is interested in mixed cultural identity, incorporating auspicious symbols into her work, while the portraits of Jessica Ashton and Vanessa Stockard are linked to their experience as mothers.
Natasha Walsh talks of exploring her own mortality by working from life on the 'equally ephemeral support of copper' as well as reflecting on her own appearance, which she finds simultaneously familiar and strange.
That sense of wanting to see the face that others see was also expressed by Robert Malherbe, who considers the self-portrait one of the hardest things to paint.
Vincent Namatjira likens painting to fighting – a battle with the canvas and the paints – and says his portrait 'shows how I feel at the end of the week when I've battled hard'. For Madeleine Winch, on the other hand, painting is process of self-questioning and self-discovery.
Among the fellow artists who are sitters this year, special mention should go to Richard Bell, whose portrait has now appeared seven times in the Archibald (more than any other Indigenous subject), and John Olsen, who has appeared seven times since 1968 as well as with a prize-winning 2005 self-portrait (unfortunately, we don't have images of some of those earlier works). Coincidentally, Peter Powditch, who was painted this year by Noel Thurgate, last appeared in 2015, in a highly commended portrait by this year's winner Mitch Cairns.
Archibald, Wynne and Sulman Prizes 2017 is on display at the Gallery until 22 October. You have until 2 October to vote for your favourite portrait in the ANZ People's Choice when you visit the exhibition.
Previous post: Come together
Next post: Made for the middle class

July 31 2017, 2pm
by Kirsten Tilgals
Online producer