Seeing politics with an artist's eye: Ben Quilty and Henri Matisse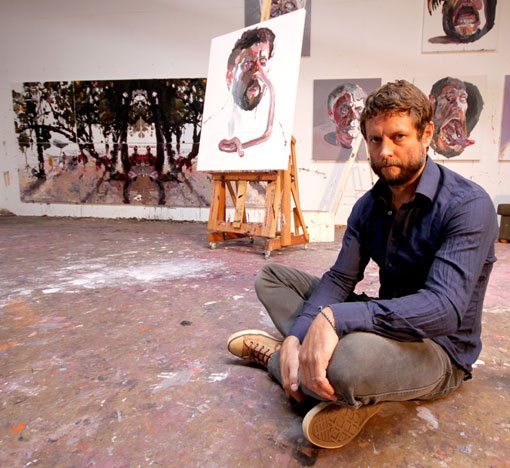 Ben Quilty in his studio
What do you think of when you think of political art? Didacticism, confrontational imagery, maybe cool textual content, or perhaps hot violent scenes? How about bright colours and decoration, lots of dancing, and paper collage? Not likely.
Well, it takes a political artist to recognise the politics of another, as we learnt from Ben Quilty when he spoke recently at the Art Gallery of NSW as part of our Wednesday night talk series on the interlinked subjects of art, protest and change, Quiet riot.
Quilty has become well known not only for his painting practice but for his work in Afghanistan as an official war artist and, most recently, for putting himself out there fighting the death penalty and advocating for compassion in the case of his friend Myuran Sukumaran. At the Gallery, he was speaking with Simon Marnie about 'never thinking' of himself as engaging with a cause, rather just 'living [his] life'.
Quilty had some fascinating insights into what 'political' means in the light of his work as a painter and his life as a man in a post-feminist age. Believing himself to be an agitator who needs to speak his mind – and feeling justified in doing so – he also had some interesting comments on understanding the politics that sit embedded in the practice of most artists, stating that their work cannot but reflect the way they think about the world and their place within it.
Quizzed as to whether any artists could be considered apolitical, he told Marnie: 'No good artist, no'. Fair enough. But who does he include in that? None less than the master of bright flat colours, decoration and abstraction, Henri Matisse. Not your first choice in any discussion of political art.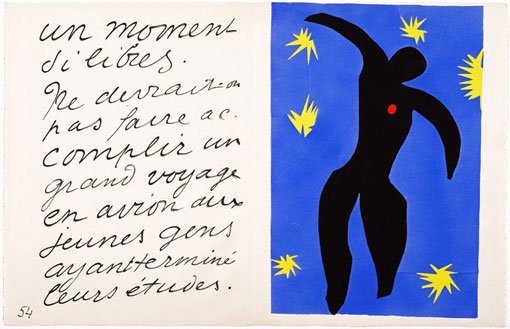 How interesting then to hear his thoughts. Referring to a discussion on the recent acquisition of Matisse's late master series Jazz with head curator of international art Justin Paton, Quilty pointed out that the falling mythological figure of Icarus, for example, is also 'quite clearly a falling soldier, a dead man falling, with a blasted red hole in his body'.
In noting the underlying violence of some of these superficially happy images, he recognised the context for the necessary spirit of joy and freedom that Matisse created when he made the suite in the immediate post-WWII years.
'Artists,' Quilty said, 'we end up funnelling our experience of the world onto the wall, or the floor of a museum like this.' On seeing Matisse's cut outs he revealed – given his own experience painting traumatised soldiers especially – 'I saw them with a whole new perspective'.
Sometimes in turn, it takes the words of a dynamic and engaged artist like Quilty to give us a different perspective on Matisse the artist: never working in a vacuum; one concerned about war and its aftermath, yet an artist whose optimism outshone his keen awareness of the politics of his contemporary, violently affected, world.
Jazz is featured in the Gallery's exhibition Matisse and the moderns.
Listen to Ben Quilty's Quiet riot talk now on Soundcloud
Previous post: Bonnard and Kapoor in Paris...and Sydney
Next post: Fiona Hall in Venice

June 29 2015, 9am
by Jackie Dunn
Special exhibitions curator