Get around the Gallery on a scooter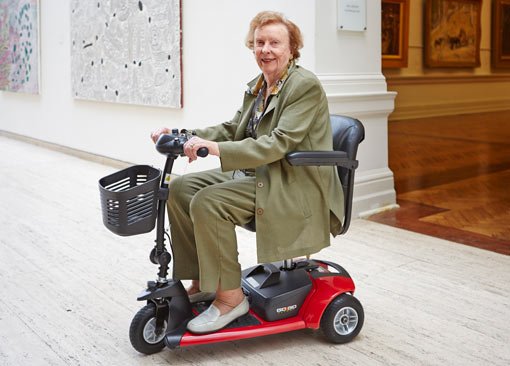 Denyse Spice, volunteer guide and benefactor, trying out one of the scooters
If you find it hard to get around the Gallery, our latest acquisition might help – electric mobility scooters.
Thanks to a bequest by one of our volunteer guides, Betty Heydon OAM, you can now travel the length and breadth of the Gallery with ease on one of our new scooters. Combined with other recent changes – such as the ramp at the front of the Gallery and the lift and pathway from the Domain car park – it's now easier than ever to visit the Gallery independently.
You don't need any lessons to use one of the scooters, just a few instructions and you're ready to go. Our first users have remarked how easy it is to just get on and drive off.
While the Gallery has always had wheelchairs for visitors, electric mobility scooters are a first, thanks to the funds Betty left to us. Betty had a very long association with the Gallery, having been a founding member of the Art Gallery Society of NSW in 1953 and a volunteer guide from 1975. She cared very much about making art accessible and was instrumental in organising outreach programs for residents of retirement villages and nursing homes who were unable to travel to the Gallery.
Betty worked tirelessly for the Gallery as a volunteer guide, on the Volunteer Guides Committee and as a co-founder of the Guides Task Force. She was an exceptional person who inspired many others to be involved in volunteering at the Gallery. Her bequest of money for electric scooters will be appreciated by many of our visitors.
So if you could do with some extra help getting around the Gallery, just ask at the information desk to find out if one of the scooters are available. Better still, book one before you arrive by calling 02 9225 1740 or emailing pp@ag.nsw.gov.au Monday to Friday between 9am and 5pm.
Find out more about physical access and mobility at the Gallery and our access programs.
Or, if Betty inspires you, find out more about supporting the Gallery.
Previous post: Colour and music rolled into one
Next post: Up close and personal with America: painting a nation

October 30 2013, 2pm
by Jane Wynter
Head of philanthropy