A recipe for art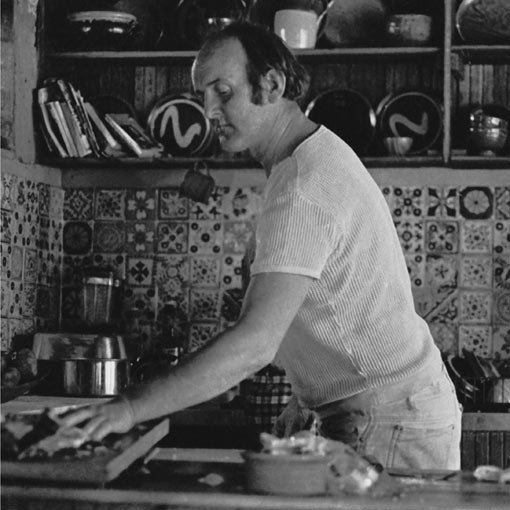 John Olsen in the kitchen at Dunmoochin, c1969. Photo: Robert Walker © Estate of Robert Walker, Art Gallery of New South Wales Archive
I think there's a special level of hell reserved for colleagues who send around gorgeous photos of home-cooked food at half past ten on a Monday morning. It's probably got lovely ambience, really good table service and smells amazing.
I've been privileged to share – and tortured to witness – the rounds of a recipe test-off between the Gallery staff members responsible for the production of our latest publication.
John Olsen: a recipe for art grew out of a collaboration between the Gallery and the artist and his love of food and place imbued with his unique spirit.
The 'recipe for art' team – authors Leanne Santoro and Deborah Edwards, designer Matt Nix, text editor Lisa Girault and managing editor Julie Donaldson – were so infused with John's kitchen creativity, they were each inspired to make some of his favourite recipes from his journals, which are featured in the book.
They generously invited me to participate in this tasty challenge, but were underwhelmed with my suggestion of recreating the bowl of unpeeled onions featured on page 14, a dish I felt was a good match for my culinary skill level.
The test-off proceeded without my contribution, and the results were plated up via staff email after the weekend – one after another, mouth-watering recreations of John's recipes landing in my inbox.
For visual proof of both my colleagues' kitchen wizardry, and of John Olsen's great sense of taste, click on one of the small images below to begin our slideshow.
Me? I'm fine. I have no regrets. No, I'm not crying. That's just this bowl of onions.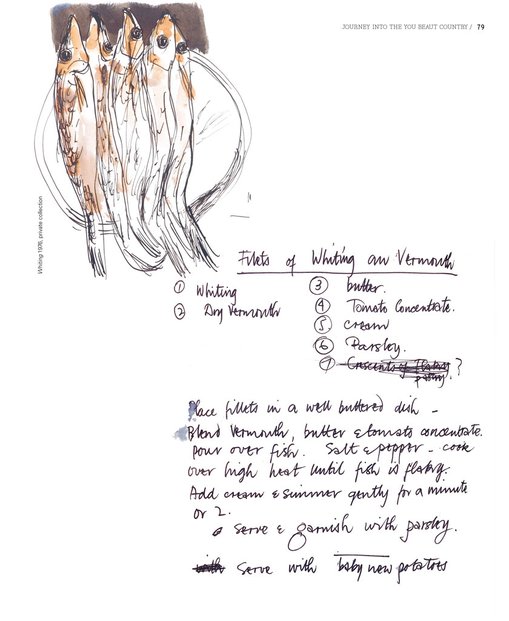 1/20
WHITING IN VERMOUTH was selected by Julie…
Why? I am very fond of whiting and love cooking with alcohol.
2/20
I couldn't resist these beautiful red spotted whiting at my local seafood shop. Vermouth, although a main ingredient in martinis, proved hard to find. But I discovered Cinzano is the same thing.
3/20
John doesn't give any measurements but I went by colour and taste.
4/20
Super simple and truly tasty is how I'd describe the result. I included boiled new potatoes as recommended by John but couldn't resist adding the both the taste and colour of some green beans.
5/20
FISH PLAKI was Matt's choice…
I wanted to try the typical Greek way of cooking fish – and make a meal that possibly my Greek grandfather may have cooked and enjoyed.
6/20
I went with a whole bream as it's a firm and light-tasting fish.
7/20
The aroma of the fried tomato, onion, garlic and parsley was amazing.
8/20
This is simple cooking that feels authentically Mediterranean – no specific measurements – just add as little or as much as you like. I was a little over-zealous with the garlic though, and next time I'll try adding a little more lemon juice, but overall I think this might be my new way of cooking fish! Serve with crusty bread.
9/20
SALMON AND SORREL SAUCE was Lisa's pick…
I love salmon but tend to eat it simply cooked, with a side of vegetables, so I was keen to try a new sauce.
10/20
I chose a couple of Huon Tasmanian salmon fillets.
11/20
French Sorrel is quite difficult to find in Sydney. I searched high and low but had to substitute with fresh baby spinach leaves and some lemon for tartness. Plan ahead and grow your own! (Bunnings sell sorrel plants.)
12/20
To start, I served some 'chilled oysters' (as per John's suggestion) and prepared a side dish of potatoes with butter and chives to eat with the salmon.
13/20
JOHN OLSEN'S PAELLA was chosen by Deborah…
From the ingredients list it sounded fabulous and substantial; lots of meat and seafood, capsicum and parsley – all of which I love. It also looked like it would not challenge me with exact timings on cooking various things – which is my downfall in the kitchen.
14/20
This dish involves a lot of cutting up of ingredients but that is seamlessly done with a glass of wine to hand.
John's ingredients list was exact: I followed it precisely – although doubled all and probably put in more garlic as my household loves it.
15/20
The dish is very generous in its capacity to be delicious whatever you do: the only part requiring concentration is the 15+ minutes of constantly stirring the rice. I also did follow John's advice and put in a very large splash of extra stock when I added the mussels and prawns.
16/20
It looked great in the pan and even better on the plate. We ate too much of it because it was delicious, and then ate too much of it again the next day when it tasted at least as good, if not better. And it was much appreciated in my daughter's group house. I thought it was possible that it might be too full of (chunky) ingredients but it was superb.
17/20
TARTE TARTIN was selected by Leanne…
I love baking and I've always wanted to try making a tarte tatin.
18/20
I went with Granny Smiths for added tartness in my tarte.
19/20
Make sure you don't crystallise the sugar as I did! Second try produced a dark caramel with a hint of bitterness – perfect, as I don't like things overly sweet.
Tip: Wait until the sugar dissolves before adding the butter.
20/20
An impressive-looking dessert that's not actually that hard to make. John doesn't give any measurements but I went with 200 g caster sugar and about 100 g butter and baked at 180 degrees celsius.
Buy online for your chance to win!
The book – along with an exclusive range of John Olsen homewares – is available through the Gallery Shop. Order online by 19 December for delivery before Christmas. And if you spend $150 or more, you'll automatically go into the draw to win a prize pack worth more than $600.
The exhibition John Olsen: the you beaut country opens at the Gallery on 10 March 2017.
Previous post: The journey of 'The kiss' part 2
Next post: Dr Ever-Hard's dirty little book

December 02 2016, 9am
by Holly Bennett
Gallery Shop