Radically optimistic art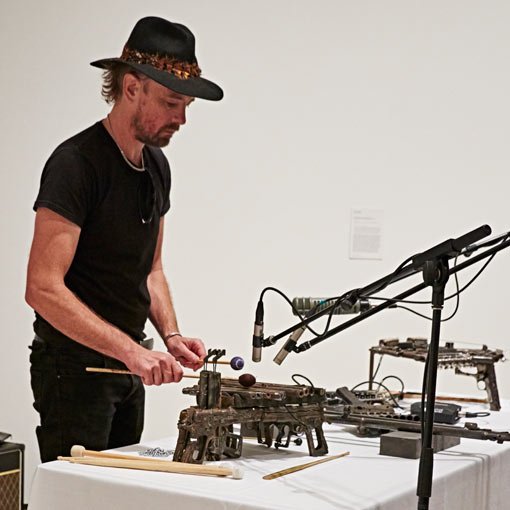 Musician Stu Hunter performs on Pedro Reyes' Disarm
The wave of gun violence that has spread across Mexico, and other parts of the world, in recent times has resulted in a culture of domination, exploitation and fear, sometimes with few repercussions for those committing the crimes.
Artist Pedro Reyes offers an alternative to the destructive force of weapons in his Disarm series, in which he has reassembled guns into a range of musical instruments. The Gallery recently added five of these sculptures to our collection – the first Australian institution to acquire the artist's works.
Reyes formally trained as an architect at Mexico City's Ibero-American University, but considers himself a sculptor who also borrows from the fields of theatre, psychology and activism. Since his first exhibitions in the late 1990s, he has forged a unique practice which proposes what he has called 'radically optimistic' solutions to contemporary social problems.
In previous projects, Reyes has assembled a People's United Nations (made up of citizen-delegates instead of official diplomats); created a temporary clinic to treat various forms of urban malaise; and worked with local authorities in Culiacán, Mexico, to melt down gun parts in order to create shovels designed to plant trees.
The group of sculptures from his Disarm series has its genesis in a public event in Juarez in which the Mexican National Centre for Crime Prevention and Citizen Participation destroyed more than 6000 weapons seized from criminals. Aware of his shovel project in Culiacán, the government contacted Reyes to ask if he would be interested in using the gun parts for an art project.
Reyes' idea was then to transform these instruments of violence and conflict into literal instruments that could produce music and thus become tools of joy and creativity. He said, when writing on his website about a related performance, 'It's important to consider that many lives were taken with these weapons; as if a sort of exorcism was taking place, the music expelled the demons they held, as well as being a requiem for the lives lost.'
The group of works acquired by the Gallery comprises five musical instruments made from recycled firearms, including revolvers, shotguns and machineguns that have been broken down into their constituent parts and painstakingly recomposed as a guitar, xylophone, psaltery, pan pipes and rain stick. The artwork functions not only as a sculpture but as a group of instruments designed to be played.
As Reyes described to curator Tina Kuklieski when Disarm was exhibited in London in 2013: 'Collaboration and participation are central to this work. From the outset, the project has required expertise that I don't have, starting with the instruments themselves that are designed by musicians and craftsmen. I provided them with the raw materials and they have created wonders with it that I could never have dreamed of. Once the instruments are made there is the element of interpretation and how different musicians make use of the instruments. The result – the music – is never the same twice.'
In February and March this year, composer and producer Stu Hunter, drummer Simon Barker and guitarist Carl Dewhurst explored the sonic possibilities in Reyes' artwork, as part of the Gallery's Art After Hours program.
You can watch a video from those performances. And you can still see the artwork on display on lower level 2 of the Gallery until 1 May 2016 as part of our exhibition When silence falls.
Previous post: An interview with Julian Rosefeldt
Next post: They come alive at night

April 21 2016, 2pm
by Nicholas Chambers
Curator of modern and contemporary international art