Programmed for love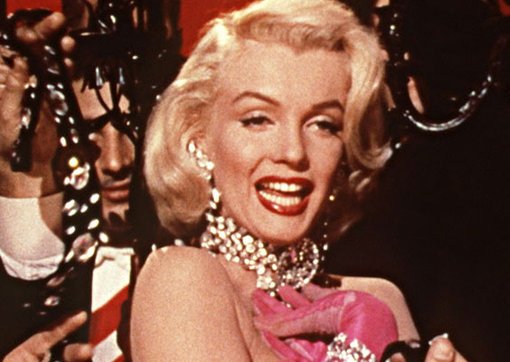 Still from Gentlemen prefer blondes (1953), courtesy 20th Century Fox, screening 6 and 10 March. See details
You'd think a universal subject such as love would be a dream theme when it came to planning a series of public programs and events at the Gallery. As it turns out, love ain't easy.
In our new exhibition of contemporary Australian art We used to talk about love, the entire gamut of love's language is up for grabs – from awkwardness and ecstasy to melancholy and heartbreak. With a canvas so broad, where do you begin?
For starters, love is both extremely personal and – as the sheer number of 'likes' on Facebook attest – communal. Much of this private and public reality is echoed in the exhibition, including the intimate folded photographs by Paul Knight that document couples' private bedroom embraces and seductive photographs by Darren Sylvester that resemble glossy magazine ads. So this became our way in.
What could be more personal than stories from the makers themselves? Audiences can hear artists discuss their work in a series of talks within the exhibition space, or listen to them in conversation with the curator in a series of podcasts. From Polly Borland on what it was like to dress up and photograph Nick Cave to Glenn Sloggett on his disdain for hippies, it's fascinating what they reveal.
For those interested in sharing the love, our very communal Art After Hours program kicks off with a love-in on 13 February (the eve of Valentine's Day), dedicated to the broader themes of love in its diversity. As Art After Hours coordinator Ashlie Hunter points out: how better to do so than through the time-honoured love song? It is, after all, one of the most poignant ways to communicate emotion. So songbird Katie Noonan will perform 'Songs of Love' in the entrance court while Brian Campeau will perform his anti-love songs in the Artbar. And we'll be giving people the chance to win a romantic retreat by sharing what they love in our Instagram Love Bytes competition.
On following Wednesdays, we'll continue to explore the private and public with celebrity talks by Sam Mutimer from Thinktank Social on the ramifications of social media on relationships today, author Benjamin Law on the experience of being gay in Asia, author Tara Moss on the myth of the evil woman, and sex worker Rachel Wotton on the intimacy of providing services to clients with disability.
Our film series Ain't there anyone here for love? will look at changing representations of love in cinema. Popping up occasionally at the screenings will be a 20-second film from 1896 – one of the earliest films ever shown commercially to the public. The kiss made history as the first to depict a couple kissing on screen, causing uproar wherever it was projected. It featured John C Rice snuggling cheek-to-cheek with a brunette, May Irwin – proving gentlemen didn't always prefer blondes.
Previous post: Bacon and beer: Australians in London
Next post: The cracks of Jealousy

February 11 2013, 1pm
by Alexandra Gregg
Coordinator, contemporary programs