The price of change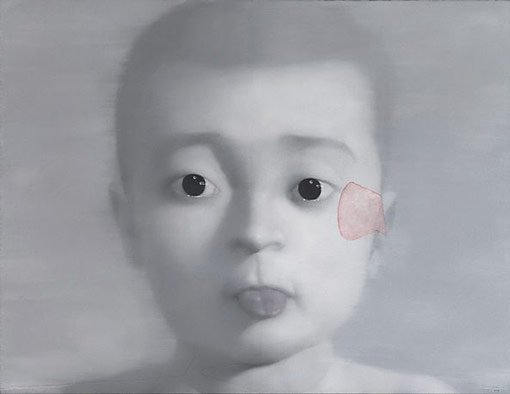 Zhang Xiaogang The boy who sticks out his tongue 2001, purchased 2002, Art Gallery of NSW collection © Zhang Xiaogang
Having lived through very different eras in China in a short space of time, world-famous artist Zhang Xiaogang shares with many of his compatriots a feeling of having experienced just 'too much' change.
As an observation of the profound effect of the recent seismic social, economic, ideological and cultural shifts felt by the Chinese people, Zhang's extraordinary art practice has as its subject both the nation's and the individual's changing sense of identity. And as a result of that practice, Zhang himself has become a living example of the capacity for China to catalyse dramatic changes in personal fortune.
Zhang marks the nation's changes on the very figures that inhabit his paintings. His 'bloodline' that tracks across and connects the characters of his most famous series, and the red scars that appear on each of them, reveal not only a familial connection, but also the trauma that the rate of change and the method of change have left on bodies and spirits. His personalised iconography of 'birthmarks' are inherited characteristics which, while made visible, are also metaphoric: these are faces, people, individuals who come not only from an actual family – his source is old photographs – but from a society marked by the 'social codes and hereditary traits of their ancestors'.*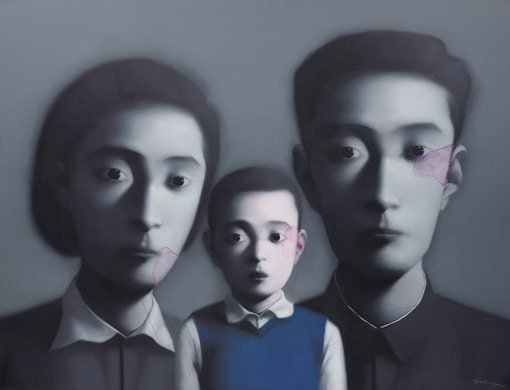 Zhang's deepest concern is with retaining one's culture and historical memory and not sacrificing everything for the sake of growth or shifting ideologies – after all, he's lived through the Cultural Revolution and its immediate aftermath, as well as more recent superficially benign changes.
And while he also shares in the generalised national increase in economic prosperity, Zhang's own rapid escalation of fortune has been the direct result of the actions and reactions of the international art market.
The value of Zhang's art has increased dramatically since he first emerged in 1985 from a period battling depression, alcohol dependency and despair. Compared to this moment – when he began to contribute to the new artistic experimentation that became known as the '85 New Wave – Zhang's auction results have been, frankly, staggering. Last year a Sotheby's Asia sale saw US$12.1 million being paid for an admittedly fine example from the Bloodline: Big Family series, outdoing the artist's previous record, set in 2011 with the sale of Forever Lasting Love (Triptych) for US$9.8 million. While it's said that these sorts of prices are being achieved by the rising presence of Chinese collectors in the market, it has also been noted that the attention to Zhang is in fact global, with collectors from Sydney to Seoul backing up their keen interest with cold hard cash.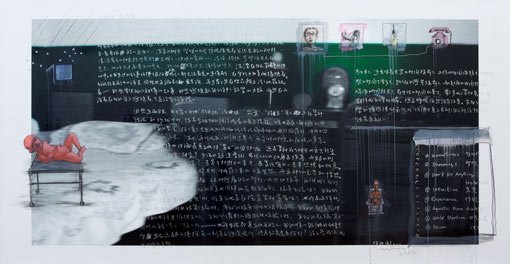 Some of these collectors have been generous enough to share their prescient buying with visitors to the Gallery. Six paintings, drawn from the collections of the Art Gallery of NSW and several major lenders, are now on display in the newly refreshed exhibition Conversations through the Asian collections, making a semi-solo show built on works of significance from key areas of Zhang's practice, including his Bloodline: Big Family, Amnesia and Memory and In-Out series.
We are so lucky to be seeing this mini-survey, thanks to the Gallery's generous lenders. Come and see for yourselves not only works of great value in pecuniary terms, but works of true artistic and emotional value created by one of the world's, not only China's, great observers of human nature.
*Leng Lin, president of Pace Beijing, writing in the exhibition catalogue Zhang Xiaogang: Shadows in the soul, Queensland Art Gallery, 2009. Shadows in the soul was co-curated by Leng Lin and Suhanya Raffel, who is now deputy director at the Art Gallery of NSW.
Previous post: Chalking one up to the public
Next post: It's beginning to look a lot like Christmas

November 23 2015, 11am
by Jackie Dunn
Writer and exhibition researcher