A pilgrim's progress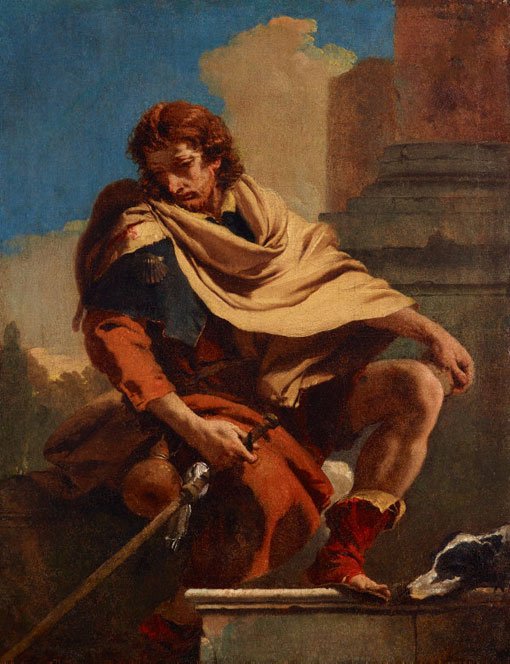 Giambattista Tiepolo Saint Roch c1730–35, Art Gallery of New South Wales, after conservation treatment
On 31 March 1910, five days after departing Melbourne, the steamer Pericles neared the coast of Western Australia, en route to England. Among the vessel's 298 passengers enjoying the afternoon's fine weather was NSW orchardist and botanist John Speir Heron who, after developing a successful business, had given up fruit growing for a life of travel and art collecting.
Heron's luggage included 10 paintings, some inherited from his grandfather, which he intended to sell in London to help finance his own collecting ambitions. But just after 3.30pm, the Pericles struck an uncharted rock 6.5km south-east of Cape Leeuwin and began taking on water. By nightfall, all 461 passengers and crew had been rescued.
Heron's paintings, along with the rest of the ship's cargo, which included 32,000 boxes of butter, 6000 bales of wool, 25 tons of tallow, 600 tons of lead and sundry other items, were left to the mercy of the Indian Ocean as the vessel began to sink. One painting depicted Saint Roch, the 14th-century pilgrim saint invoked to offer hope and healing in times of plague. Weeks later, still wrapped in its protective oil cloth, it washed ashore, undamaged.
For the would-be collector, the recovery of the 18th-century painting 'almost accounted to a miracle'. Less than a year later, Heron offered the picture to the Art Gallery of NSW 'as the most suitable resting place… and a memento to the fact that the wreck of the Pericles, involving a loss of close to a million sterling in property, was unattended, mercifully, by any loss of life'.
After surviving weeks at sea, misattribution to Salvator Rosa, a title change, and languishing in storage for the last two decades, Saint Roch c1730–35, the Gallery's only painting by Venetian Baroque master Giambattista Tiepolo (1696–1770), has been carefully restored. Recently, it was finally reunited with other European old master paintings in the Grand Courts.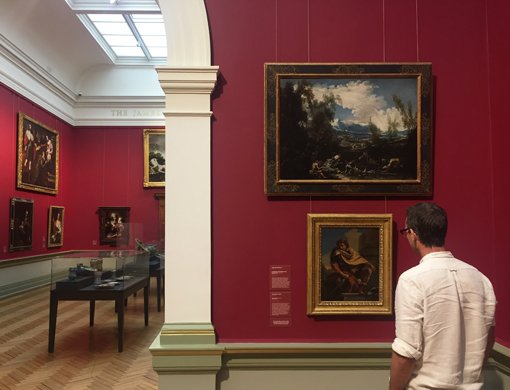 Following the outbreak of the Black Death in 14th-century Europe, pilgrims and those suffering from bubonic plague started invoking Saint Roch, as protector against the constant threat of mass epidemic diseases. In the early 14th century, Roch relinquished his family fortune, travelled from France to Italy disguised as a pilgrim and dedicated himself to curing plague victims. Stricken with the disease himself, he withdrew to a forest, where a dog brought him bread and healed his wounds by licking them. Resuming his travels, Roch was later imprisoned as a spy and, refusing to disclose his true identity, died in incarceration. His cult became especially important in Venice.
In the Gallery's painting, the saint, weary and unshaven, is shown resting from his peregrinations, sitting on the base of a stone structure with downturned head and semi-closed eyes. The staff and scallop shell pinned to his cloak indicate his pilgrim's status, while his upper thigh displays the deadly bubo that tells of his identity as a plague saint. Here is a saint who experiences the very disease that threatens his worshippers.
Saint Roch is accompanied by the dog whose head pokes into the image at the bottom right, and he holds the sustaining bread that his faithful hound has shared with him. The saint's figure is dramatically lit from the right, so that the left side of his face is in shadow. Tiepolo was a master of lighting effects and was greatly appreciated for the luminosity of his palette and his painterly brushwork. In the early 1730s, he produced around 20 images of Saint Roch, all of similar format depicting him in various guises and positions – including in the collections of the Philadelphia Museum of Art, Minneapolis Institute of Art, Harvard Art Museums and The Huntington. Combining genre painting and devotional imagery, these ingenious variations on a single theme were almost certainly commissioned by the Confraternity of San Rocco in Venice.
For worshippers, devotional images such as the Gallery's Saint Roch were made as tools to negotiate their protection against the plague, and more generally to offer hope and healing in times of epidemic and tragedy. There could be little doubt for the former owner of the Gallery's Tiepolo, John Speir Heron, that Saint Roch had fulfilled this role and averted human tragedy when the Pericles was shipwrecked off the Western Australian coast more than 100 years ago.
The conservation treatment of this artwork was undertaken by the Gallery's painting conservators Andrea Nottage and Paula Dredge and frame conservators Emma Rouse and Margaret Sawicki. The conservation was funded by O'Connell Street.
You can browse a slideshow of photos of the conservation process. Click on one of the small images to begin.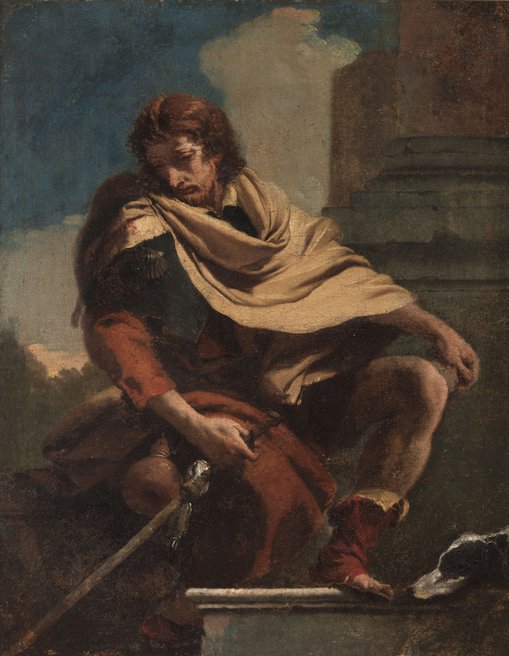 1/5
The painting before conservation treatment
2/5
A detail of the frame before conservation treatment
3/5
The painting after removal of discoloured varnish layers and old restorations, revealing the original bright colours but also extensive areas of paint damage and loss
4/5
Paula Dredge retouching areas of paint loss using reversable paint medium
5/5
The framed painting after conservation treatment
A version of this article first appeared in Look – the Gallery's members magazine
Previous post: Hidden depths
Next post: Beneath a passing shower

July 23 2019, 9am
by Anne Gerard-Austin
Assistant curator, European art