Bonnard and Kapoor in Paris...and Sydney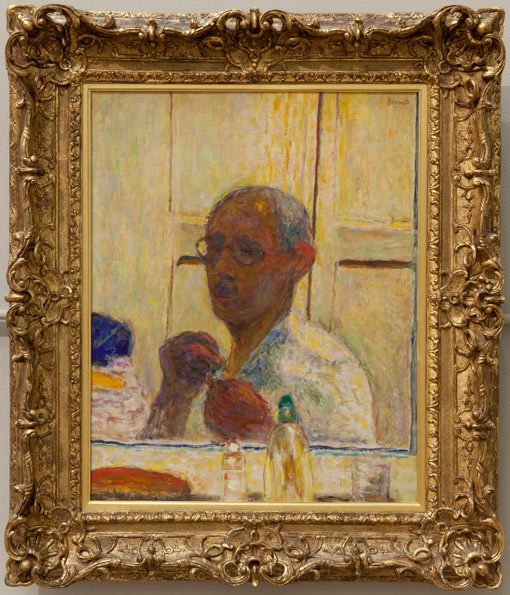 Pierre Bonnard Self-portrait c1938-40 © Pierre Bonnard/ADAGP. Licensed by Viscopy, Sydney
Heading to Paris?
One of the great museums of the world, the Musée d'Orsay, is currently staging a spectacular exhibition of works by the much-loved decorative painter Pierre Bonnard (1867-1947). Pierre Bonnard: painting arcadia, a celebratory retrospective, is on until 19 July this year.
That said, if you can't make it to Paris, come in now to the Art Gallery of NSW. One of Bonnard's most striking self-portraits can be found in our 19th- and 20th-century European galleries on the ground floor. This fascinating self-portrait – one of many created by the master of intimacy – is characteristically golden-hued and delicate, while also being psychologically perceptive and intense.
Bonnard's first paintings emerged at the tail end of post-Impressionism, influenced greatly by the symbolist innovations of Paul Gauguin. An idiosyncratic yet decorative use of colour, luminosity and an extraordinary capacity for creating a 'feeling' as much as a record, were his signatures. Usually domestic, often sexually charged, familiar and affectionate – these were aspects Bonnard carried over into his many self-portraits.
The Gallery's Self-portrait, dated around 1938-40, shows Bonnard in typically reflective mode (literally: he loved using mirrors and full baths of water to reflect and yet distort his carefully observed bodies). Also typical is his three-quarter view: from this almost-hidden vantage point, he seems better able to reflect on himself as subject while exploring the impossibility of knowing anyone – even himself – fully.
Or if you're wanting something a bit more contemporary while in Paris, see Anish Kapoor at Versailles, until 1 November this year.
Creating a bit of a stir in Paris (well, just outside) is Kapoor's series of installations at the glorious Versailles. It's an amazing location for an artist like Kapoor, with all its mirrors and reflections, for its grand scale and its ambition. Kapoor's high-end production values and ability to really work 'scale' would seem to suit it perfectly.
Plus, Versailles has always been a place where the bodies of kings and queens are implied, felt even in their absence, and Kapoor often comes back to the body. His works deal not only with visual perception, but with bodily sensation – they are immersive experiences, kind of haptically felt without actually being touched.
Anyway, it seems one of them, sited in the courtyard of the Sun King, has been likened in the press to a vagina – the queen's no less – and has Paris talking! If you can't make that journey, come and see Kapoor's remarkable 2000 piece Untitled, 'conversing' with other works on display in our upper Asian gallery.
Drop by and take a closer look at these wonderful pieces – and let us know here or on Facebook if you've caught the Paris shows, you lucky thing.
Previous post: To morbidity and beyond
Next post: Seeing politics with an artist's eye: Ben Quilty and Henri Matisse

June 25 2015, 4pm
by Jackie Dunn
Writer and exhibition researcher