Nude encounters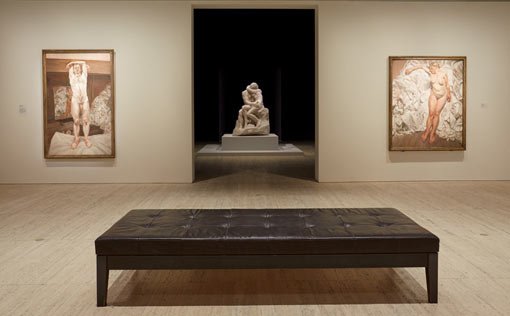 Left to right: Lucian Freud's Two men in the studio 1987-89 (The Lewis Collection © Lucian Freud Archive/Bridgeman Art Library), Auguste Rodin's The kiss 1901-04 (Tate: Purchased with assistance from the Art Fund and public contributions 1953) and Lucian Freud's Standing by the rags 1988-89 (Tate: Purchased with assistance from the Art Fund, the Friends of the Tate Gallery and anonymous donors 1990 © Estate of Lucian Freud. Licensed by Bridgeman Images)
When you come to see Nude: art from the Tate collection, you'll encounter some works in the show that aren't, in fact, from the Tate.
Mind you, it's just a sprinkling: five important pieces – three loans from the Lewis Collection and two works from the Art Gallery of NSW collection – in a blockbuster of 125 works.
Uniting pieces from our own and other collections into major exhibition projects makes for some extraordinary correspondences, relationships and pleasures to be found between artworks, enriching the stories we are able to tell and allowing us to show solid-gold masterpieces by some of the world's most admired painters right here in Sydney.
One of the most intimate and delightful resonances across the works in Nude is also the most literal, with Lucian Freud's Two men in the studio 1987-89 from the Lewis Collection 'reunited' with his Standing by the rags 1988-89 from the Tate. These two works were not only painted on the same day (Rags at night, Two men in the daytime) but Rags actually appears in the background of Two men. You can see them in the photograph above (yes, that's Rodin's Kiss in between).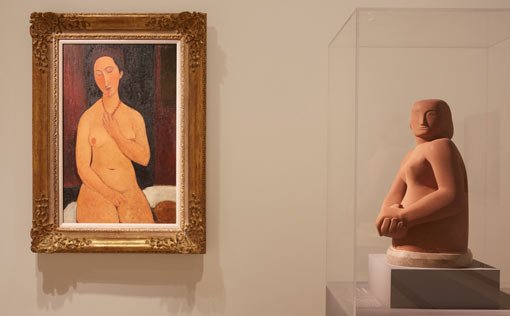 Another pairing that's really grabbing people is a remarkable Amadeo Modigliani – Seated nude with necklace (Nu assis au collier) 1917 – from the Lewis Collection with Barbara Hepworth's Figure of a woman 1929-30 from the Tate. This placement, in the 'modern nude' room, really brings out the powerful influence of ancient, so-called 'primitive' sculpture on modern European artists – simplified solid masses, stylised lines, a certain flattening of face and feature – while highlighting new approaches to sexual stereotyping.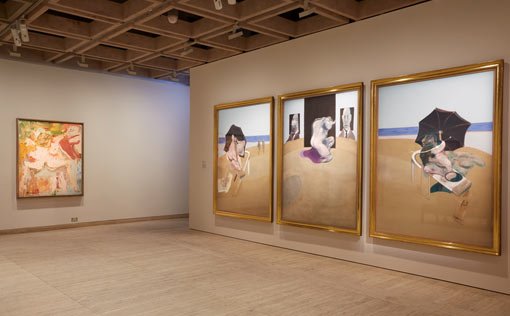 Nude also places the Lewis' Francis Bacon, Triptych 1974-77 1974-77 – one of the last and most distinctive of the famous 'black paintings' he created in the wake of his partner George Dyer's death – alongside Tate's key Willem de Kooning, The visit c1966-67.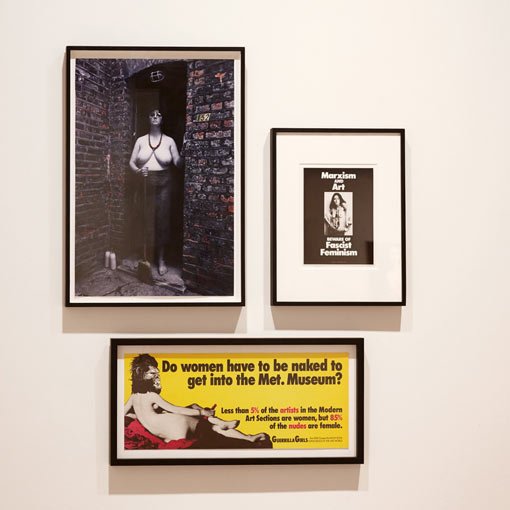 There are two other non-Tate works in Nude, from our own collection.
The first you may have seen in last year's See you at the barricades: the Guerrilla Girls' Do women have to be naked to get into The Met? 2012. Here the GGs join fellow feminist icons Hannah Wilke (Marxism and art: beware of fascist feminism 1977) and Jo Spence (Remodelling photo history: colonization 1981-82) in a small but power-packed grouping. You go girls.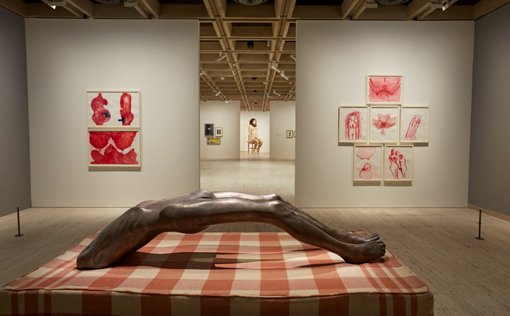 The final Gallery work is a significant new acquisition: Louise Bourgeois's Arched figure 1993. This AGNSW Foundation purchase not only comments on other bronzes seen earlier in the exhibition – Thornycroft's Teucer, Moore's Falling warrior and Giacometti's Walking woman – but sets up new relationships with the rich selection of pieces towards the end of the show that invite reflection on our contemporary vulnerability (not least her own blood-red gouaches).
Such resonances are not only the result of curators re-posing art historical questions with a fresh voice, but are evidence of a robust spirit of collaboration developed across institutions and collections. We're lucky: in Nude – which ends on 5 February – we can experience first-hand the truly transformative effect that exceptional works can have on us, no matter where they're from.
Previous post: It's one hell of a story
Next post: Asian new waves

January 25 2017, 3pm
by Jackie Dunn
Writer and exhibition researcher