Not your average jewels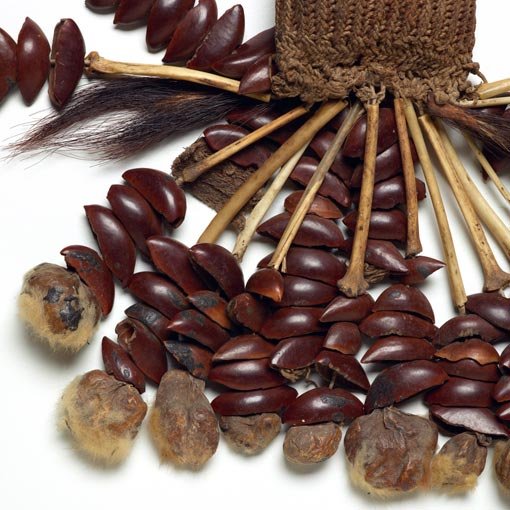 Warning: this blog post may contain traces of nuts.
Twelve scrotum of marsupial tree-dwellers are not the sort of thing you're likely to find on a piece of modern personal adornment, but when in Wonenara in the Eastern Highlands Province of Papua New Guinea…
This body ornament – a kind of necklace – was made by the Baruya people of this region, and gifted to the Art Gallery of NSW by Sydney businessman Stanley Gordon Moriarty, who collected it in 1963. It's one of 89 works we've recently conserved for the forthcoming exhibition Plumes and pearlshells: art of the New Guinea highlands after decades in storage.
The necklace is constructed from a central two-ply natural spun bark cord, knotted centrally in two places. Attached to this is a small bag, made from similar cordage, which has been hand-plied and woven. The outer surfaces have been decorated with a red dye and smudges of a black and pink coating.
Attached to the lower edge of the bag are 12 bone tassels, two feather-quill tassels, two lower sections of pigs' tails and five red/brown seed rattles. At the end of each of the bone sections is a further series of split red/brown seeds, threaded onto a central cord. Attached to the end of each rattle is the aforementioned marsupial scrotum. With age, the scrotums have dried out, so that they are now hard, brown, shrivelled bits of skin with tufts of pale fur attached.
With the help of colleagues from the Mammalian Section of the Australian Museum and a botanical researcher from the Royal Botanic Garden in Sydney, we were able to identify that the appendages were from a tree-dwelling marsupial (possibly a cuscus or tree kangaroo) and they'd been combined with split red nuts from a tree known as Canarium indicum.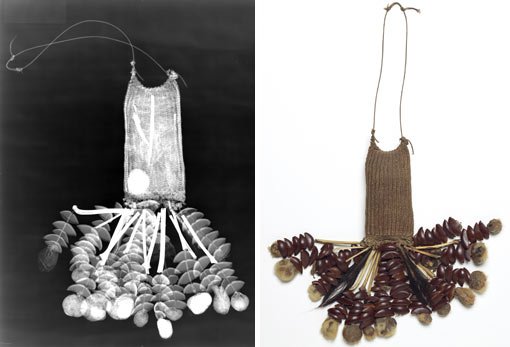 The bag was also x-rayed in the hope of identifying the contents and therefore shed light on the past use of the necklace. It was found to contain unidentifiable leaf matter, more bone fragments and another scrotum. Similar bags found in neighbouring districts were used to imbue luck and good fortune during hunting; used ceremonially in mourning rituals where they contained the finger bones of dead relatives; and given during male initiation ceremonies and carried by newly initiated bachelors.
Previous post: The show goes on
Next post: ARTEXPRESS is...

April 30 2014, 11am
by Kerry Head
Conservator