Nightmares and dayscreams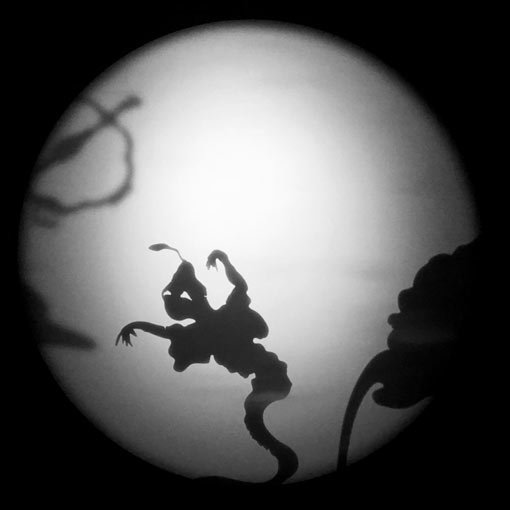 There's a lot of competition for the scariest piece of art in the Art Gallery of NSW exhibition Japan supernatural. Once you're past the shadowy goblins dancing at the exhibition entrance, you'll find menacing sculptures, haunting photographs, ominous prints, gruesome paintings, and fiendish faces staring at you from every corner. Here are some rankings – from the humorous to the hideous – with completely subjective scare scores. Read on at your own risk!
A shady character
The kasa-obake appears in the hand scroll Night procession of the one hundred demons (Hyakki yagyô) by Hiroharu Itaya, and is the spirit of a traditional Japanese umbrella that has come to rebellious life after being carelessly treated or discarded. Make sure you treat your own brollies respectfully, or there'll be no raining them in…
Fright factor: 2/10. More playful than petrifying.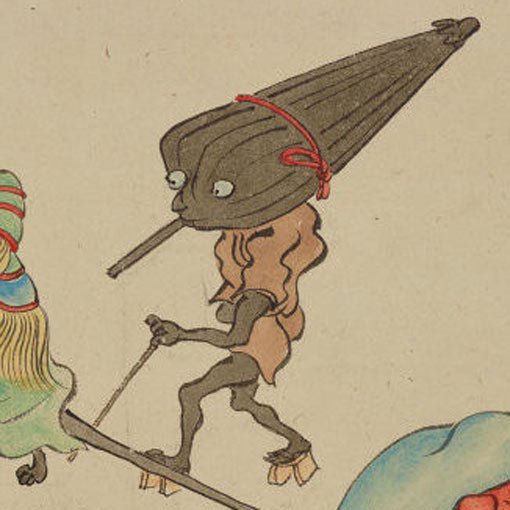 Strike a decom-pose
Keep an eye out for the exquisite haori, or man's jacket, from the 1920s–30s. It features life-like tumbling skulls that are resist-dyed in elegant silk, making it both sophisticated daywear and completely appropriate for a death metal concert.
Fright factor: 4/10. This might actually prevent the greater horror that is a wardrobe crisis?
You have to hand it to her
Hair streaming in the wind and gleeful cackle on her lips, the Ibaraki witch in this woodblock print by Tsukioka Yoshitoshi has just retrieved a grisly battle trophy via clever trickery, and is clutching it as she flees through the night: the decomposing remains of her own severed arm.
Fright factor: 6/10. Excellent use of an escape claws!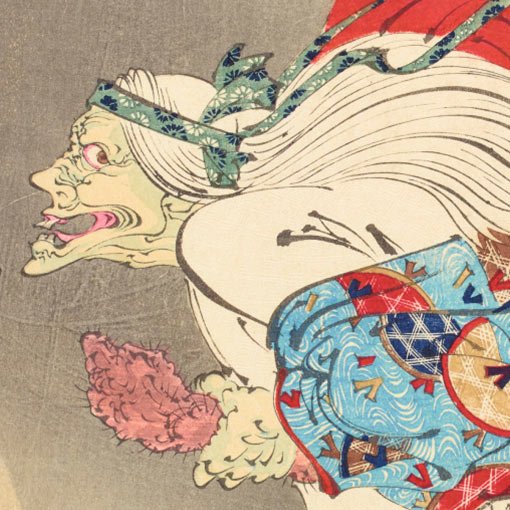 Skelo from the outside
The star of a tale about an actor perpetually typecast as a ghost, Kohada Koheiji is murdered by his wife and her lover. He returns in a chilling Katsushika Hokusai print, looming over a mosquito net to wreak revenge on them as an actual ghoulish phantom – a role he'd already rehearsed to death.
Fright factor: 7/10. Highly disturbing – make no bones about it.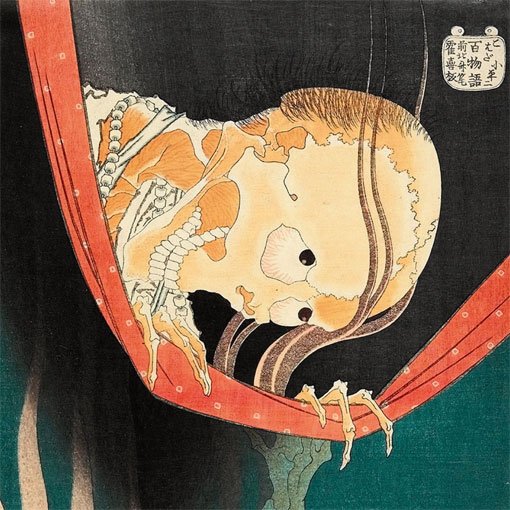 A light haunting
Another scene by Hokusai from one of Japan's most well-known haunted stories, the ruined face of Oiwa appears in a lantern to torment her poisoner and killer, her husband Iemon. The ghost of Oiwa is so enduringly powerful that whenever her story is performed in the theatre, the cast typically visits her shrine to pay respects… just in curse.
Fright factor: 8/10. A truly deathly stare.
Rapunzel, Rapunzel, let down your scare!
The work Rapunzel from Miwa Yanagi's Fairy tale series has all the ingredients for terror: creepy tangled tresses, gaping trapdoors, and small children with big scissors.
Fright factor: 9/10. GET ME OUT OF HAIR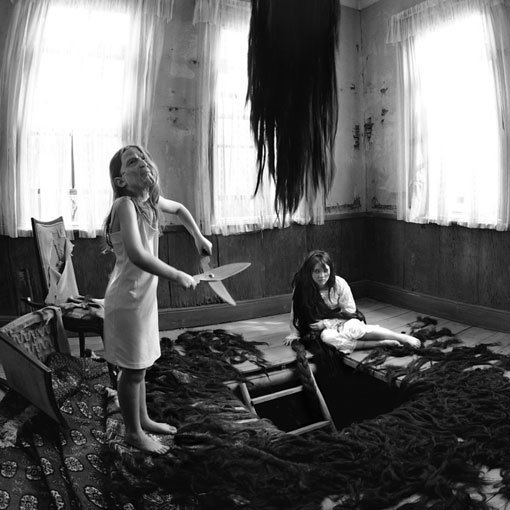 Previous post: Saving art from obsolescence
Next post: Sharing stories (and stickers)

November 14 2019, 9am
by Holly Bennett
Creative and content coordinator