The mother – or father – of all prizes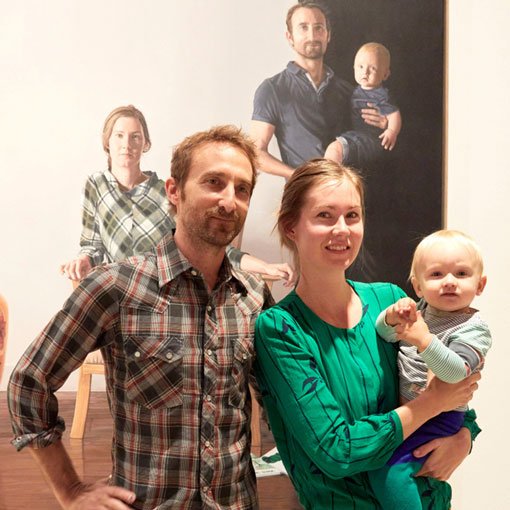 Guy Maestri, Sally Anderson and their son in front of Jonathan Dalton's Sally. And her boys. from the Archibald Prize 2019
'I feel as if life tossed me a lifejacket in the storm when she was born,' said Archibald finalist Daniel Henderson, whose arresting portrait of his daughter Lily-Rose was selected for the 2007 exhibition. 'Ever since her birth I have wanted to create something memorable in her name.'
Vincent Fantauzzo simply summarised his feelings about fatherhood in the title of his 2014 People's Choice winning work – All that's good in me (self-portrait as son Luca).
'Things have changed so much for me since Luca came into my life,' he said. 'He is my priority in every way. He has made me much more positive, and inspired me to notice and appreciate the little things in life. He depends on me and makes me who I am.'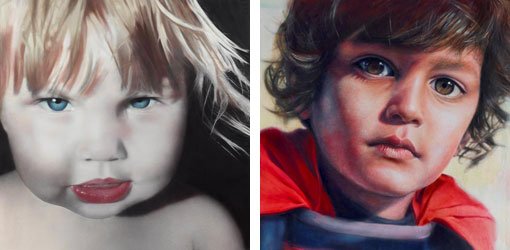 It's a sentiment echoed by Del Kathryn Barton in the title of her 2008 Archibald-winning work – You are what is most beautiful about me, a self-portrait with Kell and Arella.
'This painting celebrates the love I have for my two children and how my relationship with them has radically informed and indeed transformed my understanding of who I am,' said Barton. 'Both my children have taken my world by storm and very little compares to the devotion I feel for them both. The intensity of this emotion is not something that I could have prepared myself for.'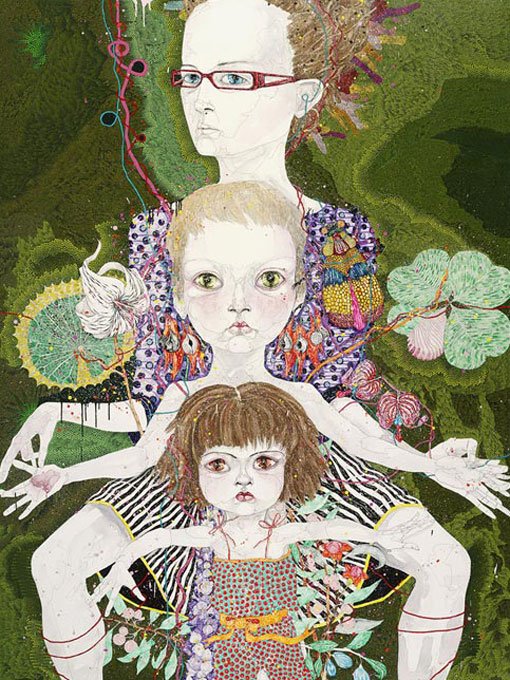 Parenthood is a life-changing experience, and the ultimate act of creation, so it's unsurprising that it has provided inspiration for artists. However, this year its influence on the Archibald is marked, with four of the paintings exploring the theme.
Two of the works are incredibly intimate and vulnerable self-portraits in the final weeks of pregnancy, although each artist shares different insights.
First-time finalist Katherine Edney wanted to portray 'this ethereal state of tranquility and overwhelming sense of calm and wellness'. Like Henderson, she experienced a form of salvation: 'I have always battled migraines and anxiety and for the first time I had never felt better'.
In contrast, six-time Archibald finalist and previous Wynne winner Natasha Bieniek chose to depict 'a moment in time when I was feeling particularly uncomfortable and apprehensive about what I was about to face. Although I already felt immense love for my baby, I had anxieties about becoming a mother and how my ability to make art would be called into question. Painting was my life. I wondered how my integrity as an artist might be scrutinised. I feared that my painting would not be looked at beyond the scope of motherhood.'
'There's an incredible amount of pressure for modern women to "do it all",' said Bieniek.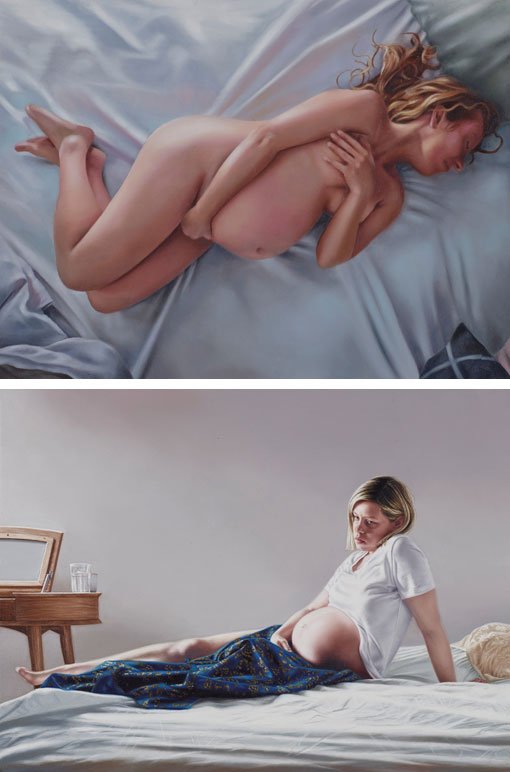 It's territory that Rebecca Hastings explored in her 2014 Archibald painting, The onesie. 'In this self-portrait I mock my own inadequacies as a mother and lament the struggle to also be an artist … As a mother of two children I find myself constantly beset by guilt, frustration and anxiety. I consider myself ill-equipped and a bit of a joke when it comes to meeting the lofty, idealistic heights of mummy perfection. This painting is part of a broader exploration of themes relating to "maternal ambivalence", reflecting my desire to subvert the romantic ideal of motherhood, and chart the unacknowledged, darker side of the complex and contradictory experiences that come with having children.'
Literal darkness – and sleep deprivation – informed Guy Maestri's 2018 Archibald work, The fourth week of parenthood (self-portrait). 'It was painted in the mirror, during a few stolen hours of studio time,' says the 2009 Archibald winner. 'It is a dark painting, but feels like an honest documentation of my physical and emotional state at the time; not emotionally dark, but exhausted and nocturnal.'
A year on, Maestri appears again in the Archibald, along with his partner and fellow artist Sally Anderson and their son. The painting Sally. And her boys. is by Jonathan Dalton, who wanted Anderson in the portrait to be 'front and centre as an artist but to acknowledge how difficult that can be when there is so much pressure to be a mother first and an artist second'. He chose to resign Maestri 'to the shadowy background with baby on hope – a role all too frequently assigned to the mother' as a way of underscoring and contrasting 'that historical sentiment of women as mere set dressing'.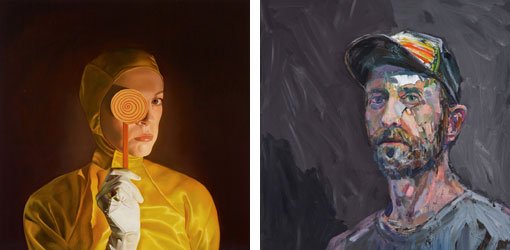 In Loribelle Spirovski's 2019 Archibald painting of singer, songwriter and musician Megan Washington, Art is not just a creative impulse; it's also the name of the pet dog! It was 'an incredible moment of intimacy and depth' between the new mother and her baby that Spirovski wanted to capture in the portrait.
Afterall, that's one of the key messages that many of these artists have for us. As Bieniek observed: 'Although the frantic juggle is still omnipresent, having a baby has completely enriched my life in all its chaotic glory. It's the beautiful little moments that make it all worthwhile.'
With Fathers Day this Sunday 1 September, we celebrate fathers and mothers everywhere and remind you that you can still see these 2019 Archibald portraits for yourself, either before the exhibition closes at the Art Gallery of NSW on 8 September, 5pm or on the regional tour.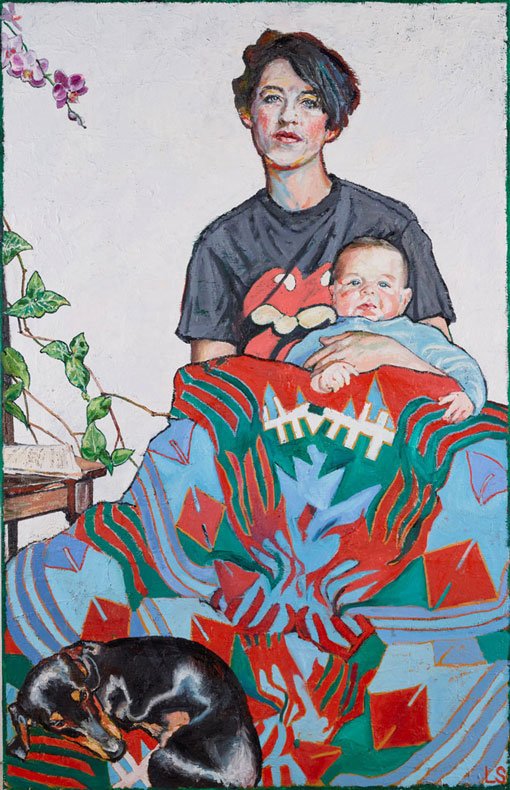 Previous post: Beneath a passing shower
Next post: Judith Wright in conversation

August 26 2019, 9am
by Kirsten Tilgals
Online producer