Mother and son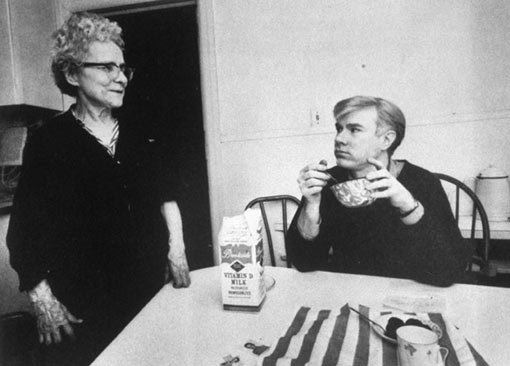 Andy Warhol (right) and his mother Julia, probably at her home, 1964. Photograph by Ken Hayman/Woodfin Camp © Woodfin Camp/The LIFE Images Collection/Getty Images
With Mothers Day approaching, it's a perfect time to look at one of the most fascinating aspects of Andy Warhol's pre-pop career – the role played by his mum.
Born in the small village of Mikova in the Carpathian Mountains in present-day Slovakia, Julia Warhola followed her husband Andrej to Pittsburgh, USA, in 1921.
Andy was Julia's baby. He was the youngest of three boys and as a child he displayed an artistic bent for which there were few outlets in the burgeoning steel town. Julia, however, was active as a folk artist and she encouraged Andy's interest in art, supporting him to take art classes at the Carnegie Museum of Art and ultimately providing the means, with her husband, for him to study pictorial design at the Carnegie Institute of Technology.
After Andy left for New York in 1949, his mother followed, in 1952, and lived with her son until just before her death in 1972.
Already in her late 20s when she arrived in the USA, Julia struggled with written and spoken English. Perhaps initiated as a way to help his mum practice, Andy would give Julia lines of text from his advertising commissions to copy. Her naive but charming script, full of childlike flaws and flourishes, turned out to be the perfect accessory to the whimsical illustration style that Andy was developing a name for.
At some point in the early 1950s a client was shown copy penned by Julia and loved it. Julia's handwriting subsequently became one of the most salient features of Andy's commercial work.
By 1958, Julia's involvement in Andy's commercial projects was so well known within the industry that when he was awarded a certificate of merit from the Art Directors Club of New York for an LP cover design, featuring her script, the certificate was made out to 'Andy Warhol's Mother'.
---
For more about Andy, his mum and his early years, read the transcript of Nicholas Chambers' conversation with Ellen Lupton, senior curator at the Cooper Hewitt Museum in New York, or get closer to Warhol online
The exhibition Adman: Warhol before pop is on at the Gallery until 28 May.
Previous post: Not only for fairies: Andy Warhol's books
Next post: What's going on?

May 09 2017, 10am
by Nicholas Chambers
Curator of modern and contemporary international art