Marcel Duchamp: from A to Z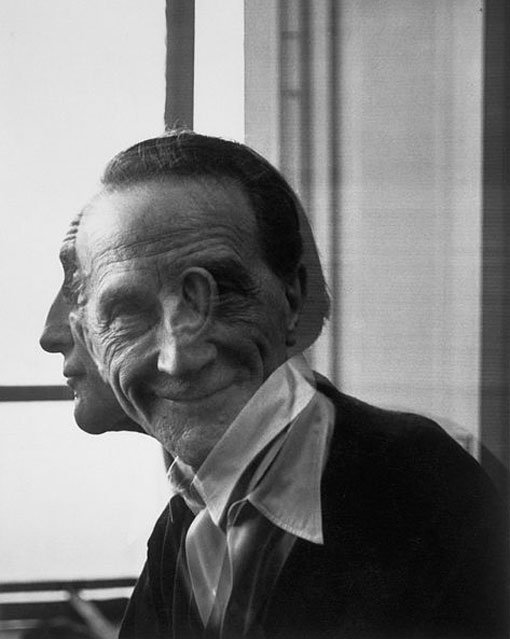 Marcel Duchamp features in Victor Obsatz's Portrait no 29 (Double exposure: full face and profile) 1953, Philadelphia Museum of Art, gift of Jacqueline, Paul and Peter Matisse in memory of their mother Alexina Duchamp, 13-1972-9(292). © Victor Obsatz. Courtesy Moeller Fine Art Ltd
Sydney-based artist Kevin Platt and I put together this alphabetical beginner's guide to one of the 20th century's most original artistic figures and subject of the exhibition The essential Duchamp at the Art Gallery of NSW until 11 August 2019.
Art
In French-born artist Marcel Duchamp's words: 'anything is art if an artist says it is'. 'A' is also for art collectors Louise and Walter Arensberg, who built the world's foremost collection of their friend's work. In 1950 the couple gifted it to the Philadelphia Museum of Art, from which the 150 or so works and related materials in The essential Duchamp have been drawn.
Bicycle wheel
The first 'readymade' – an ordinary object presented as a work of art – was a bicycle wheel Duchamp mounted upside down on a timber kitchen stool. 'The curious thing about the readymade is that I've never been able to arrive at a definition or explanation that fully satisfies me,' he once said. Bicycle wheel 1913 'just came about as a pleasure,' the artist told his biographer Calvin Tomkins. 'Something to have in my room the way you have a fire, or a pencil sharpener, except that there was no usefulness. It was a pleasant gadget, pleasant for the movement it gave.'
Chess
At one point Duchamp abandoned art for anti-art, and then anti-art for chess. However, both co-exist in his early paintings The chess game 1910 and Portrait of chess players 1911. Duchamp later designed and carved his own chess pieces and attained the title of National Chess Master after placing sixth in the French National Championships. 'While all artists are not chess players,' he once said. 'All chess players are artists.'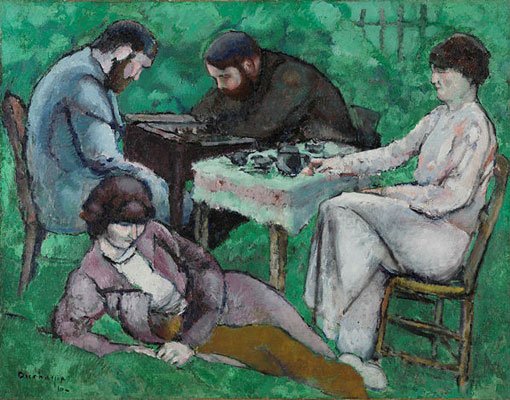 Dust
Along with oil, varnish, lead foil, lead wire, and two glass panels, dust is one of the materials used in the construction of Duchamp's early master work The bride stripped bare by all her bachelors, even 1915–1923, commonly referred to as The large glass. Duchamp collected the dust particles on a glass panel in his studio, a photograph of which, by Man Ray, was given the title Dust breeding. The dust was eventually fixed to the glass with varnish during the artwork's construction.
Étant donnés
Full title: Étant donnés: 1° la chute d'eau, 2° le gaz d'éclairage… (Given: 1. The Waterfall, 2. The Illuminating Gas…) 1946–66. Unveiled posthumously, Duchamp called his secretly produced, final major work – in which a waterfall and a naked female figure, reclining on a pile of twigs and holding a lamp, are seen through peep holes in a weathered timber door – as a 'sculpture-construction'. Jasper Johns called it 'the strangest work of art any museum has ever had in it'. To Elena Filipovic, director of the Kunsthalle Basel, it is 'a monstrous viewing machine', while the Philadelphia Museum of Art's Matthew Affron, curator of The essential Duchamp, calls it the artist's 'final statement of a life spent swimming against the prevailing currents of modern art'.
Fountain
In 1917, Duchamp entered Fountain – a plain, white, industrially manufactured urinal, signed R Mutt – into the inaugural exhibition of the of the Society of Independent Artists, which allowed any work of art, provided a fee of six dollars was paid. R Mutt's Fountain was rejected. But thanks to an anonymous article (thought to have been penned by the artist himself) in a small publication called The blind man, a debate stirred that forever changed the course of art history and brought the term 'readymade' out of Duchamp's close circle and into the wider world. Walter Arensberg described Fountain as a 'lovely form' whose 'chaste simplicity' resembled the image of a seated Buddha'.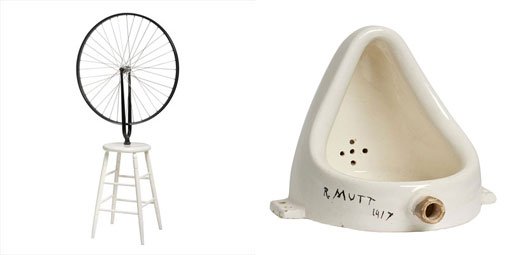 The green box
The green box 1934 is a collection of 94 pages of notes, drawings and photographs, in no particular order, that Duchamp reproduced in a limited edition and which served as a not immediately helpful guide to interpreting The large glass. A long note headed 'The Bride stripped bare by the bachelors' identifies the main actors and helps decipher what's going on. Sort of.
Humour
'I believe in humour as a thing of great dignity,' Duchamp once said. And humour is never far away in the artist's work. 'Approach his work with a light heart,' his biographer advises. 'and the rewards are everywhere in sight. Duchamp's work sets the mind free to act on its own.'
Infrathin
One of Duchamp's later theories focused on the mingling of the minute and almost indistinguishable, which he called Infrathin. The artist said that this concept could only be explained by example – 'when the tobacco smoke smells also of the mouth which exhales it, the two odors marry by Infrathin'.
Julian Wasser
LA photographer Julian Wasser photographed the artist, 76, playing chess with a naked Eve Babitz, 20, at the landmark Duchamp retrospective held at the Pasadena Art Museum in 1963 (he won their first game in three moves). Calvin Tomkins described the exhibition as lifechanging for some young artists as 'it offered a new concept of what art was or could be, and it continued to reverberate for a long time afterward'. The first touring show of Duchamp's work reached Australia five years later and was on display in Perth in 1968 when the artist died.
King and queen
The oil on canvas The king and queen surrounded by swift nudes 1912, which is in Sydney from Philadelphia, conveniently combines Duchamp's interest in nudes, movement and chess in the one painting.
The large glass
Though still pictorial, The large glass was a break with Duchamp's identity as a painter and the work's enigmatic characters are often seen as the components of a speculative desiring machine, with Duchamp describing the bride as 'basically a motor' and the artwork itself as a 'hilarious picture'. (See also 'Dust')
Man Ray
Philadelphia-born artist Emmanuel Radnitzky, better known as Man Ray, was a significant contributor to the dada and surrealist movements. He and Duchamp also became close friends, working together to create numerous photographs and visual studies.
Nude
Nude descending a staircase (no 2) 1912 was the painting that created Duchamp's fame and notoriety in America when it was exhibited in New York at the Armory Show of contemporary art. Nicknamed Explosion in a shingle factory by the New York Times, The essential Duchamp marks its first visit to Australia.
Optics
Duchamp scholar Francis M Naumann described the artist's obsession with optics and their use in The large glass as 'a metaphor for lovemaking'. At other times it was simply dangerous. One of Duchamp's optical tests – a motor with a beltdrive and glass plates – once broke apart, with an element skimming across Man Ray's head.
Postcard
In 1919 Duchamp drew a moustache and the letters LHOOQ on a souvenir postcard of the Mona Lisa. Said aloud in French, this group of sounds produces something close to 'She has a hot ass'. But its meaning remains enigmatic. Sketched as a throwaway joke, but now remarkably well known, the version we see in The essential Duchamp is a reproduction of Duchamp's effort by Francis Picabia.
'Quitting'
Before he began The large glass, Duchamp had given away the idea of being a practising artist. In a later interview he told author Pierre Cabanne 'Art was finished for me' and that only The large glass interested him. His withdrawal from art grew from his interest in chess and his desire to not repeat himself, though by 1934, when he had 'stopped making', he began reproducing himself literally in facsimile with The green box 1934, and the portable museum of miniature reproductions of his work Box in a valise 1935-41. Rather than quitting, he avoided the 'professionalisation' of art, continuing to produce when, what, and as he pleased.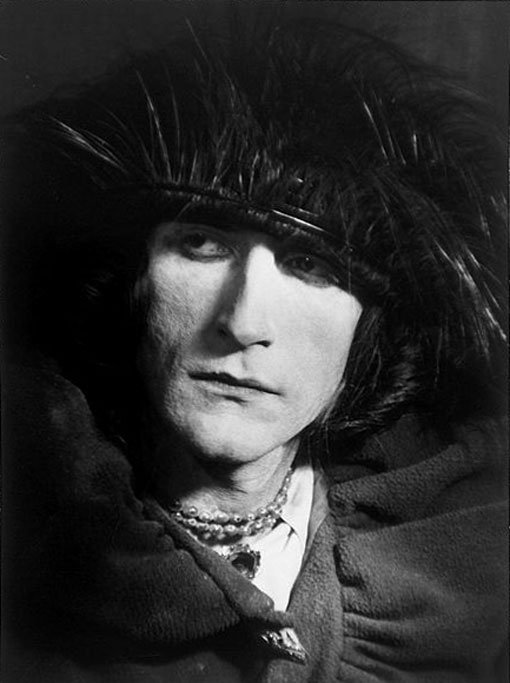 Rrose Sélavy
Duchamp's female alter ego, whose portrait by Man Ray in hat and fur also appears in the exhibition. The name Rrose Sélavy is a combination of Rose – the 'corniest' French name for a girl at the time – and a phonetic reproduction of the phrase C'est la vie. The second 'r' came later, prompting a pronunciation more like 'eros'. Tomkins writes that while Duchamp gave freer rein than most men to his feminine side, his alter ego was not about changing identity. It was about having dual identities. The artist's first thought had been to choose a Jewish name to offset his Catholic background. 'But then the idea jumped at me, why not a female name? Much better than to change religion would be to change sex.'
Sex
It is everywhere in Duchamp. In rejecting 'retinal' art (what the artist considered to be painting made for the eye), for 'cerebral' art, Duchamp said he wanted 'to grasp things with the mind the way the penis is grasped by the vagina'. Beyond a penchant for overly graphic analogy, Duchamp's work – from The large glass through to Étant donnés – is littered with the exploration of desire and desiring. 'The only "ism" I believe in is eroticism,' he once said.
Teeny
Duchamp's first marriage, aged 40, to twentysomething Lydie Sarazin-Levassor lasted six months. Alexina 'Teeny' Duchamp was the artist's second wife. Her first husband was art dealer Pierre Matisse, youngest son of Henri Matisse.
Unhappy readymade
When the artist's sister Suzanne married Swiss artist Jean Crotti in Paris in 1919, Duchamp sent instructions from his then home in Buenos Aires that they hang a geometry textbook on the balcony of their Paris apartment 'as a kind of kinetic sculpture whose pages would be turned and eventually torn out by wind and rain'. Duchamp's title for the work was Unhappy readymade.
Villon
The pseudonymous surname taken by Jacques Villon and Raymond Duchamp-Villon, the artist's older brothers and fellow cubists.
Warhol
Duchamp admired his fellow artist. 'I like Warhol's spirit,' he once said. 'He's not just some painter or movie-maker. He's a filmeur, and I like that very much.' The essential Duchamp includes footage Andy Warhol shot at the opening of Duchamp's 1963 retrospective at Pasadena.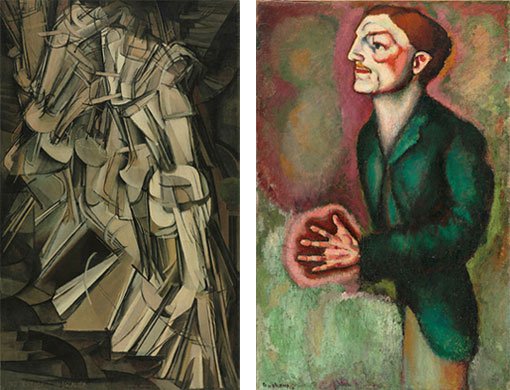 X-rays
Portrait of Dr Dumouchel 1910, Duchamp's painting of his friend and former Lycée Corneille schoolmate, shows the artist already considering other modes of pictorial expression, perhaps influenced by the nascent technology of X-rays, according to exhibition curator Matthew Affron. 'The aura around Dumouchel can be interpreted in relation to X-rays, which, since their discovery in 1895, had gripped the public imagination as a means for seeing beyond ordinary material reality,' he writes in the show's catalogue.
You
'The artist performs only one part of the creative process,' Duchamp said. 'The onlooker completes it, and it is the onlooker who has the last word.'
Zurich
The Swiss city was home to the Cabaret Voltaire, birthplace of dada, whose founders, including Duchamp, Francis Picabia and writer Hugo Ball, embraced the nonsensical and absurd in response to the horrors of World War I. Though hugely important to his position in the trajectory of art in the 20th century, Duchamp never truly identified as a dadaist (nor a surrealist later for that matter). Nevertheless, to Life magazine in 1952, he was 'Dada's Daddy'.
A version of this article first appeared in Look – the Gallery's members magazine
Previous post: Changing face of the Archibald
Next post: When Jeffrey Smart painted Clive James

May 29 2019, 5pm
by John Saxby
Editor, Look magazine