Mailing out news on Pat Larter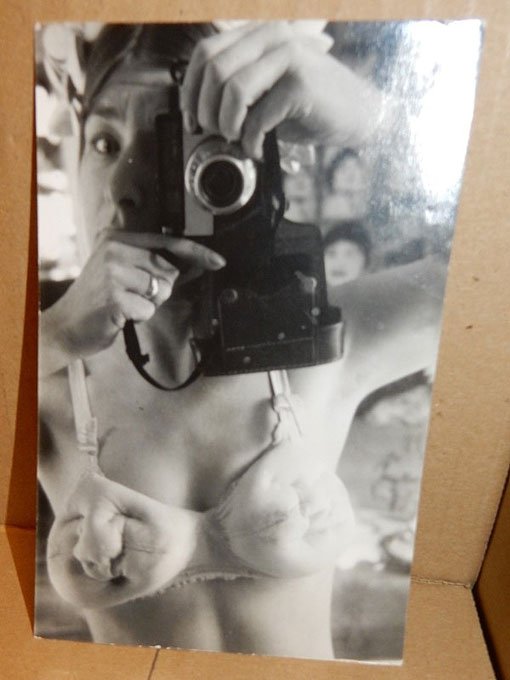 Pat Larter self-portrait from the Pat Larter Archive © the artist
One of the current exhibitions at the Art Gallery of NSW, See you at the barricades, draws out the complex relationship between protest and art; between the personal and the political, the celebratory and the critical.
While several artists might be considered key to this display, there's one who clearly built a life from merging apparently opposing terms and who, it happens, is having a bit of a moment.
Pat Larter was a leading figure in the international mail art movement.(1) From her home base, she took an active role in this amazing global exchange of photocopies, drawings, posters post-cards and stamps.
Mail art was such a democratic and rebellious form of artmaking. While low key and low tech, it couldn't help but implicitly critique the institutions of art simply by sitting outside the gallery system. What's more, in our own digital age, it can be hard for us to get our heads around the fact that artists from Poland to Portugal used 'snail mail' to exchange ideas, to intellectually and aesthetically stimulate, and promote each other. And to agitate.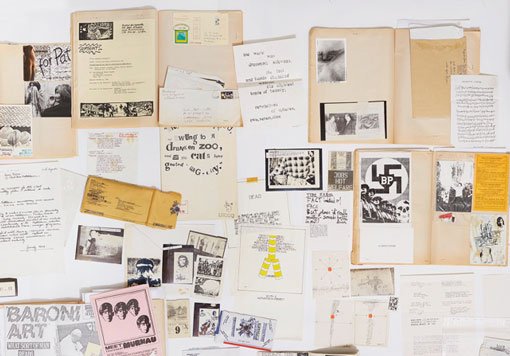 The remarkable Pat Later Archive is now housed at the Art Gallery of NSW, and it contains not just mail art, but also her own papers, scrapbooks, exhibition records and correspondence, as well as collaborative films she made with Richard Larter.
When curator Macushla Robinson searched through it for the Barricades show, she carefully selected a subset of work drawn from the 1979 exhibition Art core meltdown at the University of Sydney Union, which Larter had curated with Terry Reid and Cees Franck.
Art core meltdown – and the totally absorbing archival material that remains from it – blurred the boundaries between exhibition and protest. Larter and her fellow curators gathered together the work of artists from around the world who were taking a stand against nuclear weapons – some direct and didactic, others more poetic.
Coincidentally, another show featuring Larter recently ended in Melbourne, at the tiny Mailbox gallery in Flinders Lane. Femail Art – the first solo exhibition dedicated to Larter's mail art – focused on her transgressive performances and subversive humour. It also drew on the Pat Larter Archive and was co-curated by Danielle Hakim and our own Steven Miller, head of the Gallery's research library and archive, where the material now lives.
You can check out the manuscript listing of the archive in the online library catalogue which also has a PDF guide to Pat's archive. Don't be fooled – these are not dry clinical documents with little life left in them. Ancient pre-photocopier documents of performance happenings or grungy torn envelopes that turn out to hold treasures from exceptional artists, Pat's archive is ordered but sometimes slightly abject! As Macushla confided, watch out for little tufts of … 'oh no, is that pubic hair?'.
(1) Pat was also wife, mother and muse – the sexy nonconformist life and art partner to painter Richard Larter. As Bruce James put it in a wonderful Sydney Morning Herald review on 7 August 1999: 'The description muse, or any other polite-seeming title in the arts, fails to account for the instrumental relation in which she stood to him.'
Previous post: A social network: connections to Julia Margaret Cameron
Next post: The Larter gifts

September 02 2015, 4pm
by Jackie Dunn
Writer and exhibition researcher