The Larter gifts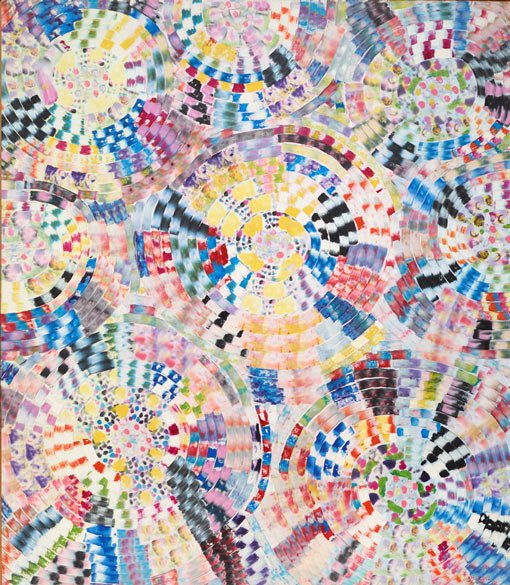 Richard Larter Epicycloidal sliding shift (SG2) 1983 © Estate of Richard Larter. Licensed by Viscopy, Sydney. Donated through the Australian Government's Cultural Gifts Program by Joanna Mendelssohn, in memory of Richard and Pat Larter 2015
The artworld may be globalised like most areas of contemporary life, but it can still seem very intimate and interconnected.
While the extraordinary Pat Larter archive features in See you at the barricades and popped up in a recent blog post, other Larter connections to the Art Gallery of NSW are worth noting.
After Pat's death in 1996 her husband, celebrated painter Richard Larter, donated her archive to the Gallery, which already held several of his own works. At that point the ever-generous Larter (in this case Richard, but both were renowned for their generosity) also gave paintings of his to their friends in memory of his beloved Pat.
Award-winning art critic, art historian and academic Joanna Mendelssohn was the recipient of two paintings – one figurative and one abstract – from her friend Richard.
Joanna considers Larter's abstract works to be under-recognised and held hers to be a major work more suited to a public collection. When she decided to downsize her home to a smaller flat, she offered Epicycloidal sliding shift (SG2) to the Gallery to help fill what she – and head curator of Australian art Wayne Tunnicliffe – agreed was a gap in the collection. Together they knew it to be a most suitable acquisition.
When I bumped into Joanna at the Gallery, she told me that at the very moment she was painting her house before selling it, the house painter who professed not to understand most of the abstract works he saw there remarked on Epicycloidal sliding shift (SG2). He immediately understood – and loved! – Larter's use of paint, applied with small sponge rollers to allow him easy application and let him create a mesmerising blurry effect.
Seems like generosity is contagious. Joanna Mendelssohn's graciously 're-gifted' Larter now has a new home in the Art Gallery of NSW collection.
Previous post: Mailing out news on Pat Larter
Next post: Record reigns

September 07 2015, 9am
by Jackie Dunn
Writer and exhibition researcher