The journey of 'The kiss' part 2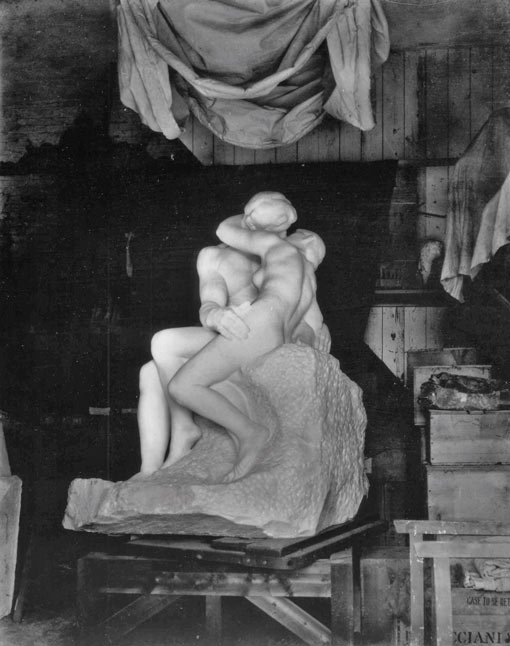 The kiss in the stables of Lewes House, photographed by EP Warren's partner, John Marshall
The kiss is receiving a very warm (some might say, red hot) welcome in Sydney, but it hasn't always been greeted so kindly. Rejected, neglected, forced to live with horses and covered by a tarpaulin, The kiss was slow in taking its rightful place as a modernist masterpiece.
This version of Auguste Rodin's sculpture was commissioned by EP (Ned) Warren, a self-proclaimed 'pagan and lover of antiquities', who stipulated that the male figure's genitals be sculpted 'prominently in the Classical Greek tradition', not left fuzzy like in the Paris version.
Maybe Rodin didn't put sufficient effort into that critical detail or maybe the piece, when finally delivered to England four years later, was simply too big. In any case, the work went straight to Warren's coach house (sounds better than 'stables', but really!), never making it to the house.
In 1914 Warren offered the sculpture to his adopted home town, Lewes, in Sussex. Delivered on a trolley by three men and four horses, it was finally put on public display in the town hall.
By that time war had broken out and Lewes was being used to billet hundreds of soldiers, many of whom let off steam boxing in the recreation centre set up in the hall. Oral history records that spectators were 'pressed up so closely round the statue that you could see the sweat running down the woman's back'.
Well, this proved to be too much for some, led by the aptly named school headmistress, Miss Fowler-Tutt, who suggested The kiss might 'offend the proprieties' of locals and 'inflame the passions' of soldiers. She lobbied to have the figures draped in a tarp, in which state they waited out much of the war.
When, in 1917, the town council returned the sculpture to Warren – diplomatically declaring the hall 'did not lend itself to such a noble piece of statuary' – back it went to the coach house. There it sat for 12 years – covered in hay bales to protect it from bombing raids.
After Warren's death in 1929, things didn't get much better. Put up for auction, it failed to meet its (modest) reserve and was withdrawn from sale. Then it was humiliatingly lent to the first gallery prepared to pay for transport and insurance (Cheltenham).

Finally, once Tate took interest, The kiss's journey towards critical and popular attention picked up pace. Today, it's one of the world's most iconic – and reproduced – works of art, and it's been re-made in an unexpected range of materials from cheese to Marmite. Just recently, someone invited a local artist to make it in sand at Bondi (so we can't really point the finger, can we?).
But of course that's what being an icon is about: being so venerated as to be just a little exploitable. All the more reason to see the original in Sydney and determine for yourself why it made its inevitable journey from neglect to reverence.
Previous post: The journey of 'The kiss'
Next post: A recipe for art

November 23 2016, 4pm
by Jackie Dunn
Writer and exhibition researcher