When Jeffrey Smart painted Clive James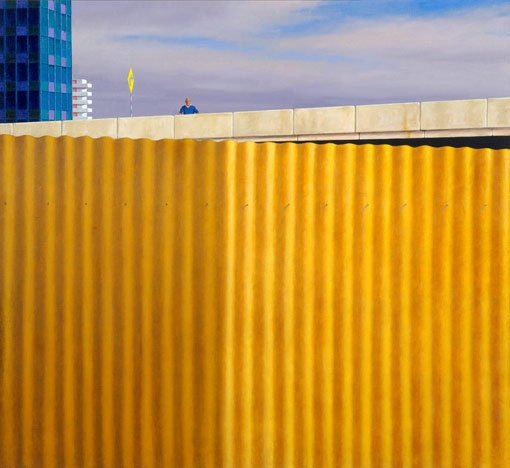 Jeffrey Smart Portrait of Clive James 1991-92, Art Gallery of New South Wales
Jeffrey Smart has long been celebrated in Australia for his distinctive urban vision. In a career that spanned seven decades, the geometry of apartment blocks, highways, shipping containers and road signs became his signature. People often feature in his paintings; he inserted fictional characters into carefully constructed cityscapes to stand in as a measure of scale. However, Smart also painted specific portraits of his friends, including Margaret Olley, Germaine Greer and David Malouf, as well as several self-portraits.
In 1991, expatriate Australian author and journalist Clive James approached his friend Smart to paint his portrait, an offer that the artist initially refused. When he finally did decide to embark upon the work, it would involve many studies and versions.
Smart began by using a stand-in model to place James in a nondescript urban setting with the figure standing in front of a blank wall painted with large yellow lettering.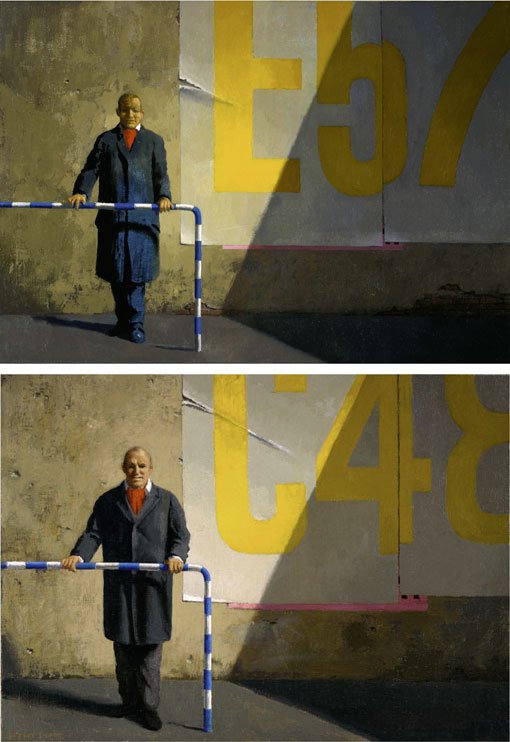 James then visited Smart in his Tuscan studio where Smart made detailed head studies to establish facial features. James later recalled to journalist Janet Hawley, 'Yes, it was a truly wonderful experience, posing to be immortalised by Smart. He'd make remarks like, "Hold still, I'm trying to get those hairs between your eyebrows – they echo your deformed teeth!"'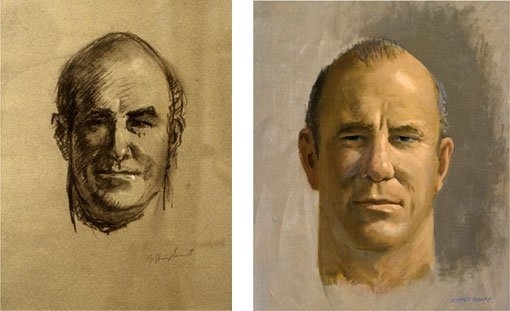 The previous year Smart happened upon an idea for a painting featuring a huge yellow corrugated iron fence he had seen from a train in Tokyo and the motif lingered in the back of his mind.
After making several studies of James, Smart decided the composition wasn't working and so he scrapped the in-progress work in favour of the Tokyo fence scene. Smart placed James into the Japanese setting, diminutive in scale and set far back.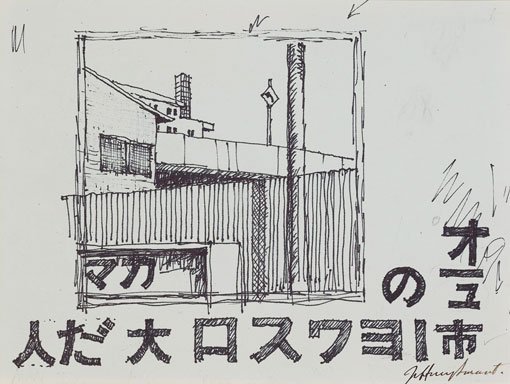 Smart recounted to Hawley: 'It started with me painting my friend Clive's portrait and discovering he has a terribly strange face. His eyes are slits, so deep-set you cannot get any light into them, his cheekbones are not on the same level, one ear is tremendously higher than the other, his nose is bent, mouth contorted, and he has an enormously thick neck…I painted several studies of Clive, each one smaller than the previous one, then I'd got him down to the size of a postage stamp.'
From this point Smart continued to work on further studies of James in the Japanese scene. He used these studies to really design and construct the composition. In Smart's vision, the urban landscape is not reproduced exactly as it appears. While his works were often sparked by something he had seen, in the finished paintings cityscapes are often changed and reconstructed – he adjusts the height of buildings, moves things around, switches colours and borrows architectural elements, effectively fabricating a scene to achieve his perfect composition. In studies three, four and five for Portrait of Clive James, we can see Smart has changed the buildings, added advertising hoardings then removed them, and discarded a truck and a concrete pole.

As in all of Smart's works featuring figures, James' tiny form in this sizeable painting acts as a measure of scale. He has become so small that the real hero of this work is the meticulously rendered bright yellow corrugated iron fence.
The final painting of Portrait of Clive James and the initial drawing for this painting of the Tokyo industrial scene are both now in the Art Gallery of NSW collection and on display in the exhibition Jeffrey Smart: constructed world at the Gallery until 29 September 2019.
All works © Estate of Jeffrey Smart
Previous post: Marcel Duchamp: from A to Z
Next post: Merrily we go to the movies

June 17 2019, 3pm
by Hannah Hutchison
Assistant curator, Australian art