It's beginning to look a lot like Christmas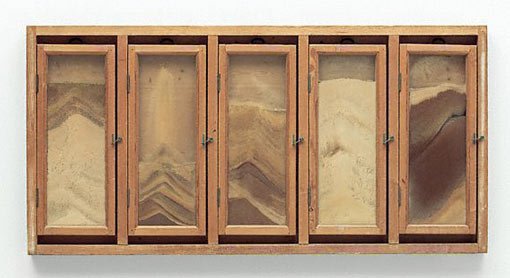 Dieter Roth Spice window 1971, Art Gallery of NSW collection, purchased 2004 © Dieter Roth Estate. Courtesy of Hauser & Wirth
At this time of year when we're all stuffed like stockings fit to burst with consumables, it may be timely to reflect on the work of one of the most kookily radical artists of the last century, Dieter Roth.
Roth's works of foodstuffs, including chocolate, yoghurt, fruit and spices, were made to degrade. Perhaps his most radical artistic gesture was to point up the consumerist aspects of art's production and reception, making works that stood as anti-monuments to the purported timelessness of art.
He embraced chance and integrated its actions so that the very substance of each piece heralded its own decay. Chocolate was eaten by insects and bloomed and cracked; yoghurt mouldered; squashed bananas fermented; and spices grew flat and grey and lost their fresh aromas.
Yes, for Roth his studio was a kitchen and his practice a matter of following a recipe. In this kitchen, process was king and self-destruction was an inevitable development to be celebrated. Time, growth, decay, mutation, instability, entropy…
Lest I sound unseasonably negative, perhaps I need to make a point about Roth's practice more appropriate to the season. For Roth, 'stuff' is only ever meaningful through our sensory, experiential, apprehension of it. This is something to remind ourselves of come Christmas time: 'tis not the thing but our experience of it + time that counts.
Also lest you think me raving at this time of year, I might point out the primary reason for my turning to Roth. The astonishingly generous Geoff Ainsworth recently made yet another gift to the Gallery, this time of one of Roth's chocolate works – Insel (Schokoladenpyramide), or Island (chocolate pyramid), c1971. It finds a perfect partner in the only other Roth piece in the collection, Spice window, or Gewürzfenster, 1971.
Can you blame me for wanting to highlight the yuletide concatenation of gift, chocolate and spice?
Happy Christmas – and happy cooking.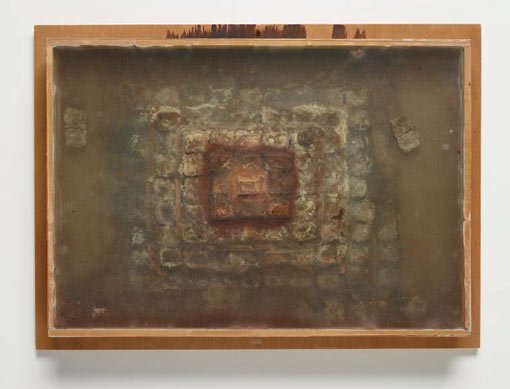 Previous post: The price of change
Next post: Ghosts in the walls

December 17 2015, 5pm
by Jackie Dunn
Writer and exhibition researcher