It started with a kiss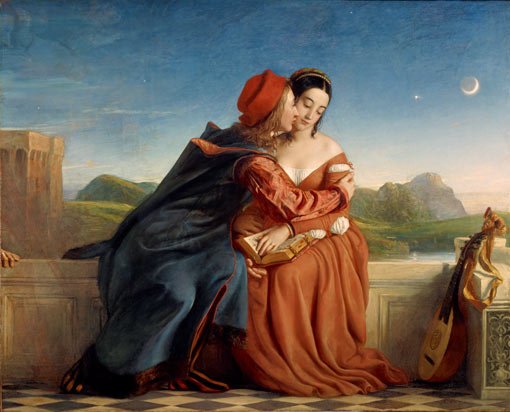 William Dyce Francesca da Rimini 1837, oil on canvas, 142 × 176 cm, Scottish National Gallery, Edinburgh © Trustees of the National Galleries of Scotland
Feel like making a long-term plan for your art historical edification (or just getting in a little background)? Well, right now the Art Gallery of NSW has a 'Great' with us that is worth checking out not only for its own sake but as a comparison piece to a rather wonderful visitor due here later this year.
By now you may know the very exciting news that Auguste Rodin's The kiss, that supreme evocation of desire, will be arriving in November for the exhibition Nude: art from the Tate collection.
Before it touches down however, you may like to get a little more familiar with its original subject, for The kiss is no abstraction: it tells the story of a couple, their adulterous affair and their tragic murder. Rodin tackled it first as part of his Gates of Hell – more on that story later – before deciding it was too joyous to be part of a work of moral rectitude.
The story of Francesca da Rimini is an episode from Dante's Inferno, the first part of his epic poem The divine comedy, written in the early 1300s. Many believe Dante based the story on a true tale of forbidden love, but while the families were real enough, the story is unlikely to be at all accurate. Not that that stops it being a powerful – and creatively inspiring – tale. Ingres, Cabanel – even the Russian composer Tchaikovsky – all had a crack at it.
Scottish master William Dyce revived the story for audiences of the Royal Scottish Academy exhibition of 1837. His painting Francesca da Rimini is a glorious tour de force, currently on display in The Greats: masterpieces from the National Galleries of Scotland until 14 February 2016 (aptly enough, Valentines Day). But exactly what is the story that unites these two great works?
Well, one Guido da Polenta promises his beautiful daughter Francesca in marriage as a political 'peace offering' between his own family and the Malatestas who rule Rimini. She is to be wed to the lame and disfigured elder brother Giovanni Malatesta da Rimini (charmingly known as Gianciotto, or 'crippled John'). Francesca however goes and falls for his younger brother, Paolo, who was sent to meet her. There's some suggestion she was tricked into thinking she was getting Paolo but this too seems unlikely. In any case, she preferred the pretty one.
The inevitable happens, of course, and they become lovers. Like many who have depicted the pair, both Rodin and Dyce show them stirred up by reading the medieval courtship story of Lancelot and Guinevere, the very moment their adulterous thoughts become flesh (as it were).
In Dyce's painting, the lovers appear also to be moments away from being caught out by the elder brother/husband, the man who will kill them both. You can just see Gianciotto's murderous hand on the left (the canvas having been trimmed down in the 19th century, leaving us with just this satisfyingly mysterious hint of malevolence).
In Dante's tale, the naughty couple are condemned to be tossed endlessly through the whirlwind of the second circle of hell. They're also condemned to be caught in paint, in song, and as you'll see in November, in marble. Make sure Dyce's wonderful image is in your head to carry you through till then.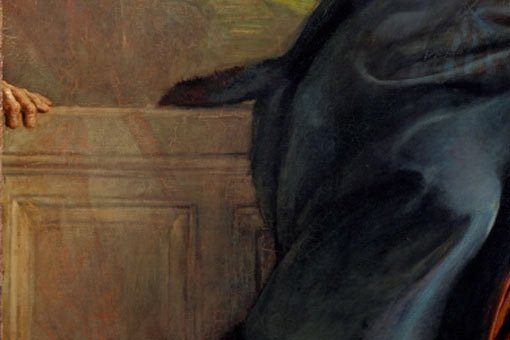 Previous post: News from the bat cave
Next post: Judy Cassab remembered

February 09 2016, 4pm
by Jackie Dunn
Writer and exhibition researcher