From inside the asylum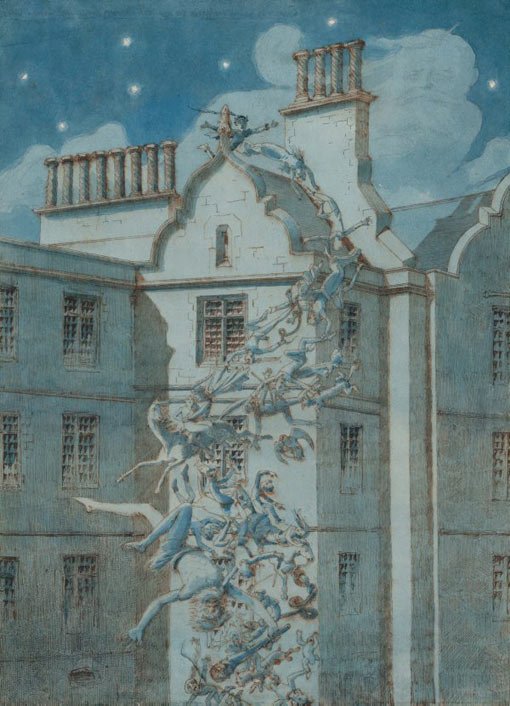 Charles Altamont Doyle The spirits of the prisoners 1885-89
This phantasmagorical image, titled The spirits of the prisoners, was made by the artist Charles Altamont Doyle – father of Sherlock Holmes creator Sir Arthur Conan Doyle – during his confinement at the Montrose Royal Lunatic Asylum (also known as Sunnyside) in Scotland between 1885 and 1891.
It shows a procession of fanciful impish figures and animals swirling over the rooftop of the asylum and cascading down its dark brooding walls. The vivid blue washes heighten the aura of nocturnal eeriness. Doyle's vision of the spirit world is witnessed from the clouds by a bearded apparition – a clearly identifiable portrait of the artist himself. The inscription along the top of the sheet implies the artist's intention to present the watercolour as an eyewitness record of an otherworldly vision, vouchsafed to him alone: 'What probably no one ever saw swirl over the Sunnyside gable and disappear round the corner. The constellation under which this appearance was it observed, was the Great Bear.'
Doyle was the youngest son of the Irish political cartoonist John Doyle. Like his talented brothers – the most renowned of whom was Richard Doyle, the fairy painter and illustrator for Punch – Charles was trained as an artist in London, but moved to Edinburgh in 1849 to take up the post of assistant surveyor at the Scottish Office of Works. His career and family life were marred by his severe alcoholism, however, and his later years were spent in nursing homes and mental institutions.
In 1885, despite pleas of sanity to his family, Doyle was admitted to Montrose Royal Lunatic Asylum, where, during his years of confinement, he filled a series of sketchbook diaries and completed drawings and watercolours of great imaginative power. From his cell he also illustrated his son Arthur's first Sherlock Holmes story, A study in scarlet. Deteriorating mental and physical health led to his transferral in 1891 to the Royal Edinburgh Asylum before being definitively committed to the Crichton Royal Hospital in Dumfries the following year.
In his autobiography, Memories and adventures, Arthur described his father's life as: '…full of the tragedy of unfulfilled powers and of underdeveloped gifts. He had his weaknesses, as all of us have ours, but he had also some very remarkable and outstanding virtues. A tall man, long-bearded, and elegant, he had a charm of manner and a courtesy of bearing which I have seldom seen equalled. His wit was quick and playful. He possessed, also, a remarkable delicacy of mind which would give him moral courage enough to rise and leave any company which talked in a manner which was coarse… He was unworldly and unpractical and his family suffered for it.'
Arthur organised the first exhibition of his father's work in London in 1924.
You can see Charles Altamont Doyle's The spirit of the prisoners, which is now in the Gallery's collection, on display in our exhibition Victorian watercolours.
Adapted from the Art Gallery of NSW publication Victorian watercolours
Previous post: Vale Robert Herbert
Next post: Come together

July 14 2017, 8am
by Peter Raissis
Curator, European prints, drawings and watercolours