In the frame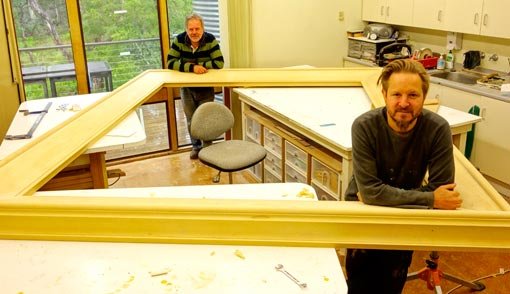 David Butler (left) and Tom Langlands in David's studio with the Lister Lister frame
A little over a year ago I began my three-year traineeship in reproduction decorative frame-making with David Butler at his workshop in the Blue Mountains. David has been making frames for the Gallery for over 20 years, and to think that I could one day be making such spectacular frames myself was overwhelming to say the least.
Initially I needed to become acquainted with the machinery and tools, and the commonly used timbers and the milling of them. A background working in commercial framing was an advantage, mainly with the power tools; however, many aspects were totally new to me. Fortunately there were a dozen or so frames required for the Sydney moderns exhibition of relatively simple refined design, and these became a practical starting point for me to assist David with.
With a growing handle on the milling, cutting and prepping of the timber, a new project arose: the reproduction of frames finished with Birds Eye Maple veneer for three lithographs by Charles Mottram after John Martin. This would see me learning about the qualities of veneers, their application and French polishing. The frames also needed water-gilded slips, and this led into extensive lessons on oil and water gilding – that is, different ways of applying real or imitation gold leaf.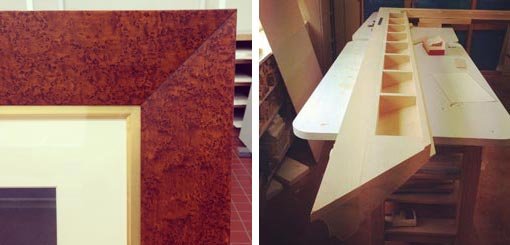 After weeks and countless practice strips of timber, and mastering my breathing so I didn't blow the leaf away, I had my first opportunity to put my oil gilding skills to the test on the tail end of a frame for Arthur Streeton's iconic Fire's on, which David had already cut and assembled. Admittedly it was only the back edge of the frame, but the result was a success.
A number of frames for Russell Drysdale works were next, including his c1953 painting Station boys. The profiles required some lengthy planning in order to cut and reproduce them as required, but my handle of the cutters and machinery was progressing confidently, and I was able to cut and assemble the frame relatively unassisted.
The final project of the year was a frame for W Lister Lister's The golden splendour of the bush – quite an undertaking as the frame was so big that if assembled in the workshop we would not be able to get it out! A different approach was needed. David had a method in mind that he had used on the frame for Edouard Detaille's massive Vive L'Empereur which allowed it to be taken apart at the corners for transport. The profile was cut and prepped ready for gessoing and the special corner assemblage ready for joining.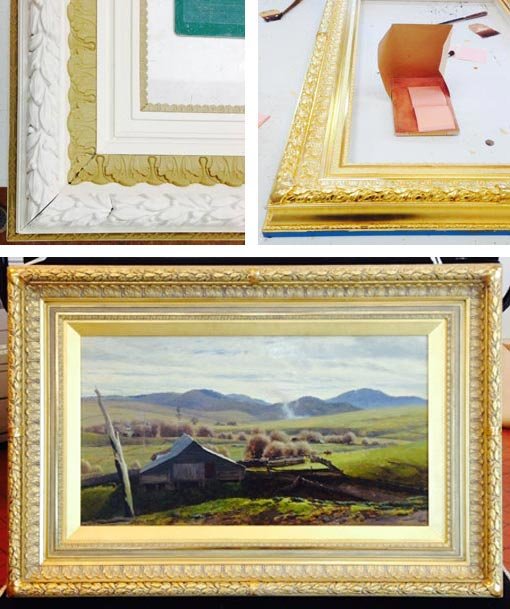 In the New Year, a frame was needed for John Mather's 1889 painting A woolshed, Victoria, based on another very decorative Mather frame made in 1889 by Melbourne-based frame-maker John Thallon. I cut, assembled and prepped the frame under David's watchful eye, but largely unassisted. The key element for me was learning how to make and use 'compo' or composition material.
The next step was to oil gild the frame. Although I'd grasped the skills to gild a flat surface, this one was largely covered with decorative motifs – yet another challenge! In contrast to water gilding, the foundation solution used in oil gilding remains tacky for an extended period and is therefore a little more forgiving as it allows the gilder a chance to come back and apply the gold leaf to areas that might have been missed first time around – very handy for such a complex surface.
This for me has been the most exciting project to date, and with two years to go, I'm excited about the prospects of many more like it.
Tom's traineeship is gratefully sponsored by the Nelson Meers Foundation and the Clitheroe's Foundation.
Previous post: Our minds were exactly at that line
Next post: An art of gold

April 15 2014, 11am
by Tom Langlands
Assistant conservator