I'm not good at art but...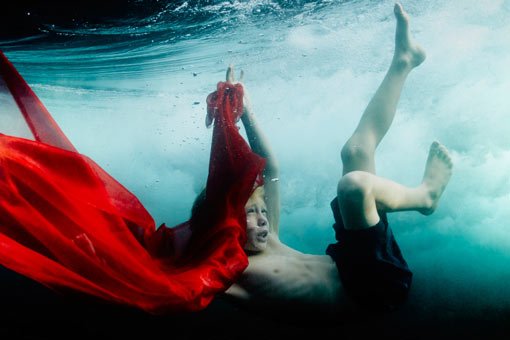 Angus Cochrane, The Illawarra Grammar School Float (detail), ARTEXPRESS 2015
It's still surprising how many conversations I have with ARTEXPRESS students that begin with them saying, 'I'm not good at painting or drawing so I don't think I'm good at art but…'
The words that follow are usually along the lines of 'I love taking photos' or making videos or working on the computer.
We all know that drawing and painting are foundational elements of art practice, but they're certainly not the sum total of art and have not been for a long time now. Yet many students still labour under the impression that they must be talented sketchers and painters to be 'good at art'.
As curator of the ARTEXPRESS exhibitions at the Art Gallery of NSW since 2010, what doesn't surprise me is the diversity of creativity that passes my eye during the process of selecting the artworks to display. Visual arts students learn about art theory, art history and artmaking. They are encouraged to be brave in their choices, to think outside the box and find that unique connection with their world that will add meaning to their work. They also have a strong understanding of contemporary art practices. So why are they still comparing themselves to the old masters? Maybe it's time we start seeing the beauty in new technologies rather than seeing them as a passing phase in art practice.
Wherever their talents might lie, the ideas and enthusiasm of ARTEXPRESS students are always inspiring. Some of them may indeed go on to greater acclaim. Ben Quilty, one of Australia's most well-known artists, was in ARTEXPRESS in 1992. McLean Edwards and Melissa Chiu had their student work shown in 1990, David Griggs in 1994, Jasper Knight in 1996 and Simone Douglas in the 1980s.
Of course, art studies can be parlayed into a range of careers other than 'professional artist'. Two of the Gallery's curators, one of our conservators, one of our photographers and one of our public program specialists are all former ARTEXPRESS students.
What everyone shares is an abiding passion for art in all its wonderful forms. Embrace the new and enjoy the ride that is ARTEXPRESS 2015.
Previous post: Stray inside the lines
Next post: Did you see that?

February 16 2015, 5pm
by Leeanne Carr
Coordinator of education programs and ARTEXPRESS curator