Illuminating installation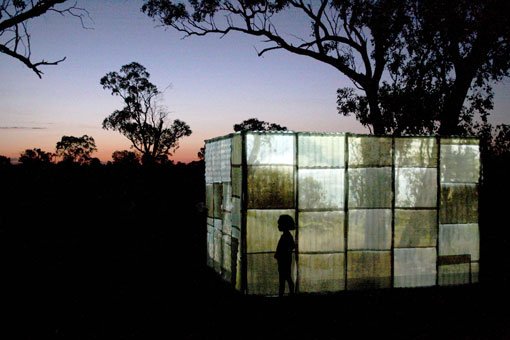 Photograph by Kate Ford
Illuminate is a project that opened at the Gallery as part of Corroboree Sydney, a festival celebrating Aboriginal arts and culture. The work is the result of a collaboration between the Euraba Artists and Papermakers, a Goomeroi collective based in Boggabilla, in north-west New South Wales and Wiradjuri/Kamilaroi artist Jonathan Jones.
Illuminate consists of a life-size humpy or mission house that you could have found on the lands nearby the Macintyre River that runs through the township of Boggabilla. This project explores notions of home and community. Before the house was made and installed at the Gallery, a separate structure was built and exhibited in Boggabilla, allowing the community to view the work in situ.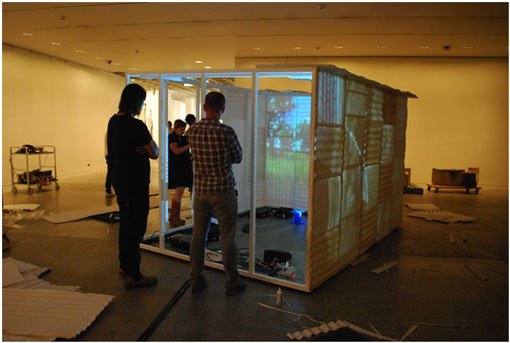 Four members of the Euraba Artists and Papermakers came down to Sydney for the installation, Aunty May Hinch, Lola Binge, Leonie Binge and Donald Cubby. I think the best part about pulling together an exhibition is taking the opportunity to listen to the artists. During the install period, Cara Pinchbeck (Curator, Aboriginal and Torres Strait Islander Art) and I listened to the ladies explain the significance of the work. We had a chat about the educational aspect of the project and how they worked with schools to encourage students to learn the stories of their families and communities and sharing them through art. Aunty May mentioned that it's a lot easier for people to speak when they have something to speak of in front of them. That's what the house is; it's a conversation piece that allows people to share their experiences.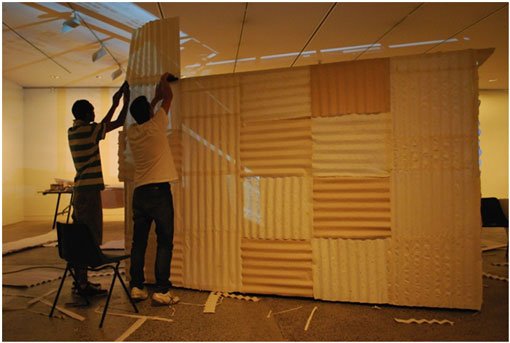 The overall assemblage of the work took about a week. Our carpenter at the Gallery, Andrew Yeates, built the wooden framework on site to the artists specifications and the audio-visual install followed. Aden Wessels supplied technical support for the project, which was actually quite a complex process. The difficulty was manipulating the media to fit to an irregular frame as the structure has a slanted roof.
The video material was supplied by Matthew Priestley and consists of archival footage and interviews with community members past and present. My personal favourite part of the work is when a couple of the kids from a local school start rapping about their communities. Each video is significant and personal to the artists. When interacting with the work you notice that you don't cast a shadow on the house as it is illuminated from within. This was inspired by Aunty May who recalled the respect she always had for her elders, stating that you wouldn't even walk in their shadows.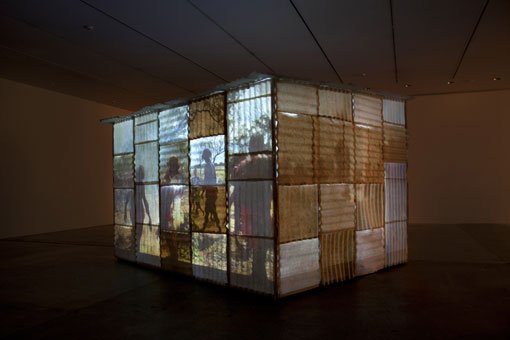 Illuminate is exhibited in the Yiribana Project Space on lower level three. Please come along and listen to the powerful and personal stories of the Euraba Artists and Papermakers.
Previous post: Up close and personal with America: painting a nation
Next post: This is so contemporary

December 03 2013, 3pm
by Emily McDaniel
Assistant curator of Aboriginal and Torres Strait Islander art (until September 2015)