If the walls could stalk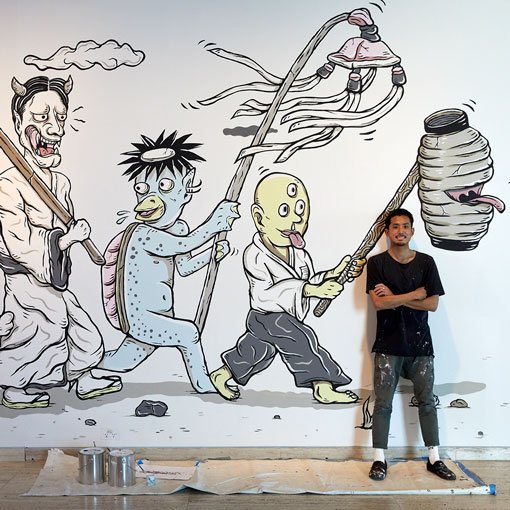 Kentaro Yoshida with his work in the Gallery's entrance court
Kentaro Yoshida was born and raised in the fishing village of Toyama, Japan. In 2004, aged 18, he moved to Australia to learn English, how to surf and eventually design at the University of Technology Sydney. The illustrator and artist has since worked with numerous surf and skate brands, as well as clients such as Armani Exchange, BMW and Levi's. For a time during the exhibition Japan supernatural (2 November 2019 to 8 March 2020), his pastel-toned, hand-painted murals grace the walls of the Gallery's entrance court as well as selected exhibition merchandise.
I spoke to him about the work.
Your murals are inspired, in part, by Itaya Hiroharu's Night procession of the one hundred demons (Hyakki yagyō). When did you first encounter this story?
I would have seen pictures of it in books when I was still at school. But the story of the night parade of yōkai [supernatural beings] is popular with all generations in Japan. Stories of the supernatural may change slightly but they still exist in Japanese culture.
Were you a fan of such stories growing up?
I was a big anime fan when I was young, so I enjoyed Mizuki Shigeru's yōkai manga and anime series GeGeGe no Kitaro (Spooky Kitarō) and Nihon Mukashi Banashi, a series of animated Japanese folk tales. But I was also afraid of some of the stories and monsters. When I wouldn't go to bed my grandmother would tell me they were coming to catch me from the darkness.
Are there any supernatural tales set near your hometown?
I can't think of a specific story. But it is very cold and snows in winter, so there would be stories about Yuki-Onna (Snow lady), a popular winter monster in Japan.
What influence have manga (Japanese comics) had on your work? Do you have a favourite manga?
Manga always contains bold line drawing and intricate detail and I often use these two elements. There are also quirky details in the characters' movements or interactions, aside from the main story, which I quite like, and I took this idea for the murals for Japan supernatural as well. You can perhaps see each character interact in the procession mural for instance. My favourite manga is called Crows by Hiroshi Takahashi, which is about high school bad boys and motorcycle gangs. I'm also a big fan of Dragon Ball by Akira Toriyama.
What Australian traditions have influenced your work?
I've lived on the Northern Beaches since I first arrived in Sydney. I used to draw only in black and white, but now I use my own pastel colour palette. I grew up in a little fishing village in Toyama prefecture. It has dark sand and people only go to the beach in July and August. The rest of the year they leave it to the fishermen. Everything on the beach there is a different tone of grey – the sand, water, the concrete tetrapods to protect the beach from big swells. Life around the ocean in Sydney is more colourful. People hang out along the coast all year. So the beach culture in Sydney has inspired my own colour palette.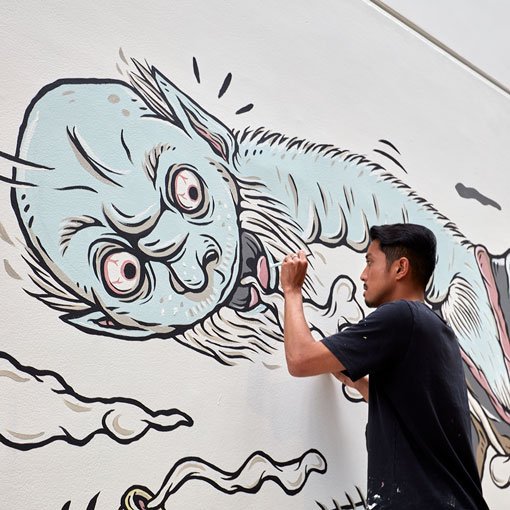 How did you create the murals?
It was quite simple. I designed each wall on the iPad first. When I started painting in the Gallery I used a projector to make sure the size and balance for the walls were right. Then I traced the outline in pencil, filled in each colour and finally added the black lines. For the monster parade, we traced a rough shape of each monster and I did each character's details freehand. It was fun.
How does it feel to be in the Gallery with Katsushika Hokusai and Takashi Murakami?
It's a mixture of excitement and fear. I didn't expect it. Initially I was working with the Gallery on some illustrations and concept drawings that would appear on merchandise. Then head curator Justin Paton looked at my art and liked one of my designs and asked if I could think about supernatural-inspired themes and how my drawings could live on the walls of the Gallery. It has been one of the greatest commissions I've had, so I cannot thank him enough.
Had you spent much time at the Gallery?
I had come to the Gallery a few times. My mum is an artist and loves going around galleries when she visits from Japan. She is coming to visit me to see these murals, so I can't wait to visit the Gallery together.
Kentaro Yoshida's murals, presented with the support of Mandy Shaul, are in the Gallery's entrance court until 9 February 2020. See his monsters come to life through augmented reality by downloading the Artivive app (via Apple or Google Play). Yoshida's Japan supernatural t-shirts and tote bags are available at the Gallery Shop.
A version of this article first appeared in Look – the Gallery's members magazine
Previous post: Eat with your eyes
Next post: Joint venture

February 04 2020, 5pm
by John Saxby
Editor, Look magazine