Hidden depths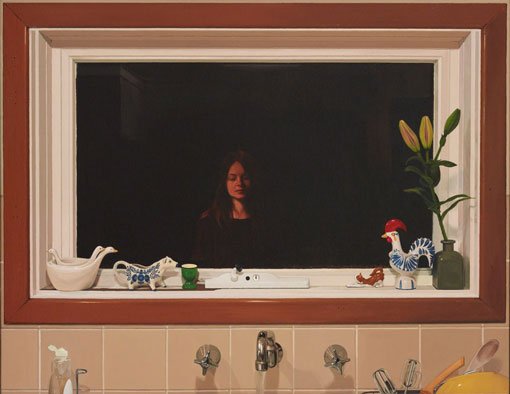 Kendal Gear Self-portrait, Archibald Prize 2019 finalist
Reflections are slippery things. Ever shifting and incomplete, they show us a world spun around on its axis. It is only through reflections and the limited scope of the camera that we can see ourselves, and self-portraits can be made. And yet, none of us can know exactly what we look like beyond these sideways glances.
In a mirror, the eye roves about the face up-close, atomising detail and catching itself head-on. Zoomed out, we see a face changed by the effect of looking, concentrating or with features aligned to suit how we would like to look and feel. An unexpected meeting with oneself in a window can be a horrifying encounter as, caught off-guard, you find a furtive or startled you looking back. Less piercing, but equally unhelpful, photographs are static and unresponsive, flattening and clunky.
In painting oneself, the artist must decide how to deal with this dissembling and fraught self-image. Often, these works are as much paintings about the act of painting and the psychology of close-looking as they are images of the artists. Throughout art history, from Parmigianino's Self-portrait in a convex mirror 1524 to self-portraits by Pierre Bonnard, Brett Whiteley and Margaret Olley in the Gallery's own collection, reflections have been brought to the fore as artists grapple with the prospect of representing themselves.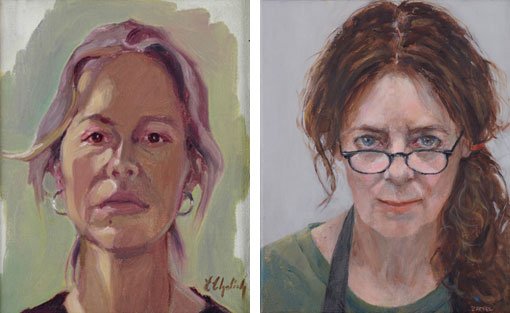 Of the 11 self-portraits in this year's Archibald, Erika Cholich and Karyn Zamel take their paintings to the limits of the mirror's edge, to reflect back inquisitive examinations, each anchored by an intense stare. Zamel found this process 'confronting'. 'It was a close-up look at myself, which led me to reflect upon my past, my present and my future.' In both cases, the canvas takes the place of the mirrored surface to oddly echo the sensation of looking at oneself.
Kendal Gear's Self-portrait offers a quieter self-image. The Western Australian artist emerges from a dark night, reflected in the window above a kitchen sink, eyes downward cast, as if she is washing up after dinner. Against the crisp reality of the scene, she appears as an apparition, fleeting and magical – a changing, moving image, here and then gone. This is the power of the painted reflection. It offers up the essential transience of the portrait as an intangible snapshot in time, and as a mere facet of the person depicted. Within this domestic setting, Gear interrogates the ways gendered expectations can permeate our internal landscapes. Held within the darkened window pane, her reflection remains distinct from the domesticity of the scene, abstracted like the mind, with the slippery potential to float off into the night.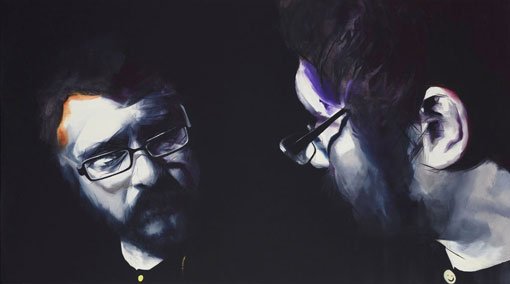 In a dialogue between selves, Nigel Milsom's self-portrait Judo house part 8 (a perfect light) enacts a face-off of sorts, as the artist paints himself twice. In the darkness of the work, space is confused and where the 'true' Nigel ends and the reflection begins is uncertain. Milsom wanted to explore 'painting as illusion, and self-portrait as a sort of delusion' – a kind of unknowable known. 'It was inspired by an experience I had one morning when I looked in the mirror and my reflection seemed to have absolutely no correlation to what I thought I looked like'. The sombre introspection is ultimately punctured by what appears to be a smiley face beaming up from a button on one of his shirts: irreverent and linking back to earlier works by Milsom in the collection.
The English word 'portrait' derives from a combination of the Latin protractum, and the Italian ritratto and ritrarre, all with a similar meaning 'to draw out' or 'draw forth' – to make visible something that is invisible. This illumination is lent an added intimacy when the reflection used to make the image is referenced in the work. It offers those who see it a familiar experience of looking, seen through the eyes of another, and an awareness of the limitations and nuances of this sight is implicit. The work becomes what it always could only be – a fragment, an internal moment, a time or feeling captured, and in doing so, these self-portraits hold in their depths all the multi-facets not shown, and impossible to show.
The Archibald Prize 2019 exhibition is at the Art Gallery of NSW until 8 September 2019 followed by a tour.
A version of this article first appeared in Look – the Gallery's members magazine
Previous post: Merrily we go to the movies
Next post: A pilgrim's progress

July 09 2019, 9am
by Susannah Smith
Deputy editor, Look magazine