Hanging a wall of sunset colours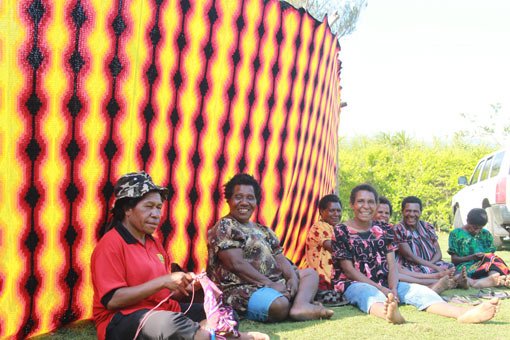 Members of the Goroka Bilum Weavers Cooperative seated in front of the Kalibobo bilum in 2011. Photo Ruth Choulai
Just when you thought the Gallery couldn't possibly have any more colour on display, a vivid contemporary work created by a group of highlands artists from Papua New Guinea has just been hung in the stairwell leading up to where the exhibition Plumes and pearlshells: art of the New Guinea highlands is being installed.
Hand-looped bilum (string bags) are one of the most commonly used and worn objects in PNG. Traditionally made to carry babies, tools, food and wood, in recent times they've provided women with important economic opportunities.
Florence Kamel is an internationally respected bilum artist and founder of the Goroka Bilum Weavers Cooperative in PNG's Eastern Highlands Province. Since 2003, she has helped empower highlands women to earn a living for their families through the production and sale of bilum and bilumwear.
In 2011, Liane Rossler and Heidi Dokulil invited the cooperative to produce an enormous bilum 'wall tapestry' for the Happy Talk House at Art & About Sydney. In just under eight weeks, Florence and the Goroka weavers created a bold contemporary artwork that explores a fresh new direction for this Pacific weaving tradition.
The almost-8-metre-long Kalibobo (sunset colours) has been kindly lent by Liane and Heidi to the Art Gallery of NSW for the duration of our Plumes exhibition and – thanks to the support of WAGs (the Gallery's Women's Art Group led by Anne Fullwood) – an ingenious solution was found for hanging the textile.
Gallery installation officer Mary-Anne Cornford wanted to come up with a way of making the work appear to float from the wall. After a lot of thought, discussions with object conservator Kerry Head, and a series of experiments, Mary-Anne finally came up with a clever answer.
Along the wall, long screws with large magnetic heads were placed at regular intervals. A metal track was then mounted onto the magnets, traversing the span. Then a row of small magnets encased in a sleeve was carefully sewn across the back of the upper fold of the textile. Finally, the top edge of the textile was magnetically 'connected' to the strip and – voila! – the work is magically suspended in space, with no fixings visible at all.
Mary-Anne believes this method of display has the potential to be utilised more frequently in the Gallery with other textiles and could be adapted to suit other media.
Many thanks go to WAGS for the commitment of funds toward developing the professional skills of Mary-Anne and for supporting this exhibition.
The artists from the Goroka Bilum Weavers Cooperative involved in producing Kalibobo (sunset colours) were: Nancy Apae, Hella Bikukure, Freda Buko, Julie Danny, Roan Dick, Florence Kamel, Jolian Kelaimo, Alice Lucas, Julie Pilo, Diasy Raymond and Jenny Tiku.
Previous post: A winner by design
Next post: Cracking culture with Contempo

May 27 2014, 2pm
by Natalie Wilson
Curator